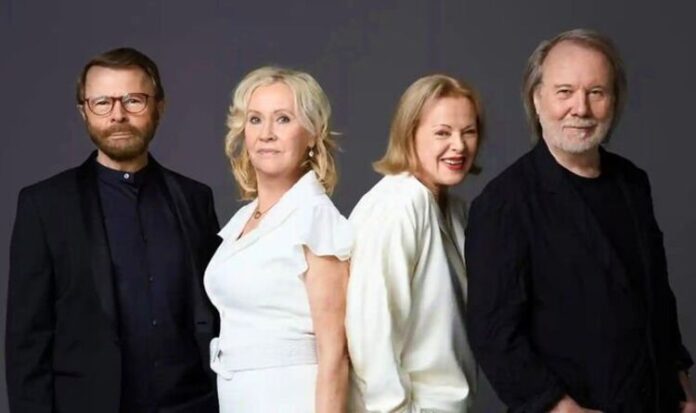 ABBA fans only have a few months to wait now until lifelong dreams come true. On May 27, the Swedish superstars will take to the London stage for the first time in over 40 years. Of course, everyone knows by now that the Super Troupers will not be there in person, although some guest appearances at the launch are certainly hoped for. Instead, cutting edge technology will be used to bring them and their music to life at a brand-new state of the art new concert hall.
Tickets are currently on sale for May-December 2022. The show officially opens on May 27, 2022 and fans can book to December 4.
The new purpose-built ABBA Voyage concert venue in East London can hold 3,000 people. There will be up to 30 shows per month.
The main floor area is general admission for standing tickets only, meaning fans can move around and dance. Obviously early comers can get a place right at the front. The reserved seating wraps around the floor area and the two closest sections are A and E on either side. (See floor plan below). However, the top price seat are situated in section H, directly opposite the stage.
To create the digital avatars, already commonly known as ABBAtars, all four members were filmed performing and then recreated in their youthful forms.
The band said: "We're going to be able to sit back in an audience and watch our digital selves perform our songs on a stage in a custom-built arena in London… Weird and wonderful! To all of you who patiently have followed us in some way or another these past decades. Thank you for waiting, it's time for a new journey to begin."
The new concerts will feature a live band with the digital avatars of Benny, Bjorn, Agnetha and Frida who will perform to the classic vocals of their greatest hits.
However, the show will also include the new vocals for the first two songs recorded for the ABBA Voyage chart-topping new album – I Still Have Faith In You and Don't Shut Me Down. Benny and Bjorn explained that these are the only new songs that will be included because the other tracks had not been recorded when the ABBAtars were being created.
Following the success of the new material on the ABBA Voyage album, hopes have renewed that there could be even more new music to come. Recent comments from the band members have given very different responses to this burning question.
Benny said last November (with Björn nodding in agreement): "This is it. I didn't actually say that, 'This is it' in 1982 [when we split]. I never said myself that ABBA was never going to happen again. But I can tell you now: this is it."
However, Frida later responded: "I have learnt to say 'never to say never' and I'm very surprised [at] Benny and Björn. And I cannot remember that this year we have probably said this must be the last thing we do."
Published at Fri, 11 Mar 2022 22:07:00 +0000
ABBA Voyage London shows tickets: Best seats STILL available for opening week