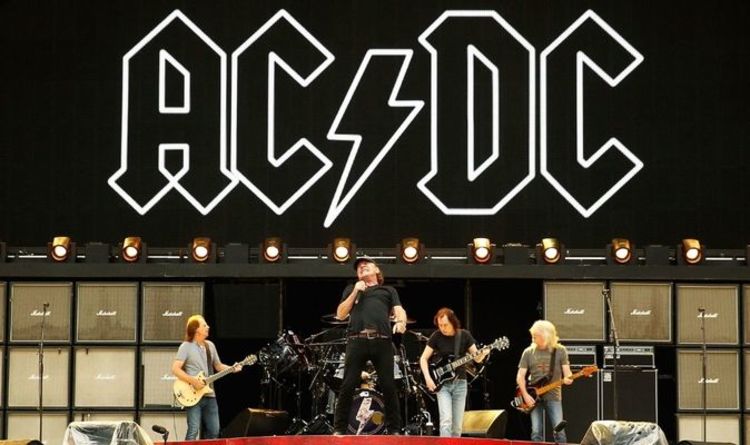 AC/DC band name: What does AC/DC REALLY mean?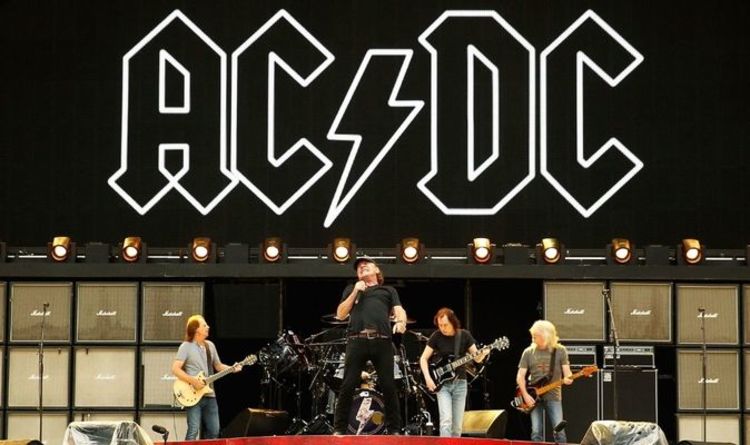 AC/DC has been around for a long while and their fanbase has grown a great deal. In that time a great deal has changed, from new lead singers to completely altered line-ups altogether. But one thing has remained the same: the band name.
What does AC/DC mean?
Malcolm and Angus Young were the brains behind AC/DC, and came up with its name as well.
The pair moved from Glasgow, Scotland to Australia in 1963, and saw their older brothers, Alex and George form bands.
Alex formed London-based band Grapefruit in 1967, while George became a member of Australian band Easybeats, which got young Malcolm interested in music.
READ MORE: ABBA reunion: What have the members of ABBA done since the split?
Malcolm joined New South Wales band Velvet Underground, though this is not the famous New York-based band, but eventually came up with a band name with Angus.
The idea for the band name came when their sister Margaret saw the initials on a sewing machine, AC/DC.
The abbreviation means alternating current/direct current electricity, which is what many believe is the genesis behind the name.
With that being said, however, it has been reported the brother's felt the name represented the band's energetic performances.
The brothers formed the band, with their brand-spanking-new name, with bassist Larry Van Kriedt, vocalist Dave Evans, and drummer Colin Burgess in November 1973, who they likely met on the Australian band circuit.
Angus quickly began performing in a school uniform-style outfit, which was reportedly an idea of Margaret's after he tried a variety of other costumes.
Of course, like many bands, they have had a changing line-up before they found their current team, including lead singer Brian Johnson, who has rejoined AC/DC after hearing loss forced him to leave in 2016.
In 1974, Evans was replaced by Bon Scott, who re-recorded the band's only single.
DON'T MISS
The band's signature logo, which has their name with a lightning bolt through the AC and DC, was designed in 1977 by Gerard Huerta and first appeared on the international version of Let There Be Rock.
Then later that year saw the departure of bassist Larry Van Kriedt and drummer Colin Burgess, and the band's signature line was completed with the arrival of bassist Mark Evans and drummer Phil Rudd.
Mark Evans was replaced by Cliff Williams in 1977, who remained with the band until 2016, though the biggest blow was to come with the death of Bon Scott in 1980.
Brian Johnson was brought in to replace Bon, and he remained with the band until 2016.
Phil Rudd left the band in 1983, though he returned from 1994 until 2015 after being replaced by various drummers in the interim years, though he has now returned along with Brian Johnson.
In the 2000s, many line-up changes took place, starting with Malcom Young's departure in 2014 due to his oncoming dementia. He died in 2017.
In 2015, Phil Rudd left the band again and in 2016, Brian Johnson left due to hearing difficulties which forced him to retire, though he is back recording and hoping to tour with the band.
He was replaced with Guns N Roses singer Axl Rose for a short spell before his recent return, before bassist Cliff Williams also left the band in 2017.
At present, the line-up consists of Angus Young, drummer Phil Rudd, guitarist Stevie Young and vocalist Brian Johnson.
Published at Thu, 03 Sep 2020 09:18:50 +0000