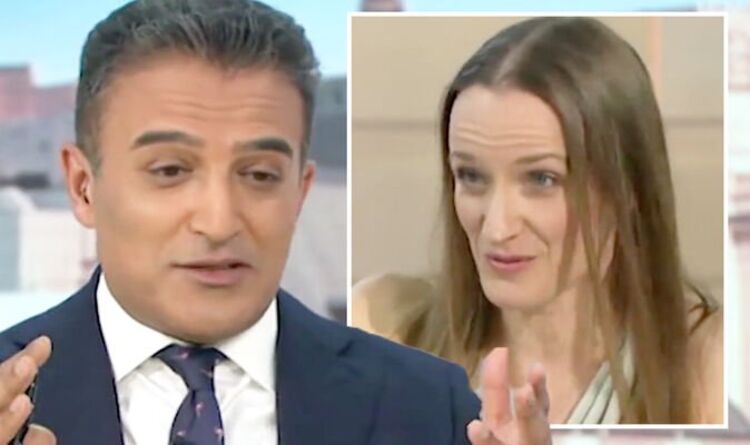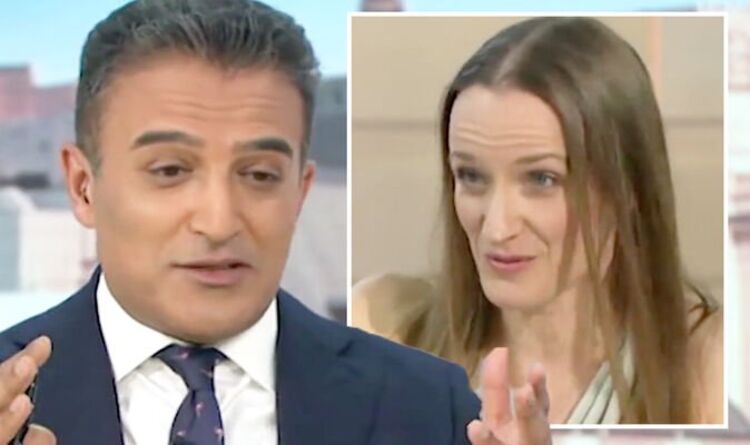 Transport for London and Mayor Sadiq Khan have recently launched a series of campaigns and posters against "intrusive staring" on its services with the aim of "sending a strong message to offenders that sexual harassment is not tolerated". On Friday's Good Morning Britain, Adil Ray and Kate Garraway discussed with guests Kate Smurthwaite and Dr Zoe Strimpel the practicality of the new measures and whether staring should really be punishable.
"What's so bad with staring, Kate?" Adil said as he kicked off the debate, prompting the comedian to reply: "Well, this is exactly the point of it.
"It's like, of course, there are plenty of people who do stare and it's completely innocent. No one's going to suggest that you're going to gawk out the window at a seagull and somebody's going to be like, 'That seagull doesn't need your attention'.
"What we're talking about is when someone is deliberately staring at you, possibly heavy breathing, touching their leg at the same time, licking their lips -" she continued before Adil cut in to argue that's "adding a few things on" to TfL's message.
But Kate defended the measures as she asked "which one are you going to say" as she argued staring was being used to encompass all of these kinds of intrusive behaviours.
READ MORE: Adil Ray and Thornberry clash as he exposes Labour hypocrisy
However, Dr Zoe argued that there are much more important matters and crimes that need resources as she weighed in: "When I saw this poster, I thought, 'Seriously? This is what TfL is now weighing in on? This is what Sadiq Khan is now weighing in on?'
"Women are raped and very few of these rape allegations are actually followed up and then lead to prosecutions, women are being groped, they're being physically assaulted, they're being murdered."
Dr Zoe went on to admit a "nasty stare is unpleasant" but pointed out there are "limited resources" and you "can't fry every fish".
Adil then chipped in to the debate to argue there was a difference between "staring at someone you're attracted to" as he recalled an instance from his past.
Emily hit back, however, to accuse Adil of derailing the argument as she replied: "I think that's why we're talking about harassment.
"Also, I think it's a bit like… when we're talking about people being sexually harassed on public transport, it's a bit sort of gaslighting to say, 'Well, I was looking at somebody and it was all rather nice'.
"Because obviously, that's not what we're talking about," Emily claimed. "That's a very small example."
While the debate certainly split the GMB panel, it also brought a divided reaction from ITV viewers at home.
Twitter user @TheFibroidPuppy argued: "How on earth are you going to be able to prove harassment by staring @TfL @SadiqKhan? @GMB."
While @mrdanleslie sided with Emily: "@GMB yes staring is unnerving and creepy. A few seconds and a smile. Yes but a constant stare can be intimidating. #GMB."
But @Mysterybeatzuk argued: "#gmb staring is a crime now? F**k right off, this country is literally turning into a new world order, soon it will be illegal to have more than 1 sugar in your coffee or to use the word 'melon' in public, this country is a joke!"
And @kevinsm17554523 weighed in: "Should stating be made a crime? I do actually give up with mayor Khan and with these morons who come up with these stupid. Idiotic, insane schemes #GMB."
Good Morning Britain airs weekdays at 6am on ITV.
Published at Fri, 08 Apr 2022 08:42:00 +0000
Adil Ray blasted by guest for 'gaslighting' in fiery GMB debate over 'staring' ban on TfL