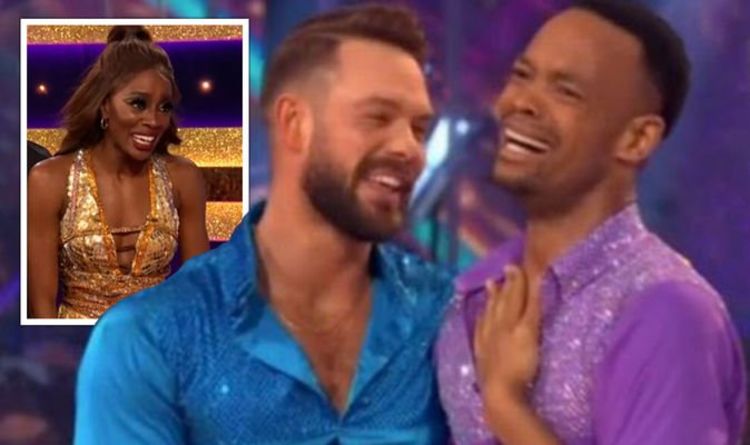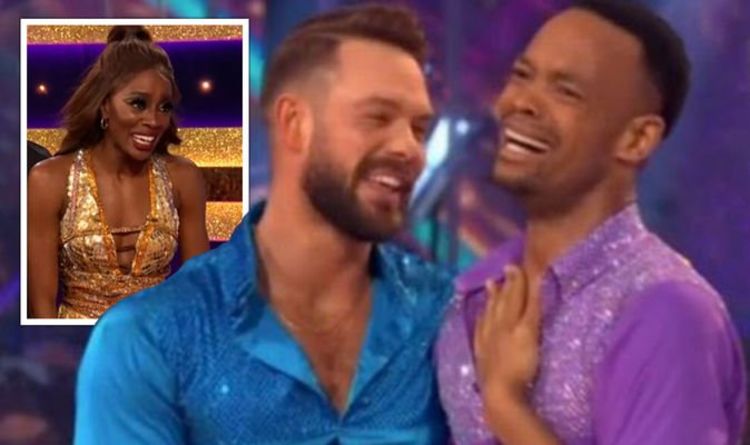 Strictly Come Dancing returns to BBC One on Saturday and the Glitterball Trophy is in sight. The pressure is starting to get to some of the couples, following a number of wobbles in the quarter-final. Professional dancer Gary Edwards claims AJ Odudu and John Whaite could be in trouble this week.
The quarter-final of Strictly saw some dancefloor disasters as the couples started to feel the heat of the competition.
AJ Odudu and her professional partner Kai Widdrington faced the dance-off after AJ struggled to execute her final lift.
Bake Off star John Whaite and his partner Johannes Radebe also experienced a slip-up, for which Johannes apologised.
He claimed he had given John the wrong hand to hold, meaning their final lift ended in disaster.
Professional dancer and judge, Gary Edwards, said both celebrities went "too big" with their dances.
The Dancing With The Stars expert told Express.co.uk: "With AJ and Kai, the rhythm is going to get you and I was thinking the rhythm did get her.
READ MORE: Kai Widdrington height: How tall is the Strictly Come Dancing pro?
"The choreography was so advanced and so difficult and so big, there's no need for Salsa to be that big.
"That particular song is so fast, everything was so complicated. At this stage yes, you want to challenge yourself but you don't want to set yourself too high.
"And that's what they did." AJ and Kai managed to win over the judges in the dreaded dance-off.
Yet Gary continued: "Even in the dance-off, of course it was better, the lift was changed a little it as well by the look of it, but it was still too much for her.
"In my opinion, everything was too big. They try and get the celebrities to make it as big as possible but the thing is, it doesn't work, particularly in Salsa.
The pro added: "I would argue that wasn't a Salsa for me, it was what we call club-style dancing.
"Admittedly it's difficult to do Salsa to 'We Are Family', but it was way too big, very disco, definitely not Salsa but very entertaining."
Fatigue is the main cause of mistakes at this stage of the competition, the judge said.
He went on to explain: "Never underestimate what they are doing is very physical, people think dancing doesn't take it out of you.
"So if the point you have got a complicated lift is over halfway through the routine, you have got to factor in fatigue and tiredness.
"I would not have gone for rhythmical at this point and it wasn't perfect for AJ the second time, even with the change.
"If you are going to go that advanced with a lift, a mistake is always going to be a possibility and I don't blame them for toning it down.
"That song is notoriously fast, it could have been so much better."
Returning to John and Johannes, he elaborated: "John and Johannes have had a couple of dodgy weeks and I liked this the least because they were the least together.
"That was before the mistake, and it was getting a bit big. With Salsa, it's not supposed to be big.
"For me, it was just a little bit untidy. This week they have two dances so it will be interesting to see who can actually keep up."
Strictly Come Dancing returns to BBC One on Saturday at 7.05pm.
Published at Fri, 10 Dec 2021 00:01:00 +0000
AJ Odudu and John Whaite to face Strictly dance-off after pro's warning?