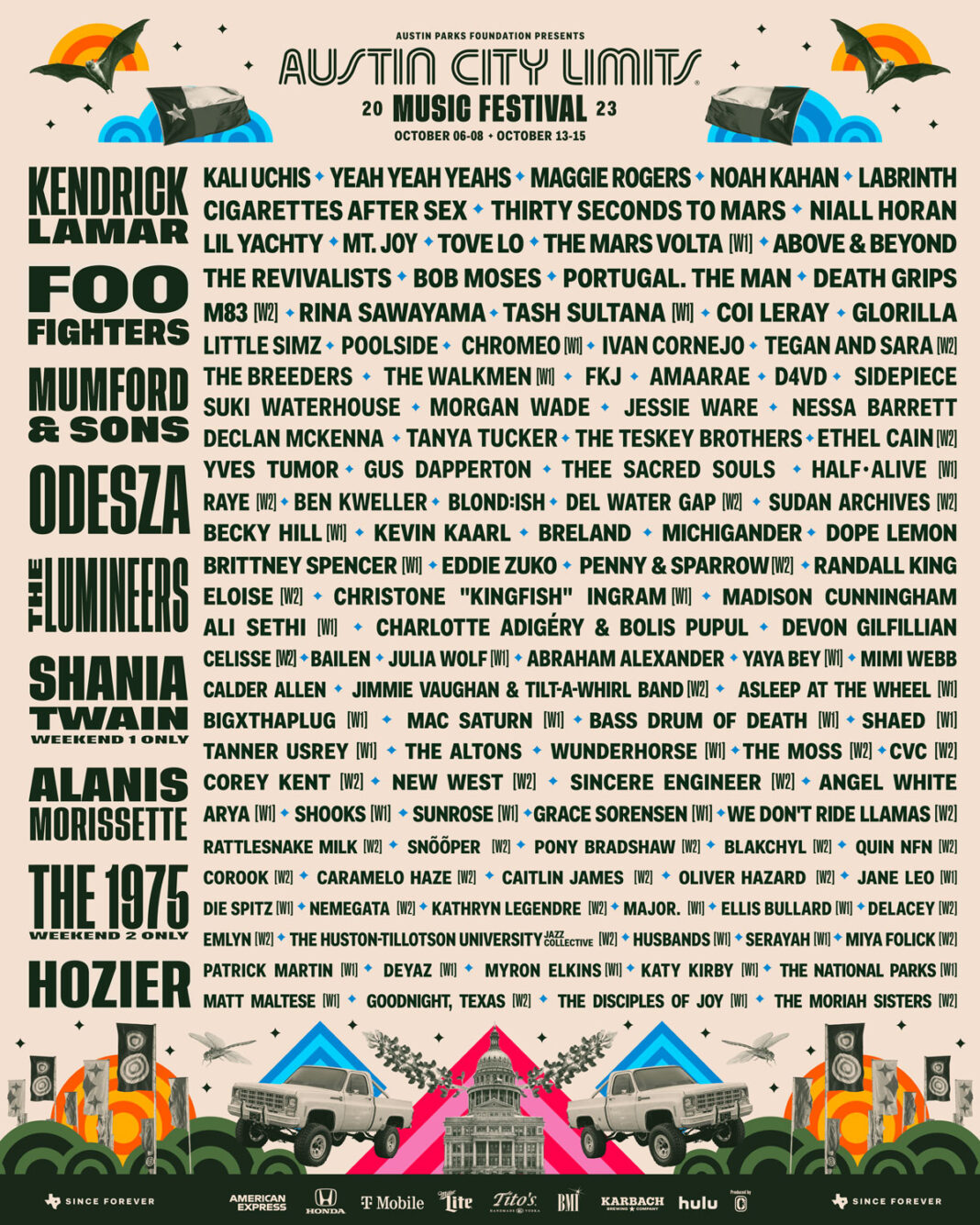 Austin City Limits (ACL Fest), the city of Austin's leading music festival, just announced its 2023 lineup on Tuesday, with a familiar array of artists, including the Foo Fighters, Alanis Morisette, Tash Sultana, and Mumford & Sons — and of course, Kendrick Lamar.
The supporting lineup for the 22nd annual event also includes performances by The Mars Volta, Portugal. The Man, BLOND:ish, Thirty Seconds to Mars, Above & Beyond, Chromeo, M83, Yeah Yeah Yeahs, and many more. Weekend One, however, will host Shania Twain, Chromeo, and The Mars Volta, while Weekend Two will host The 1975 and M83.
Showcasing true Texas pride, ACL Fest brings a fairly long list of homegrown artists, including, but not limited to: Cigarettes After Sex, The Mars Volta, Tanya Tucker, Ben Kweller, d4dv, Jimmy Vaughn, Asleep At The Wheel, Penny & Sparrow, Randall King, Abraham Alexander, Angel White, BigXThaPlug, Katy Kirby and Goodnight, Texas, Calder Allen, Kathryn Legendre, Arya, Grace Sorenson, Sunrose, Blackchyl, We Don't Ride Llamas, Jane Leo, Ellis Bullard, Rattlesnake Milk, Shooks, QUIN NFN, Caramelo Haze, Die Spitz, Nemegata, Huston-Tillotson Jazz Collective, The Moriah Sisters and The Disciples of Joy.
According to the press release, this year's music roster features 45% female performers, LGBTQ+ artists, allies and icons, multiple Latin stars including Ivan Cornejo, Kevin Kaarl, and Eddie Zuko.
Last year, ACL Fest fans contributed $7.2 million to improving Austin's public parks, trails, and green spaces, bringing total revenue to over $55 million that the annual festival has generated over the years in partnership with Austin Parks Foundation through the ACL Music Festival Grants Program.
In the coming year, APF will utilize ACL Fest funds to help design and complete park improvement projects across Austin including projects at Earl J. Pomerleau Pocket Park, Rosewood Neighborhood Park, Onion Creek Metropolitan Park, and McBeth Recreation Center.
Weekend One of ACL Fest 2023 runs from October 6-8, while Weekend Two runs from October 13-15.
You can buy tickets for both W1 and W2 here, as well as 3-Day tickets for both weekends. New to ACL Fest this year is the inclusion of all fees and shipping costs upfront when checking out.
ACL also brings back returning sponsors — American Express, Honda, T-Mobile, Miller Lite, Tito's Handmade Vodka, BMI, Karbach Brewing Co., and Hulu, who serves as the Official Streaming platform for ACL Fest.