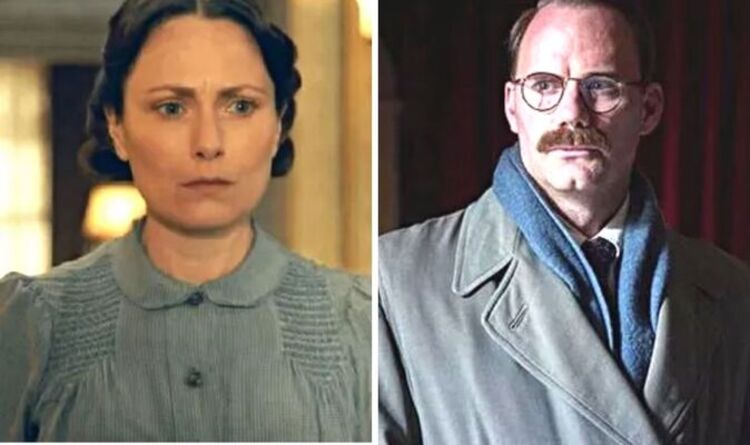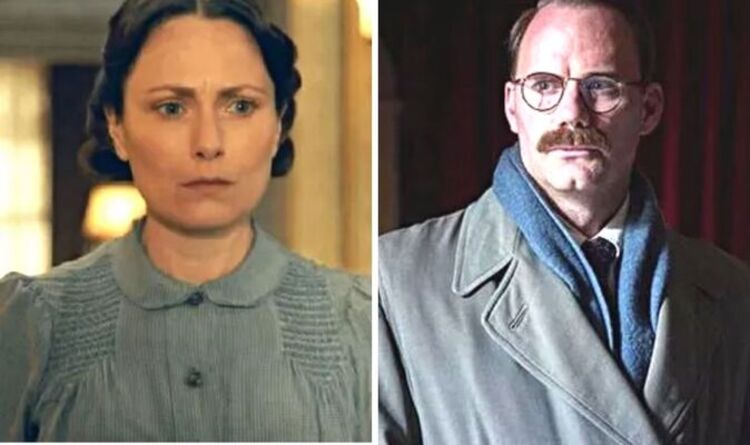 All Creatures Great and Small fans have speculated that housekeeper Mrs Hall (played by Anna Madeley) will end up being romantically involved with Siegfried Farnon (Samuel West). The two seem to share chemistry, but Gerald Hammond (Will Thorp) is another love interest of the favourite character. The escapist Channel 5 drama hasn't given much away about what could happen just yet, but Anna explained the prospect of Mrs Hall entering a relationship with either of the men could be "wonderful" and something she "hopes" will happen in future instalments.
"Oh gosh, I hope so, but I don't completely know," Anna said when asked if Mrs Hall could end up with either Segfired or Gerald.
"Ultimately, that's a Ben Vanstone [head writer and executive producer] question and he probably wouldn't give us the answer, would he?
"I think they're both rather wonderful relationships. The relationship with Mr. Farnon is so complex because there's so many layers to it, in that he employs her in the house, as well as that they have a real fondness for each other, and they are very good friends to one another.
"You can see where there'd be potential there. Then with Gerald, he's the first person that comes along that you really see in another way, helping Mrs. Hall out.
READ MORE: Emmerdale fans spot clue Andrea Tate alive and working with Leyla
Siegfried star Samuel spoke about the show's strong female cast members on the podcast, giving his view on Mrs Hall.
He explained: "If you were talking to Anna about how she researched her part, it would be quite a short conversation.
"Because Mrs Hall in the original books is a housekeeper, as she is in ours, but that's all she is; she is an employee.
"We realised very quickly that we were extremely lucky to have somebody as brilliant as Anna playing Mrs Hall."
He added: "Because it gives us that sort of layered idea of the story that even though Siegfried is a slightly old fashioned and certainly patriarchal man, he would like to think that his home is his castle and that he is the head of the house.
"Deep down, and possibly not even quite so deep down, he knows that nothing happens in Skeldale House without Mrs Halls' say so or knowledge."
Fans are already aware that the show will last for at least another two seasons, having been renewed for seasons three and four earlier this year.
Much like the original television adaptation from the 1970s, the most recent TV exploration of James Herriot's book All Creatures Great and Small has proven to be a hit with viewers.
All Creatures Great and Small is available to watch on My5 and AcornTV in the UK and PBS in the US.
Published at Sun, 10 Apr 2022 13:04:42 +0000
All Creatures Great and Small: Anna Madeley speaks on potential Mrs Hall romance 'Hope so'