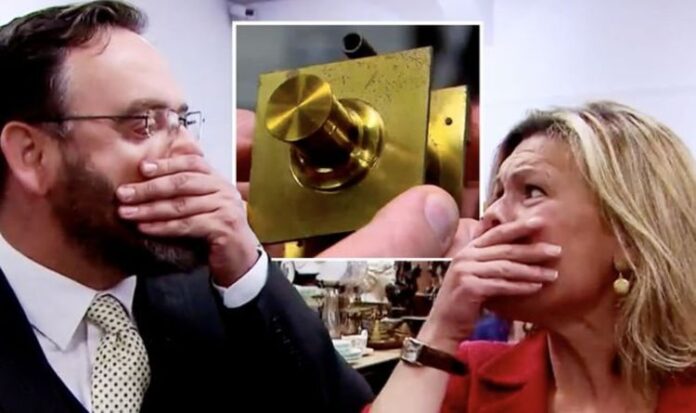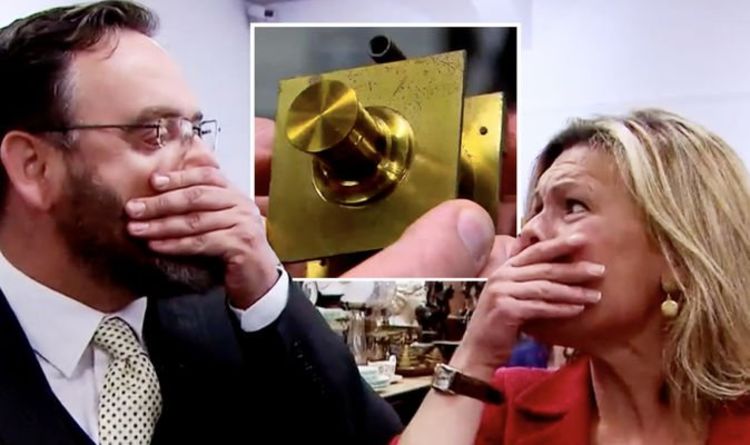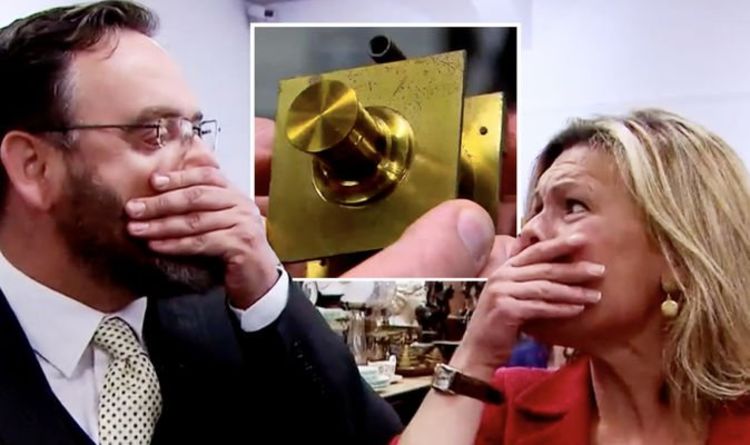 Antiques Road Trip experienced a show first after Paul Laidlaw spotted an item in an antique store that went on to sell for £20,000. The expert bought a rare antique camera for £60 and when he joined rival Kate Bliss in Suffolk, for the Bury St. Edmonds auction the pair were overwhelmed when the hammer went down at such a high price tag, especially after witnessing the bid increments. 
Paul found the camera while shopping for curios and collectables in Margate, Kent. 
The owner of the shop said: "Three floors, the upstairs is mainly furniture but there's stuff everywhere. And on this floor, there are four rooms through and in the middle, there's a staircase which goes down to a room full of chairs and another room full below!" 
Realising the mammoth task in front of him, Paul joked: "Don't send the calvary okay?" 
After some time hunting through the treasures, Paul returned to the desk and said: "In your cabinet over there, optical instrument… £75 on that I bid you £50." 
READ MORE: Celebrity Antiques Road Trip: Kelly Brook's 'SECRET history' revealed
"Give me £60 and I'll shake your hand but I'm not doing any better than that, I'm afraid," the owner remarked. 
"Shake my hand!" Paul commented and the owner added: "Good man deal done." 
He then turned to the camera and explained: "What do you get for your money when you open it up? That looks like a peepside and it is! 
"I think this is a very early camera. If I'm right, that could be quite exciting. The photographic market is very much in the ascent, it's a hot market, I think that's a good thing." 
When Paul and his new purchase arrived in the market town of Bury St. Edmunds, this auction lot caught auctioneer Edward Crichton's eye. 
He said: "The sub-miniature camera – I have never seen one, in fact, we have carried out some research and cannot find any other example which has sold at auction, we were very excited to see this and it has certain potential to make a significant profit." 
The bidding then opened and Edward explained: "We must open – we've got five phones on this – we must open the bidding at £1,000. 11, 12, 13, 14." 
Someone who was communicating to a bidder on the phone remarked: "Two," and Edward confirmed: "£2,000." 
"They're not messing around," Kate muttered and Edward continued: "£3,000, £4,000." 
Paul noticed the shift in bidding and said: "He's now taking £1,000 increments," and Kate added: "Which is a very rare thing." 
DON'T MISS…
GMB fans 'switch off' and slam ITV show for 'political broadcast' [REACTION]
Angel Adoree left gagging after Dick's Escape to the Chateau discovery [VIDEO]
Emmerdale spoilers: Victoria Sugden catches Luke on dating app? [THEORY]
"£10,000 online!" The auctioneer remarked. "£11,000 is next, £12,000, £13,000." 
"He's not slowing down," Kate said and Edward explained to those in the room: "It's not a record price, a record price for a general sale is £15,000, for a home and interior sale £16,000. £17,000, £18,000, £19,000. £20,000. 
"May I ask two?" But the bidders didn't go higher. "At £20,000 online, at £20,000 if we're all done, £20,000." 
"I'm over the moon. I am genuinely flabbergasted," Paul said upon reflection of what just happened. 
"Most items in this sale make between £50 and £500, so £20,000 is staggering, wonderful," Edward said. 
Published at Thu, 13 May 2021 06:12:00 +0000
Antiques Road Trip: Camera bought for £60 makes five figure profit and breaks show records