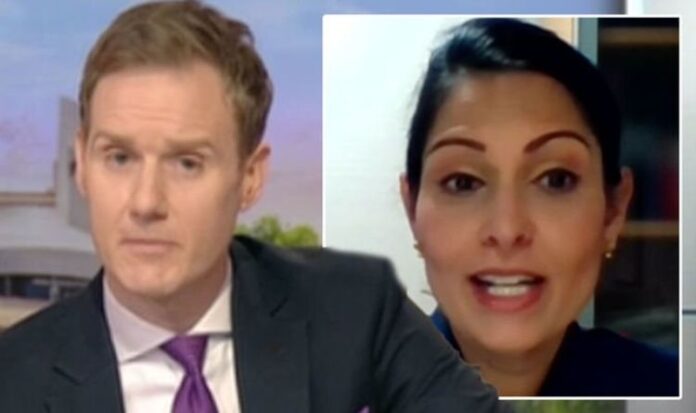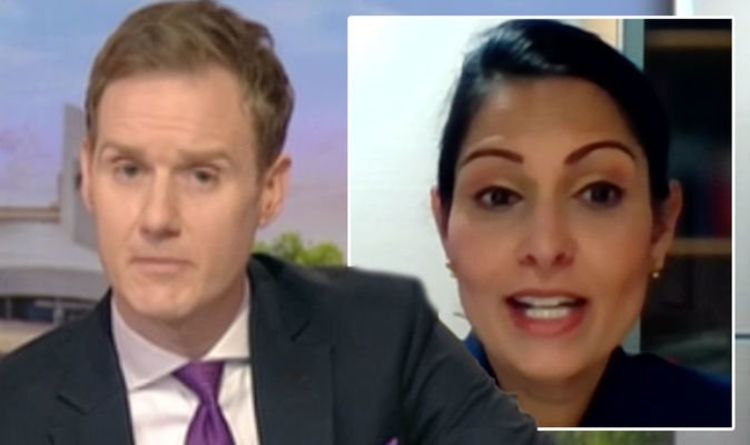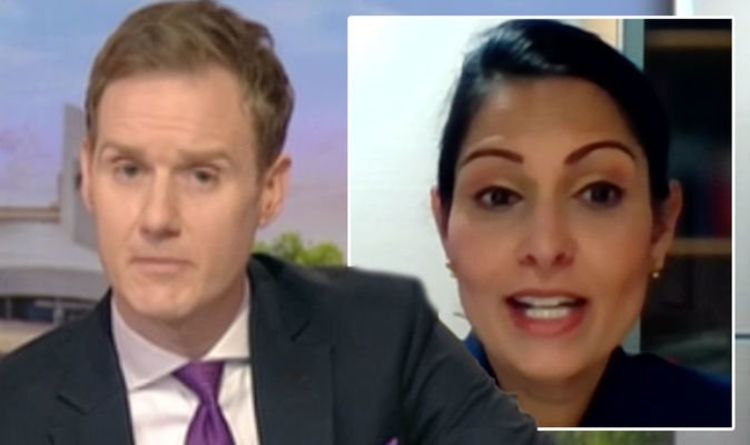 Priti Patel joined Dan Walker and Louise Minchin today on BBC Breakfast via video link to face a whole host of questions – from the end of Donald Trump's presidency to the UK's coronavirus death rate. However, the interview left plenty to be desired among a number of BBC One viewers at home who took issue with Walker's line of questioning. So much so, Walker was accused of trying to "trip up" Ms Patel and "repeating" the same questions, resulting in one fan claiming they'd "lost respect" for the Breakfast frontman.
Walker's chat with Ms Patel kicked off with the BBC Breakfast host turning his attention Stateside.
He asked the Home Secretary: "You were one of the first to publicly condemn what we saw at the Capitol Building at Washington.
"I wonder this morning Home Secretary, will you be pleased to see the back of President Trump?"
The Conservative Party MP replied: "Well, look this is a new era now in US politics and the incoming administration and inauguration today, it's a very, very big moment in America and in the world.
READ MORE: Dan Walker and Louise Minchin leave Glenn Hoddle in tears on Breakfast
"I think actually we should put some of this into the context of what we saw two weeks ago, with the protests and the violence which then unfolded.
"The fact of the matter is for us, we have an incredible relationship with the United States,
"We're stronger together in terms of our alliances – and we'll continue to work together with incoming Biden administration."
However, clearly dissatisfied with Ms Patel's answer, Walker probed again: "So will you be pleased to see the back of Trump?"
"@BBCBreakfast lost a little respect for @mrdanwalker just now with him pressing @pritipatel to make derogatory comments about Trump and then Biden's opinion on BoJo," weighed in a third. "That's not news Dan and unlike your usual style."
While a fourth said on Twitter: "@BBCBreakfast interviewing @pritipatel is painful to watch. Dan Walker seemingly repeating the same question over & over & Home Secretary just bats them away. Dan is a sports commentator, not a political one. Get a grown-up to do it next time BBC."
A fifth concurred: "Dan Walker's manner and tone in interviewing Priti Patel showed his absolute disrespect for the Home Secretary. It's not the role of @BBCBreakfast presenters to make judgements on Government ministers.
While a sixth branded it a "disgrace", stating: "Such a disgrace Dan kept asking questions which were personal NOT political glad Priti knew how to answer politically. Shame on the BBC again."
However, other fans were more dismayed with Ms Patel's claims this "wasn't a time to talk about mismanagement" when Walker asked about the UK's COVID-19 death toll.
She insisted: "There were a number of reasons for that, there is not just one specific reason."
"Good to see that at least #BBCbreakfast is trying to hold the gov't to account, though Priti refused to accept reality as usual," opined one fan following Walker's grilling.
BBC Breakfast continues daily at 6am on BBC One.
Published at Wed, 20 Jan 2021 08:10:00 +0000
BBC Breakfast's Dan Walker savaged over 'car crash' Patel interview 'Lost respect'