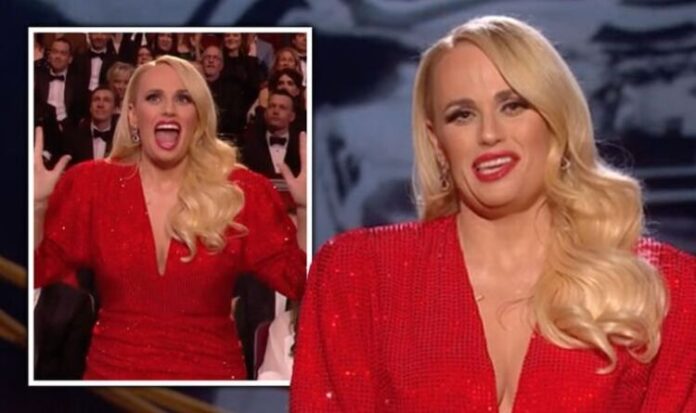 Rebel Wilson sparked controversy when she hosted the BAFTA Awards at the Royal Albert Hall in London. The comedian and actress punctuated the night with a series of outlandish jokes resulting in BBC viewers complaining to the broadcaster. But, the BBC has issued a statement defending the host.
During the awards ceremony, Rebel took aim at Prince Harry and Meghan Markle as well as teasing Hollywood stars Daniel Craig and Benedict Cumberbatch.
However, not everyone who tuned into the BAFTAs appreciated Rebel's jokes.
The broadcaster confirmed the evening received complaints before sharing their decision to shut down criticism.
A BBC statement read: "Comedy is one of the most subjective areas of programming and views will always differ on what's acceptable, and what's appropriate at different times of the day.
Read more: Only Fools and Horses Patrick Murray slams 'cringeworthy' BAFTAs
"It's never our intention to offend viewers and we always think very carefully about what we broadcast to ensure that it isn't outside of the expectations of the majority of the audience.
"We acknowledge that not everyone will agree with the decisions we take but this is something we do take seriously."
On the night, Rebel cheekily swiped at Harry and Meghan's tell-all interview with Oprah Winfrey.
She joked: "Our next package is for Outstanding British film. From drama to horror to fantasy, Harry and Meghan's interview with Oprah had it all…
"It was on rollerskates, it was called Pizza Express but don't worry, I'm not going to do it, I'm not going to sing."
"I'm saving my voice for the sequel to Cats," she added.
Criticising the host, Robin Edwards tweeted: "Rebel Wilson's opening monologue is painfully bad. What a strange choice to host #BAFTA2022 surely they could of found someone more suitable?"
Neil Anderson wrote: "Not sure if Rebel Wilson is trying to do a Ricky Gervais number when he presented the Golden Globes but if she is, it's not working so far #BAFTA2022."
Published at Fri, 25 Mar 2022 17:42:00 +0000
BBC hits back after Rebel Wilson's BAFTAs backlash 'Not everyone will agree with us'