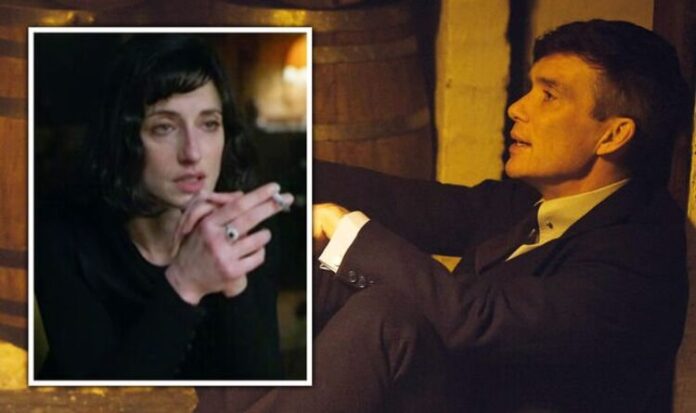 Tommy Shelby (played by Cillian Murphy) paid his final respects to his daughter Ruby Shelby (Orla McDonagh) in the latest instalment of Peaky Blinders. However, the episode was plagued with technical glitches as Tommy opened up to Arthur Shelby (Paul Anderson) about his loss and the future ahead of them.
The gang leader has been sober since the death of Polly Gray (Helen McCrory) but Tommy fell off the wagon after the death of his only daughter.
Peaky Blinders fans have watched Arthur struggle with alcohol and drug addiction this season but he vowed to stay clean when Tommy promised him a chance to reunite with his estranged wife.
In Sunday's episode, after fighting with Lizzie Shelby (Natasha O'Keeffe), Tommy joined Arthur in the cellar and the pair shared a heart-to-heart.
However, Peaky Blinders fans took to Twitter to complain the emotional scene was disrupted by technical issues.
As Tommy opened up to Arthur about the loss of Polly and his daughter, the BBC programme was continually interrupted by glitches.
Tommy took a sip of the drink and said: "After Polly was gone Arthur I thought I could just march and march.
"I kept up that f*****g left, right, left, right, left, right, f*****g rhythm. I'd never have to stop."
"Then Ruby went and I stumbled and crashed," Tommy continued. "And now here I am sat on my arse on the ground like a f****g tunneller with my old comrade Arthur.
"Remember the January Arthur? The family boat? The whole family living on the size of ten of these barrels.
"Remember that night at Tile Cross, 16 of us sleeping on the boat, the coppers came. We all swarm like rats except for Arthur. Arthur holds them off with a book hook, all on his own. And I remember I climbed back up the lock and I looked back and saw you waving that boat hook in the copper's faces.
"That's when I realised when I had you on the ground all those years ago it's because you let me win. You wanted me to win. You've wanted me to win ever since."
Referring to his own and Tommy's sobriety, Arthur said: "What chance do I have if you start doing that again?"
"You'll stop because the family needs you to," the gang leader hit back.
Referencing their dodgy business dealings, Tommy concluded: "Just a few more yards to go and then you will change your ways and I'll change the world."
Will Tommy get the chance to help his family turn their back on criminal deals or will fans watch his downfall in the final season?
Peaky Blinders continues on BBC One on Sunday at 9pm.
Published at Sun, 20 Mar 2022 21:49:00 +0000
'BBC sort it out!' Peaky Blinders fans fume as technical glitches disrupt episode