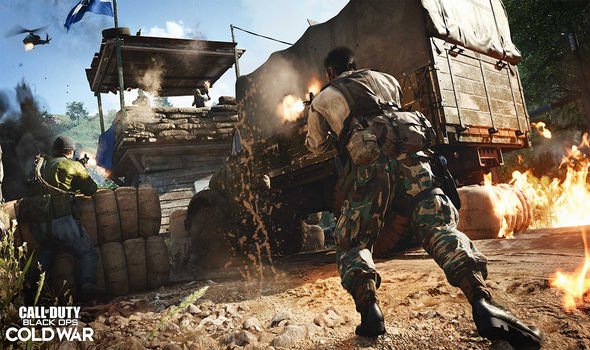 Call of Duty Black Ops Cold War PS4 beta release date, start time, maps, modes, pre-load
Call of Duty Black Ops Cold War PS4 beta (Image: ACTIVISION)
The Call of Duty Black Ops Cold War multiplayer beta weekend is about to get started on PS4.
Activision's Cold War beta has an October 8 release date, and a 6pm BST start time for fans living in the UK. That's 10am PT if you live in the US.
The October 8 release date is only for fans who pre-ordered the digital version of the game for PS4 and PS5.
If you haven't pre-ordered the new Black Ops, you can jump into the PlayStation 4 open beta from October 10.
The Black Ops Cold War beta ends just a few days later, at 6pm BST UK time on Monday, October 12.
Unfortunately, because of Sony's exclusivity deal with Activision, Xbox One and PC owners will have to wait until October 15 to play the beta.
If you want to start playing the moment the game goes live, you can be pre-load the Call of Duty Black Ops Cold War beta right now on PS4.
The Cold War beta pre-load weighs in at around 30GB, and can be downloaded through this link.
Elsewhere, Activision has revealed more about the maps, modes and rewards available as part of the beta.
The big news is that fans will be able to experience the game's mammoth 40-player mode Fireteam: Dirty Bomb.
This unique new game mode sees ten teams of four compete to collect uranium and detonate dirty bombs.
"Fireteam: Dirty Bomb cranks the action up to 11 with multi-squad insanity," Activision explains.
"A total of 40 players broken out into 10 teams will compete to take out enemies, collect uranium caches, locate Dirty Bombs scattered throughout the map, and successfully deposit their uranium into said bombs to detonate them and get the win."
Needless to say, the Cold War beta also contains a selection of traditional 6v6 modes, as well as 12v12 Combined Arms action.
In Combined Arms: Assault, two teams of 12 fight to secure a neutral capture zone in the centre of the map.
Activision explains more: "Once that objective is captured, the next one opens up deeper into enemy territory. The first team to successfully infiltrate and capture the enemy's final zone comes out on top.
"By default, teams will battle it out through five capture zones in each map. Once a zone is captured, the match timer will pause, allowing teams to reset and prepare for the next push.
"The match is won when a team has captured the final zone at the end of the linear progression of objectives.
"If neither team successfully captures the enemy's final zone, the round will end, and teams will play a single overtime round with only the central objective in play. The first team to capture the zone will win the round and the match."
According to Activision's Matt Scronce, Combined Arms: Assault features some of the game's most intense and cinematic battles.
In addition to Combined Arms: Assault, fans will be able to try out 6-vs-6 game modes like VIP Escort on maps including the newly introduced Cartel.
Call of Duty Black Ops Cold War PS4 beta (Image: ACTIVISION)
Set in the "steamy jungles of Nicaragua", Cartel sees players storm a remote cartel compound.
"If you're feeling lucky, try holding down the central tower to snipe oncoming enemies, or take the stealth route through the foliage in the center lane," reads an Activision teaser.
If you've ever taken part in previous beta tests, it probably won't come as a surprise to hear that the Cold War multiplayer weekend comes with its own progression system.
"Beta will also include a progression system where players can earn XP in order to unlock new content for their loadouts including weapons, equipment, Create-a-Class slots, and Scorestreaks."
Call of Duty Black Ops Cold War PS4 beta (Image: ACTIVISION)
Players can even earn an SMG Weapon Blueprint, but only if they reach level 10. This particular reward will carry over to the full release in November.
"A Weapon Blueprint is a variant of a weapon family within the game, complete with its own unique name and cosmetic differences.
"Weapon Blueprints may also come pre-equipped with attachments, allowing you to use them on that specific weapon without needing to level it up to unlock those attachments organically. These attachments can be swapped out in favour of other attachments earned by levelling up the weapon normally."
Finally, Activision has teased one or two additional surprises, so expect new maps, modes or playlists to be introduced over the course of the weekend.
Published at Wed, 07 Oct 2020 20:43:39 +0000