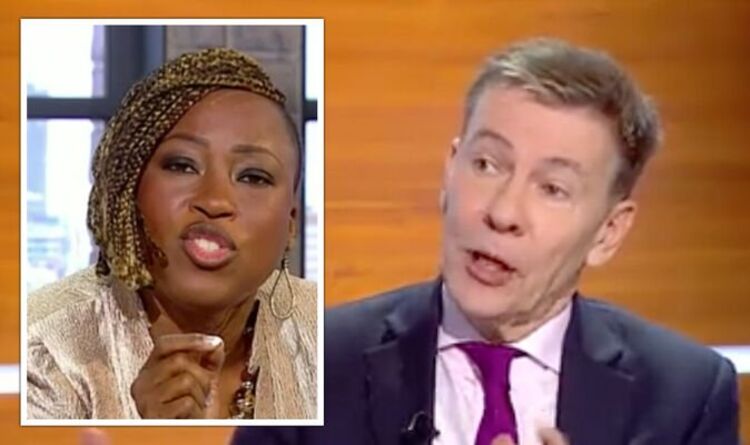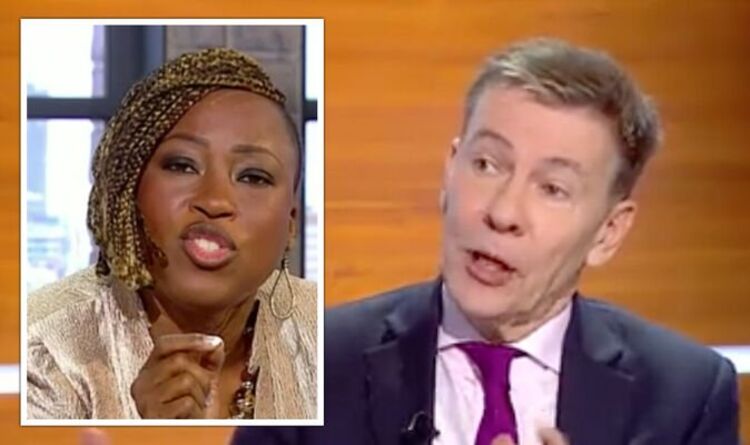 Broadcaster Andrew Pierce took issue with Dr Shola Mos-Shogbamimu claiming Boris Johnson was misleading when he said his Government had cut National Insurance. Chancellor Rishi Sunak on Wednesday announced the threshold for payment had been increased by £3,000 in an attempt to offset some of the rising costs of living. Mr Piece said: "Shola said the Prime Minister lied in that interview.
"He didn't lie, he has cut National Insurance for millions of people so don't say it's a lie because that's a distortion."
Dr Shola said: "It's a lie because it's a camouflage of the truth. It's a lie.
"If you say you're taking down something by 5p, you've actually not made a difference. Don't make it look as it is. You gaslight us by making it look like it can help."
But Mr Pierce hit back: "It is not a lie. Do you know what a lie is? Shola is doing what she always has, talking over everybody, distorting the truth."
JUST IN: BBC backlash as viewers slam 'pointless' Rishi Sunak interview 'How tone deaf are you?'
The pair then erupted in a heated row, with Dr Shola adding: "And Andrew is doing what he always does, which is always backing this Government without any thinking."
The comment had Mr Pierce erupt: "If you could just put a sock in it for once, that'd be quite helpful."
The fellow panellist added: "No, you put a sock in it. You're always backing up and defending him."
Mr Pierce said: "Well, I didn't actually. I said at the beginning, if you listen to what I said, I do not agree with what they've done with National Insurance.
"They should have scrapped the rise completely. It is disgraceful to say he lied because he raised tax thresholds for millions of people."
READ MORE: Ben Shephard promises to 'behave' as Ranvir Singh warns 'no arguments before we go on GMB'
The Institute for Fiscal Studies (IFS) warned Chancellor Rishi Sunak has failed to protect the country's poorest households from the rising cost of living.
IFS director Paul Johnson said the spring statement on Wednesday did nothing for those dependent on benefits.
Mr Johnson warned that the inflation levels currently experienced by the poorest households would be even higher than the Office for Budget Responsibility was forecasting.
DON'T MISS
"While benefit levels will catch up with inflation next year, that will be of little comfort to those budgeting week to week or to those who are unemployed this year but not next year," he said.
"It is hard to understand the lack of action on this front."
He sharply criticised the Chancellor's decision to go ahead with a hike in national insurance while promising to cut income tax in 2024.
"His choice to increase NI rates and reduce the basic rate of income tax looks indefensible from an economic point of view, though one can see the political attractions," he said.
Published at Thu, 24 Mar 2022 10:40:00 +0000
'Can you put a sock in it for once!' Row breaks out on Vine as Dr Shola calls Boris a liar