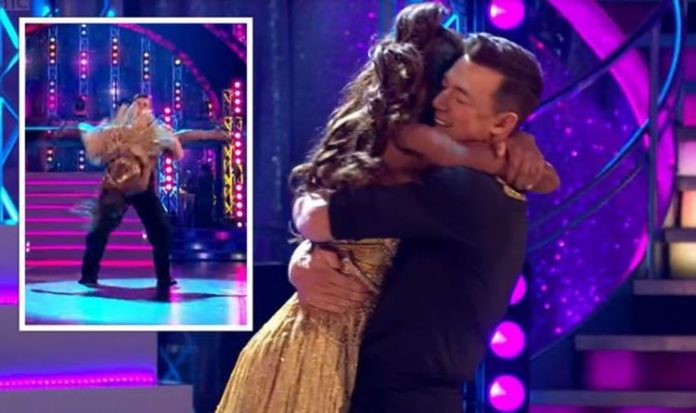 Strictly Come Dancing fans were left disappointed on Sunday night after BBC Breakfast host Dan Walker left the competition. He was the favourite to be eliminated in the dance-off, but viewers could not help but notice AJ Odudu had an "unfair" advantage.
The TV personality experienced a major slip-up on Saturday night, when she and her partner Kai Widdrington struggled with their final lift.
However, in the dance-off, fans thought she seemed to perform a slightly different move and managed to execute it well.
Taking to Twitter after Dan was eliminated, Sarah said: "#StrictlyComeDancing on that dance off Dan was much better it wasn't fair that aj changed the final lift."
Torisan added: "Did AJ & Kai change the last lift?? It looked different from last night (even though it went tits up) #Strictly #StrictlyComeDancing."
READ MORE: Dan Walker admits he nearly quit Strictly during emotional exit speech
unenthusiasticspatula said: "Did anyone else notice that AJ and Kai did a different final lift? She didn't go over his head like she did when they flubbed it. #StrictlyComeDancing."
Kitten Roe said: "Ummm ok so as much as I love Aj that dance off wasn't fair they changed the lift at the end…. #strictly"
AJ broke down in tears after her performance on Saturday night, which judge Craig Revel Horwood described as a "dance disaster".
She took on the Salsa to Rhythm Is Gonna Get You by Gloria Estefan, and partner Kai said his hand slipped during a lift at the end.
Speaking to Claudia Winkleman after the dance, she said: "I'm gutted because we worked so hard this week, I don't want to get emotional.
"I just hope you don't feel like I have let you down, I'm so sorry."
Dan Walker faced AJ in the dance-off and although the judges said he had improved greatly, they chose to save AJ and Kai.
Craig said: "Well I've got to say, Dan I think you did such a great job in the dance off, that's the best I've ever seen you dance, ever!
"AJ, you totally nailed that last bit, that was fantastic, a dilemma, but the couple I am going to save is AJ and Kai."
DON'T MISS…
'Trying to make headlines' Craig Revel Horwood slams James Jordan [INTERVIEW]
Dan Walker addresses 'uncomfortable' time on Strictly after exit [INSIGHT]
Strictly fans baffled as Shirley praises Rose for 'blocking out' noise [DISCUSSION]
Mia Goddard added: "Yall do realise aj and kai messed up the lift the first time hence why it looked different in the dance off because they did it right?!? why are people acting like they choreographed the dance #strictly." [Sic]
Nat commented: "Besties you know that last lift was supposed to look like that on Saturday right? Aj and Kai made new lift on Saturday and that's why it looked like that. Lift you saw today is lift how it supposed to look like #Strictly." [Sic]
Dan also received plenty of praise for being a true gentleman following his emotional farewell speech, in which he thanked his dance partner and co-stars.
The BBC Breakfast star admitted he would have "saved AJ and Kai too", as he made a dignified exit.
Strictly Come Dancing returns to BBC One on Saturday.
Published at Mon, 06 Dec 2021 05:22:00 +0000
'Cheating!' Strictly fans hit out as AJ Odudu 'changes' lift in dance-off 'Shame on you!'