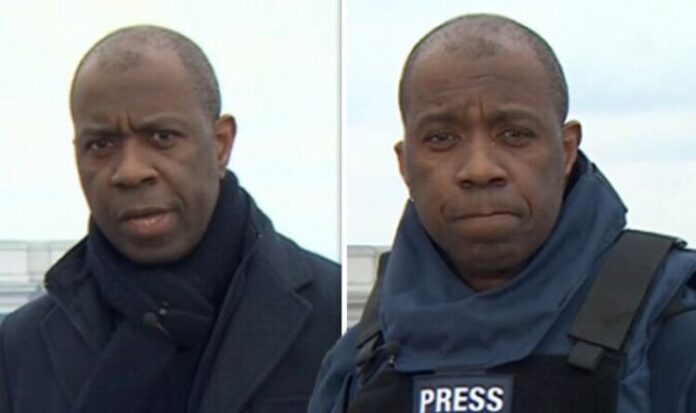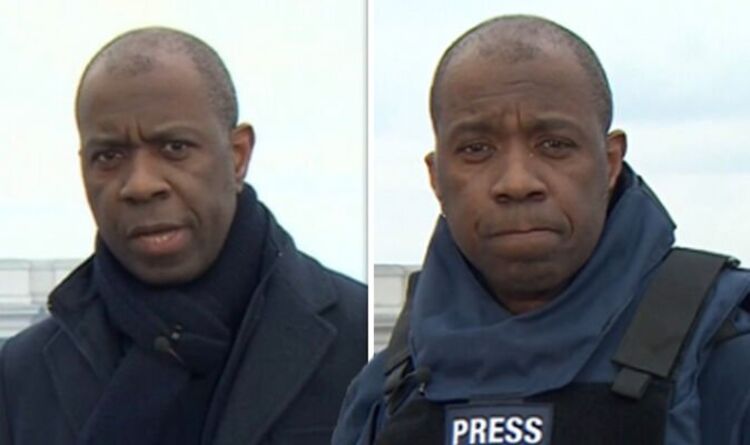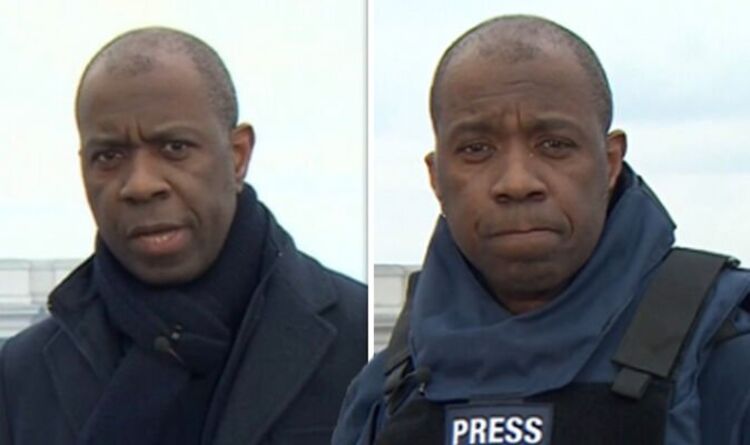 Clive Myrie is currently in Ukraine reporting for the BBC on the country's conflict with Russia. Vladimir Putin has launched a full-scale assault on Ukraine with its military attacking the country from the north, east and south. During a live segment on Thursday's BBC News, viewers noticed the reporter changed attire midway through the segment as sirens blared around him.
The Mastermind host was reporting live in Kiev alongside fellow BBC reporter Lyse Doucet.
The pair were standing in front of St. Michael's Golden-Domed Monastery.
Clive began the segment wearing a scarf and coat before the pair were seen wearing flak jackets moments later.
He said: "We heard the air raid sirens, we have put on our flak jackets.
Read more: BBC audience member rages at SNP over uncontrolled bills
@photoquilter wrote: "Dear God, please get Clive Myrie & his flack jacket out of Kyiv safely." (sic)
"Watching Clive Myrie report from the Ukraine with sirens going off is terrifying. Stay safe and get home! #RussiaUkraineCrisis #PrayingForUkraine," @Jonno2601.
@mandapen said: "Lovely Clive Myrie on the 1 o'clock news just apologising for putting his flak jacket on as he's live in Kyiv as air raid sirens sound. Don't apologise, Clive. We understand.
"How international correspondents remain so calm & unflustered in dangerous circumstances always amazes me." (sic)
Published at Thu, 24 Feb 2022 20:42:00 +0000
Chilling moment BBC's Clive Myrie puts on flak jacket reporting in Ukraine 'Get him out!'