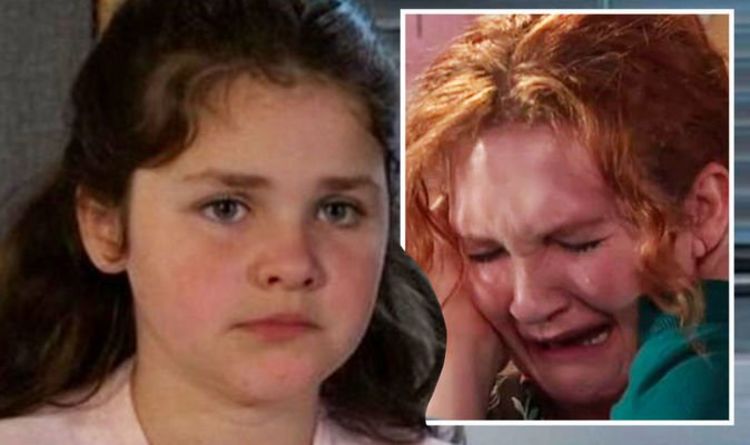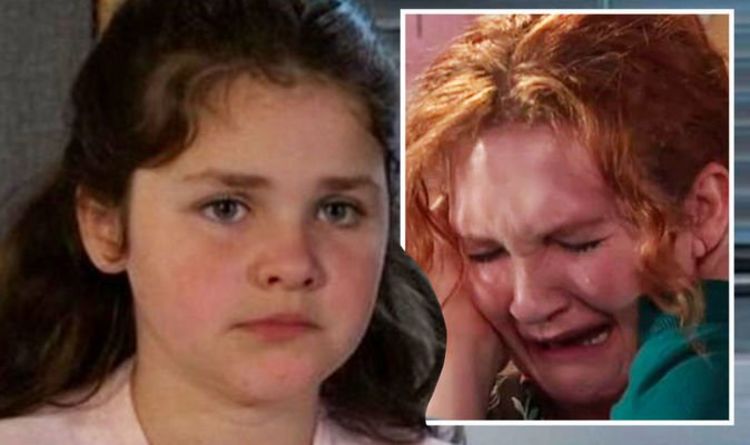 Hope (played by Isabella Flanagan) has left her mother, Fiz Brown (Jennie McAlpine) and de facto father Tyrone Dobbs (Alan Halsall) at their wits end on Coronation Street as her behaviour has been troubling to say the least. From setting fires to staging a runaway plot and causing her brother's miscarriage, she has struggled to settle down and get on the right path. However, as her parents come together in upcoming scenes on the ITV soap to talk about their daughter, it seems they could be set to learn an unsettling truth about what's really been the cause of her erratic and dangerous actions.
The drama kicks off in next week's instalments of the weeknight serial drama as Fiz receives from good news about her daughter.
After Hope was told to see a therapist in the wake of setting fire to Alina Pop's (Ruxandra Porojnicu) which resulted in her losing her baby, it seems the sessions have helped the youngster to understand what she did was wrong.
Speaking with the schoolgirl's mother, the therapist explains how they think her reckless behaviour is nothing of a sinister nature and is just down to her being naughty.
Fiz is full of optimism when she tells Evelyn Plummer (Maureen Lipman) but Tyrone's grandmother is not so convinced something else isn't going on.
She has seen how much damage and heartbreak the young cobbles resident has caused and thinks Fiz should air on the side of caution.
READ MORE: Call The Midwife double exit as Lucille and Cyril go on the run?
It seems Tyrone is also on the same wavelength as his grandmother as he tells Fiz he thinks they need to get a second opinion.
The mechanic explains how he thinks something is happening which is causing her to be so dangerous and says they need to get a proper diagnosis.
Although reluctant to accept there is a problem with her daughter, Fiz could agree and the former lovers could take Hope to the hospital for tests.
They could think this would just be routine but the scans could pick up how the youngster is living with a tumour medical professionals need to analyse.
As the schoolgirl undergoes an operation, her parents could be told she has cancer of the brain and needs urgent treatment if she is to survive.
However, as they learn the illness is a lot more aggressive than the last type of cancer she had, their hopes for her future will start to dwindle.
Knowing they need to put on a united front, will this be the moment Fiz and Tyrone finally come back together as they support Hope as a proper couple?
Speaking about the cancer plot in 2015, the actress who plays Fiz, Jennie, opened up about the heartbreaking reality many parents do face when their child becomes ill.
The soap star said: "Hope had been under the weather, so Fiz took her to the doctors and they found a lump. Very quickly Hope was having tests and they discovered she had cancer.
"This is what happens in real life. We have this amazing NHS, where you can go to the doctor on a Monday and, if needs be, have chemo by Friday."
"It is a big storyline that Corrie was undertaking and I suppose I felt honoured that they chose our family to do it," Jennie continued.
"They had trusted us with this quite harrowing but important story for Corrie to tell. You do feel a sense of responsibility to get it right.
"We are a family show on at 7.30pm, so we have got to be truthful but also sensitive," the actress said in an interview with This Morning.
The soap star also took the moment to raise awareness of how members of the public can help those diagnosed with cancer in their treatment.
She said: "When I donated Albert's [Jennie's son] cord blood when he was born, I couldn't imagine I would be filming that storyline."
"Doing it has made me join the blood donor register, the organ donor register and the bone marrow register," she continued.
"It just made me think, 'Why aren't we all on it?'"
This twist in Hope's current storyline has not been confirmed by ITV but they have not shied away from highlighting health problems over the past couple of years.
From Oliver Battersby's (Emmanuel and Jeremiah Cheetham) mitochondrial disease to Liam Connor (Charlie Wrenshall) having asthma and Summer Spellman (Harriet Bibby) being diagnosed with Type 1 Diabetes, they have really focussed on illness within children.
Coronation Street currently airs Mondays, Wednesdays at 7:30pm and 8:30pm and Fridays at 7:30pm for an hour on ITV.
Published at Thu, 27 Jan 2022 05:15:00 +0000
Coronation Street youngster Hope Stape given heartbreaking diagnosis as history repeats?