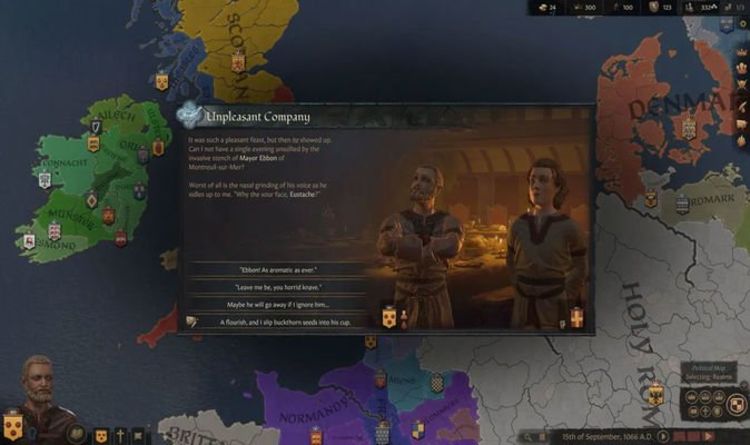 Crusader Kings 3 update 1.1: CK3 patch notes confirm big changes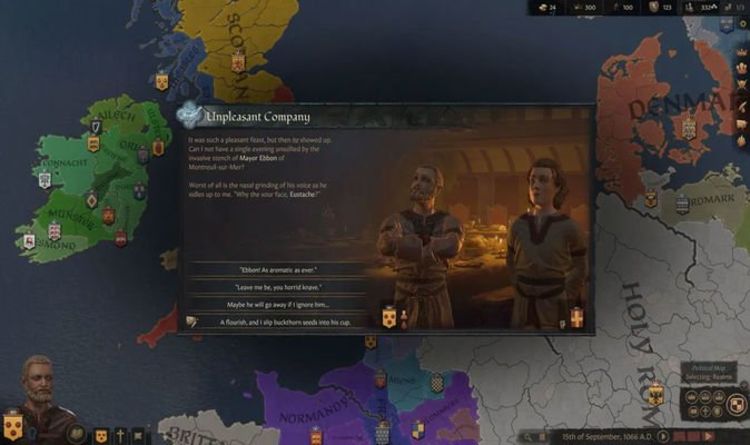 Crusader Kings 3 has been out for over a month now and the game's first big patch is being released this week.
The good news is that we know about everything that is being changed as part of Crusader Kings 3 update 1.1.
The downside is that it's such a huge list, you might end up missing a few tweaks a long the way.
Paradox has confirmed that CK3 1.1 will be launched on Tuesday, September 29, 2020, but have not provided an exact release time.
While we don't know exactly when everything will be kicking off, we do know a lot about the new release.
A message from Paradox adds: "Tomorrow is the day when patch 1.1 will drop, and we're very excited to share it with you!
"We've made a variety of UI improvements, fixed a whole bunch of bugs, and addressed many common issues players have run into. Using the standard Paradox unit of measurement, the changelog comes in at 5.3 @Groogy in length."
Full Crusader Kings 3 patch notes have been shared and they confirm a massive list of bug fixes and UI improvements.
Among the many changes coming to the game, fans will be pleased to hear that "Sneaky people will now wear sneaky clothes," and "Sick characters now dress the part."
Much of the new update is made up of CK3 fan feedback, including a lot of bug fixes being worked on.
But the development team are looking to remove certain ways of playing the game, including changing the rules on how Domains work.
As confirmed in the new patch notes, "The maximum penalty for being over your domain limit is now -100% taxes/levies, increased from -90%.
"If you vastly exceed your Domain Limit for more than one year (the grace period for new inheritances/conquests), all buildings will deactivate until your domain limit is lowered."
As mentioned above, the Crusader Kings 3 patch notes are lengthy and highlights from them can be found below:
CRUSADER KINGS 3 PATCH NOTES
Game Balance
– A woman being close to the fertility cutoff cap (3 years) now gives the 'Low Fertility' marriage penalty.
– Being unable to inherit titles no longer blocks claim inheritance. The Castrated, Bastard, and Disinherited traits still block claim inheritance. Only from within your dynasty for Disinherited
– Building a new Temple now gives much more piety, you can't do it too often anyways
– Cities and Temples now follow the same cost scale as Castles
– Clan rulers now desire fewer spouses the lower their tier is. The Piety penalty only triggers if they are below desired spouses. The numbers are: Baron/Count wants one, Dukes two, Kings three, and Emperors four.
– The Piety hit from being below desired spouses has been doubled.
– Confederate Partition now ignores land held by vassals with title allegiance when there's titles with their own separate succession (E.G., elective titles, titles with their own gender laws). This means no more creating a kingdom where all the vassals will go with another title
– Courtiers you have a kid with are now slightly more likely to stick around
– Creating a title will now cause vassals dejure under it to lose title allegiance if their allegiance is to a title of the same tier. E.G., creating the empire of Italia as the HRE will cause the Italian vassals to lose allegiance to the HRE
– Denying Call to Arms now costs Fame, potentially reducing your Level of Fame. Denying offensive wars has a small impact, but denying defensive calls have a massive impact.
– Denying a defensive war now reduces opinion with your ally by -50 for 25 years (decaying)
– Denying an offensive war now reduces opinion with your ally by -20 for 5 years (decaying)
– Slashed the opinion modifier from Diplomacy by half
– Diplomacy skill now gives a prestige mult % (with offset)
– Electors should now be less inclined to form or join independence factions, unless they're another faith than their liege
– Fixed pregnancy chance remaining unchanged for significant fertility spans before dropping drastically. Now the reduction in pregnancy chance is gradual instead. E.G., before the couple's fertility dropping from 53% to 52% would cause the chance of pregnancy to drop from 3% to 2% per month, while now it'll go from 2.52% to 2.47%
– For player cultures, the culture head now updates within a month when one ruler becomes bigger than another
– For player dynasties, the dynast now takes at most one month to update when someone else becomes more than 10% stronger, rather than up to a year
– Giving away a holding of the wrong type as an ambitious or greedy character will no longer incur stress
– Greedy gift-receivers now no longer demand insane amounts of additional gold
– The AI is now much more likely to demand the conversion of heretical vassals, if their refusal would result in them being marked as criminals. This should make the AI less likely to collapse to heresy.
– Heresiarchs will no longer accept demands of conversion.
– Denying a conversion request now gives the liege a revoke reason, in addition to the imprisonment reason they already got.
– Outbreaks of heresy now increase the Fervor of the affected Faith much more positively. This means that large faiths are more likely to bounce back to max Fervor after a Heresy outbreak.
– If a vassal asks for something in return for you asking them to convert faith, denying their request no longer gives you an imprisonment/revoke reason on them (you're being impious by not parting with simple material wealth!)
– If you have Partition and your primary title has a special election form, the heir to that title will be the primary heir for your Partition and get a share as long as they're a valid player heir, even if they otherwise wouldn't have been part of the Partition, or later in the Partition order
– Increased cooldown on asking vassal to convert faith to 15 years
– Inheritance succession can now go up to 6 generations upwards to find a distant relative rather than just 3
– It is now harder to murder someone you're at war with, or murder their vassals/courtiers
– The maximum success chance/secrecy of Abduct Schemes are now 85% (down from 95%).
– It is now practically impossible to abduct someone you're at war with, with a lesser penalty to their vassals/courtiers
– It's now much harder to scheme to abduct Rulers (especially Foreign Rulers) and subjects of a foreign court.
– Knights will more often gain prowess and blademaster traits in battle
– Large realms are now unlikely to convert religion in wars
– Lowered the attack stat of Pikemen
– Lowered the recruitment costs of MaA
– Made a number of interactions unavailable if you're at war with the target (E.G., it makes no sense to ask the Pope for money while you're at war with her)
– Made diplomacy affect the opinion gained from gifts much more (x3)
– Military prestige/piety maintenance costs no longer reduce you Fame/Devotion gain
– Opinion from multiple elective titles no longer stacks for each title with the law, it happens once per vassal based on their title allegiance's law.
– Outnumbering the enemy now further increases the survivability of your knights
– The Pechenegs are now a bit more stable at game start
– Rebalanced debt so that it now comes in levels. The higher the level, the harsher the penalties. Penalties include levy reductions, to make severely indebted realms collapse easier.
– Reclusive characters will no longer host feasts
– Removed the stress loss for lustful characters when renouncing celibacy, as it could lead to free stress loss
– Significantly nerfed the 'resurging saoshyant' modifier
– Slightly reduced the cost of Main holdings
– Vastly empowered the Mongol Empire's armies. Now you will truly learn to fear the horsemen of the steppe!
– Temujin & co now starts off with substantial prowess scores.
– Temujin now starts with a full roster of knights, as well as a few Han siege engineers.
– The Mongol Empire is now much more aggressive, and will attack several times per year, if opportunity arises.
– Weak realms are now much more likely to agree to subjugation by the Mongol Empire.
– The Borjigin Dynasty is no longer obscure, and starts with a few Warfare legacies unlocked.
– Ask to Take the Vows cooldown increased to 10 years.
– Ask to Take the Vows now costs piety to use, rather than giving you piety.
– Ask to Take the Vows improves the opinion of your Court Chaplain and Head of Faith when used.
– The 'Take the Vows' interaction can now be used on characters of 10 years or older (used to be only Adults).
– The 'Take the Vows' interaction can now be used on characters that are married or betrothed.
– The 'Take the Vows' interaction can now be used on characters that stand to inherit titles, this means that it's possible to prune your partition inheritance by disinheriting children using this tool.
– The AI acceptance values of Ask to Take the Vows have been massively reworked to take many things into account. Most notably having a Learning Education makes children much more likely to want to go to church.
– Using Ask to Take the Vows on someone now moves them away from your court, into the court of a theocrat in the realm (if there's one) or into the pool.
– You can not force characters married/betrothed in the incorrect lineality to Take the Vows (i.e. Women in a Patrilineal Marriage).
– You now need a Strong Hook to force acceptance of Ask to Take the Vows. Weak Hooks give a bit of acceptance instead.
– The AI is now more inclined to buy certain MaA based on their culture
– The AI is now more inclined to recruit their cultural MaA
– The AI is now much more likely to request money from their Head of Faith, especially if their HoF is very rich
– The AI is now reluctant to betroth boys to old women, regardless of them sharing their dynasty or not.
– The AI now only wants to spend money on recruiting guest claimants that have claims on bordering realms
– The AI (primarily War Defenders) will now consider White Peace more often, to avoid dragging wars on needlessly. They'll look at how long the war has lasted for, and compare that to their current War Score. This should reduce the number of extremely drawn-out wars.
– The AI will now account for Bankruptcy when considering White Peace. Starting at -100 gold, the AI will then progressively pursue White Peace more as they fall deeper into debt (-2 years of income, and -4 years of income), offsetting this by how close they are to winning (at 80 or above War Score, the AI will try to 'toughen it out' as the winnings from the war is more likely to outweigh the expenses of maintaining their army).
– The AI will now only demand conversion from vassals if they have the money to pay their demands, if the vassal is unlikely to simply accept straight-up.
– The AI will now take age and fertility into account when marrying away any character of a reputable house, not only their own. This should make it less likely for interesting characters to end up in fruitless marriages.
– The Exclave Independence game rule now triggers closer to succession for AI rulers
– The Inbred trait is now much less likely to be inherited, but further reduces fertility
– The Renown gain from alive dynasty members is now capped at 2/month (100 alive members)
– The Strong Blood dynasty modifier now only improves the chance of characters with no inherited genetic traits getting a positive one by 400%, rather than 40 000%. +400% means that the chance of getting Comely for instance is 2.5% instead of 0.5%
– The holder of Jerusalem is now unlikely to accept Populist demands
– The opinion hit from being unallied as a Clan vassal has been increased to 15 for non-powerful vassals, and 30 for powerful vassals.
– Titles automatically destroyed due to a ruler getting unlanded now gives that rulers claims if they received claims on the counties they lost
– Turks are now more likely to assimilate to local cultures than they were
– Under Partition, higher-tier titles no longer reduce the number of counties you get. In practice what this tends to mean is that in some (but not all) cases where your primary heir would get only one or two counties, they get one more
– Very non-zealous characters will now revoke titles from other-faith vassals if that'd be the best for the realm, presuming that there's no tyranny loss.
– Viking vassals are now more restricted when it comes to overseas conquests
– Wandering characters who decide to marry will now prefer to marry a character traveling with them, rather than creating a spouse
– Winning a Great Holy War as the attacker now refills all the levies and garrisons in the counties taken
– Wounded Knights are now less likely to die in battle
– You can now manage the focus of your children even if they're landed, as long as you're their liege
– You may now revoke the last county of someone who holds a duchy or higher that is impossible to revoke (E.G., a head of faith title). That will lead to that higher title getting destroyed
– You must be at peace to create a new faith.
– Your liege now gets "opinion of predecessor" towards your heir when you die, if they end up your heir's liege and your heir had no liege or a different liege
– wandering characters with absurd amounts of gold will now tend to spend it all on improving themselves (no more inviting wanderers with 7000 gold and banishing them!)
– Added more restrictions to the check for if characters are willing to cheat on their partners
– Alan culture now starts with Compound Bows researched in 867 as well as 1066.
– Germania can no longer be created by spiritually-headed Christians, who must create the HRE instead.
– Increased the Level of Splendor gain from the "Dynasty of Many Crowns" decision from 75 to 1000
– Increased the area for Stammesherzogtum to include parts of Bavaria and northern Germany, so all German cultures are able to gain the innovation.
– Increased the base fortifications slightly for castle holding upgrades.
– Indimitated vassals are now slightly-less-deterred from joining factions
– Jarl Haestinn now starts at Fame Level 5 instead of 6
– Made the 'Religious Construction' county modifier focus more on bonuses for temple holdings specifically instead of development in general.
– Nerfed the 'Supplies' siege event to grant a total of 20% Siege progress, down from 40%.
– Peasant Leaders now get a discount on raised levy maintenance, making popular revolts less likely to succumb to crippling debt
– Peasant and Populist Faction Leaders now gain gold contributions from faction members when war is declared, so that they can pay army maintenance. The gold is removed once the war has ended.
– Reduced the chance of children reincarnating with an ancestor's sinful personality traits
– Removed claimants with pressed claims from the pool of potential court physicians
– Removed extra 6th holy site of Alexandria from Waaqism
– Removed extra 6th holy sites of Wadan and Kisi from the Siguic and Bidaic faiths, respectively
– Restricted the Intrigue(Scheming) event "Confused Heritage" to players only, as the AI was going a bit wild with it and turning everyone into bastards unnecessarily
– The AI is now less likely to want to spend gold on Guests during war, and when their coffers are running low
– The AI should now be more inclined to build Castle holding upgrades
– The regional innovation Stammesherzogtum now also reduces the likelihood that vassals will join Independence Factions
– There is now a 5-10 year grace period on game start before Populist Factions will form
– Vassals are now increasingly likely to join factions the more in debt their liege is
– Zbrojnosh Men-At-Arms now counter Pikemen in addition to Archers.
– restoring the HRE is now easier & more rewarding, whilst still requiring a decent amount of prestige, realm size, & controlled kingdoms.
– Independence faction now has domains of all faction members as war goal
– When you successfully ask a vassal to end an offensive war, the defender now gets a small opinion bonus towards you.
– The maximum penalty for being over your domain limit is now -100% taxes/levies, increased from -90%.
– If you vastly exceed your Domain Limit for more than one year (the grace period for new inheritances/conquests), all buildings will deactivate until your domain limit is lowered.
AI
– Discouraged the AI from doing naval invasions when land invasions are feasible
– Gave the AI dancing lessons
– Gave the AI some self-confidence lessons. Just because its liege is a complete coward, that doesn't mean it should avoid making or joining factions. It should only do so if they themselves are cowed
– Increased the AI willingness to spend on Duchy Capital buildings
– Informed the AI of the existence of the player when it is trying to spread out to avoid attrition
– Informed the AI that if it has nothing else to do in a war, it might as well defend the wargoal
– Russian Vikings are now much more unlikely to conquer overseas
– Should now be better at merging small army stacks
– Sternly told the AI that when it's trying to support the player, it shouldn't try to retreat just because the enemy is coming right at it (except if it hasn't yet arrived at the player's location)
– Taught the AI how to count. It will now when deciding whether to raise its troops consider all its troops, not just its levies. So it won't refrain from raising its troops just because its levies alone would be pointless to raise
– Taught the AI to be a bit better at avoiding pushing 3rd party claims that'll lead to the claimant going independent. It's still happy to push such claims for close family members
– The AI is more likely to acquiesce to a faction demand when they're deep in debt
– The AI is no longer more eager to join a claimant faction if the claimant is close to death, but instead less likely
– The AI is now more likely to create holy orders, but gets less likely to do so the more holy orders a faith has
– The AI no longer minds matrilineal marriages for men and patrilineal marriages for women in most cases when those marriages are within the same dynasty
– The AI now wants to recruit guests that they have a positive relation with, for example Friends or Lovers
– The AI should no longer attempt to call the player in against their own heir or spouse (they wouldn't accept, so they should presume the player wouldn't either)
– The AI should no longer bother the player with offensive call-to-arms if they're the primary defender in a war.
– The AI will now properly revoke Holy Order leases if they're of another faith
– The AI will now use Ask to Take the Vows under certain circumstances.
– The AI will now wait longer to send a new ransom request to the player after they previously denied one.
– The distance the AI is willing to raid is now based on its tier
– Told the AI it might as well support the player if there's no enemies around as long as there's enemies *somewhere*, rather than running off on its own to go siege something
– Told the AI that considering the threat of enemies when you're at sea makes some sense even if they can't get to you while you remain at sea
– Told the AI that counting the player's enemies twice if they're movement locked and trying to decide if the player needs help or not might lead to some silly decisions
– Told the AI that hunting down enemy armies in enemy territory is a good idea if it is safe to do so, even if it is currently in a defensive mode
– Told the AI that it is a good idea to raise more troops when it already has troops raised
– Told the AI that it might actually be a good idea to try to avoid running into enemy units while raiding
– Told the AI that it really doesn't make any sense to try to retreat from a dangerous enemy while at sea
– Told the AI that it shouldn't bother sending support to the player while the player is just moving around at sea. Only once the player is standing still or making landfall does support make much sense
– Told the AI that it's fine to hunt down enemy armies that aren't in either the attacker or defender's territory
– Told the AI that just because it thinks a battle's about equal, that doesn't mean it should refrain from piling more troops into it to be 100% sure
– Told the AI that maybe it shouldn't pretend it can't see your units when it actually can due to you being in or on the border of its liege's territory
– Told the AI that when deciding where to raid, it might make sense to measure the distance by sea, not as the crow flies
– Told the AI that when it has decided to either retreat or stand on fight, there's no point doing other things like hunting nearby enemy units, or trying to merge with a friendly stack
– Told the AI that when supporting the player while the player is at sea, it makes sense for it to go to the same province, rather than stay on land
– Told the AI to not bother pushing the claims of vassals of vassals. Its own, its direct vassals, and its courtiers should be plenty
– Vikings should now mostly prefer to conquer contiguous areas overseas (their vassals can still go their own way though)
– When granting titles, the AI now has a small preference for giving away titles it more recently acquired, instead keeping its older titles
Interface
– Add a situation warning you of when a vassal may leave your realm due to inheriting a foreign title.
– Add character list filters for: not my faith, not my religion, not my culture, not my culture group, has no claims, has claims on me, and not player dynasty.
– Add developer easter egg character portraits to the credits view
– Added a Current Situation item for Vassals that could be granted to their Rightful Liege
– Added a descriptive text in the Dynasty View that tells how you pan it
– Added a game concept for Gifts
– Added a warning/suggestion in the current situation list for when having too few wives
– Added an alert for when your primary heir is of another dynasty and you don't have any members of yours in the (current) succession line
– Added game concept for the Unreformed Pagan Combat Bonus, making it clear that it only applies in counties of one's own faith
– Added missing "+" sign in tooltips about "X's opinion of you: 50"
– Added shortcut listings for the encyclopedia and character finder
– Added war start date to war tooltip
– Added warnings to the take vows interactions about kicking out potentially useful people
– Allow left mouse drag in dynasty tree
– Changed the name of the vassal contract modification confirmation interaction from "modify" to "modify vassal contract"
– Clicking a region in a cultural innovation tooltip now highlights it on the map
– Clicking on the checkbox or label will now also register the allow marriage button
– Contribution scores are no longer shown for GHW participants who can't have them.
– Crown authority tooltip only shows cost of locked levels
– Deceased rulers no longer shown an heir in the character window
– Directed GHWs now have a more accurate victory message
– Disallow wasting a hook use on a feudal contract negotiation if its already fair or in favor of the vassal.
– Display text in the realm view when the player has no vassals
– Don't show rally map icons on water, they are never valid there.
– Faith doctrine names should now be tooltippable in far more cases
– Fix borders not always being cleared when they could be.
– Fix the rally point icon when placing or moving rally points from blocking the click to actually move them if not hitting the map.
– Fix weak hooks suggesting you can force someone into a faction when the interaction requires a strong one.
– Fixed "Opinion of Liege" in character list entries not providing a breakdown when tooltipped
– Fixed "kinswoman" and "kinsman" in some cases being swapped
– Fixed Call to War and Offer to Join War interfaces in some cases selecting wars that cannot be selected. Now only auto-selects if there's only one war and it can be selected
– Fixed a handful of cases where localization would treat other players in MP as if they are you
– Fixed a misplaced space in the scheme success chance breakdown
– Fixed a number of cases where coats of arms could end up blank
– Fixed a superfluous Education Trait entry in the Encyclopedia
– Fixed a variety of interface functionality treating sessions where people can hotjoin but there's just one player, as if they're an actual multiplayer session. Could cause things like the "Player" mapmode to appear
– Fixed baronies showing up in the Ask For Claim interaction
– Fixed broken tooltips in the battle events list in the battle summary
– Fixed dead Popes being called king-bishops
– Fixed deleting a rally point not fully deselecting it, leading to clicking another rally point in the military view in some cases simply panning to that rally point without opening the rally point window
– Fixed directed GHWs (e.g. Jihads) showing incorrect war chest shares and scores for the person winning
– Fixed directed GHWs showing warscore share rather than rank
– Fixed doctrine tooltips in the faith view linking the doctrine itself, leading to pointless recursion
– Fixed dynasty modifier icons sticking around in the dynasty window after the modifier has been removed
– Fixed education focus icons in their tooltip lighting up on hover as if they were buttons
– Fixed faith doctrines in the encyclopedia and similar on the main menu sometimes saying "All <blank>:" rather than "All Adherents:"
– Fixed faith hostility descriptions "Evil" and "Hostile" not being tooltippable in some places
– Fixed it not being possible to filter by traits in the spouse interface that aren't shown (E.G., filtering by a specific education)
– Fixed links being unclickable in some tooltips
– Fixed links in the console output being unclickable
– Fixed mercenary troops not getting accounted for in a number of military strength breakdowns
– Fixed missing culture names in Guardian/Ward interactions
– Fixed pushing the claim of a courtier saying they "stay" your vassal rather than "become" your vassal
– Fixed regnal numbering failing in some cases when names contain non-ASCII characters
– Fixed some of the things that can block changing a focus not showing up in red with a warning symbol
– Fixed succession UI saying "From Realm's <blank>" rather than "From Realm's Partition Succession"
– Fixed the "<child> has no reason to stay at court" message claiming the child is your stepbrother or sister rather than child
– Fixed the "Realm will lose land when Vassal dies" alert showing up in some cases where the land won't actually leave the realm since the heir will become your vassal
– Fixed the "powerful vassal" text in the vassals list not having a tooltip
– Fixed the Allow Marriage checkbox
– Fixed the Claimants list for titles in some cases including people who don't actually have a claim on the title
– Fixed the Expose Secret interaction showing the effects of the Blackmail interaction
– Fixed the Find Concubine window in some cases showing someone who is already your concubine
– Fixed the Select Beneficiary having a game concept on the send interaction button, making it hard to click. Fixed the effects description *not* having a game concept for "Beneficiary"
– Fixed the achievements box in the Game Rules window only having a tooltip on the "Achievements (Not) Available" text rather than the whole area
– Fixed the center of the Resign from Council button not being clickable
– Fixed the character portrait in the Load Game window highlighting when you put your mouse over it, as if it were a button
– Fixed the character window strength breakdown listing "Attacker's/Defenders' Allies' Military Strength" rather than simply "Allies' Military Strength"
– Fixed the combat predictor in some cases ignoring some of your armies, thus predicting far worse odds than reality
– Fixed the declare war tooltip in the war declaration screen telling you about things blocking the war declaration twice
– Fixed the election candidate view showing the health icon twice on candidates
– Fixed the game pretending you could swap councillors (and then doing nothing when you clicked the button) in cases where the current councillor isn't eligible for the other's council position. Now it'll say Reassign instead, and lead to the current councillor being fired
– Fixed the game sometimes claiming a marriage has no chance of children despite both parties being fertile
– Fixed the game sometimes saying that the development progress will "change by x" when it'll actually "decrease by x"
– Fixed the hotkeys for the mapmodes hidden under "additional mapmodes" not working in the lobby
– Fixed the math sometimes overflowing for combat predictions for large battles, leading to it just saying the odds are even despite them being anything but
– Fixed the prestige icon in the Arrange Marriage view causing the prestige tooltip rather than the prestige gain breakdown tooltip
– Fixed the progress bar under "total soldiers" in the military view not having a tooltip; now gives the same tooltip as the label above it
– Fixed the rally point progress bar occasionally going offscreen
– Fixed the realm name of dead rulers being misplaced
– Fixed the religion filters and similar for character lists not always working. Was for instance broken in the election window
– Fixed the tooltip for the achievements icon in character selection covering the ironman checkbox
– Fixed the unit banner for stationary units turning invisible when you have the war overview window open
– Fixed the victory screen of Directed GHWs saying you didn't participate enough rather than showing your participation rank
– Fixed titles sometimes showing up twice in the title finder
– Fixed traits with gendered names such as "Pretty" having their names based on the target rather than schemer in romance schemes
– Fixed troop counts being massively wrong until you unpause. Now they'll only be a little bit off (since a lot of things can change on the first day)
– Fixed unpause tooltip in single-player sometimes saying "Game is Paused by UNKNOWN"
– Fixed word salad in the Level of Splendor toasts
– Fixed you in some cases getting a "your child can marry" notification for someone you have no power to marry off
– Fixed your heir display taking a day to update after your heir dies. Now instant for player heirs
– Got rid of strange glow on the "no character selected" portrait when creating a claimant faction
– Hovering over options in the dropdowns in the Barber Shop will now show the resulting change on your character model. No more having to click through the options one by one
– Improved consistency between Call to War and Offer to Join War interfaces
– Improved the look of faction entries when the faction is at war to push its demands
– Improved tooltip placement in the title window for the titles in the "De Jure Part of" list and the De Jure Hierarchy list in the holding view
– In the character view, hovering over the military strength of the character will now list knights with their cultural name rather than yours
– Invalid savegames can be toggled on or off when the save window is up
– Knights no longer have such a disproportionate effect on army quality levels. This has no impact on gameplay; just makes the quality level more representative of the actual effectiveness of the army
– Level of Splendor triggers now correctly show their name rather than just a number
– Made it clear in the Knight game concept that Knights represent both the character *and* their retinue of troops; a Knight isn't single-handedly causing 30 casualties
– Make sure absolute control is displayed correctly in the domain tab
– Make sure the friends panel can be expanded if at 8 or more
– Make sure the page number and close button are not drawn over each other in tutorial windows
– Make sure the right mouse button is registered when clicked to pan to the army from the outliner
– Make sure the views on a faith are not shown when the player hasn't selected a character yet
– Make sure to switch between click to show/hide on the tooltip for notifications
– Minor GHW layout improvement
– Only show the click to unlock text in lifestyle perks if it's available
– Only show the continue button if the credits list is still scrolling
– Only show the map icon and progress bar for tasks that have a councillor appointed to it
– Only show the select button in the MP lobby if the game has not been started yet
– Opening a dynasty tree now pans to you (if you're in it). Otherwise it pans to the dynast, or the founder if it is a dead dynasty
– Outdated information should no longer stick around in the character window
– Peasant and Populist revolts will no longer get dynasty-based names for governments that use such names
– Potential scheme agents with positive acceptance score are now listed as "Will join" rather than "Can be convinced"
– Remove double toast when a dynasty member makes a cadet house.
– Remove starting fervor info from the faith creation screen, it does not vary so it is unnecessary information.
– Remove the description for secondary characters on the bookmarks screen
– Removed dagger icon next to scheme start effects to make the less awkward when used with personal schemes
– Scheme Agent acceptance tooltip now shows the full breakdown directly in the list.
– Select the correct text flavorization when a title can't be granted
– Shift+F11 will now generate a picture of your current map mode and put it in your screenshots folder
– Show a message in the window when you have no vassals and are about to convert to a new faith
– Sort by name for Knights in the battle result window now uses first names instead of titled names.
– Stopped showing the opinion of players of the faction target when creating a claimant faction
– Successful conversion is now sent as a message rather than a toast
– The "Allow Marriage" button in the interaction list now looks far less out of place, and the full button is tooltippable
– The "Pending Crusade Participation" alert now only shows up if the head of faith would actually be upset at you for not participating
– The "will not accept" icon and tooltip now only shows up on interactions where there's no combination of options that'll lead to the recipient accepting. No more "will not accept" on ransom when they'll gladly accept as long as you're willing to pay
– The 'Alliance Expired' message now shows clickable links for the character names.
– The AI trying to ransom itself from your prison will no longer be called "Ransom Yourself"
– The Appoint a Councillor window now no longer appears under other windows until clicked
– The Great Holy War interface now tells you how much of the war chest you'll get when the war begins
– The Hajjaj version of the Pilgrim trait now has unique art
– The Muslim caliphates are now named "Sunni Caliphate" and such, rather than "Abbasid"
– The Romance interaction now uses the correct notification header
– The Success Chance and Secrecy modifiers are now not shown for Discovered schemes, to prevent being able to deduce who's scheming against you (only total chance is shown)
– The army tooltip now shows commander advantage rather than martial
– The automatic pausing from having died no longer gets unpaused when you dismiss the succession screen; you now have to manually unpause instead
– The battle predictor is no longer as pessimistic about your odds. Now a predicted 50% edge is enough to get "you'll probably win", while before you needed a 133% edge. The other categories have had their thresholds tweaked as well
– The breach siege event pictures now have the correct aspect ratio and properly updates to show the different breach levels.
– The character relation description will now include spouses and concubines of landed rulers.
– The concubine and blackmail interactions now show all their effects
– The faction interface now clearly shows who has been blocked temporarily from joining a faction, and until when
– The game will no longer claim that your guest's claim on a title that's already in your realm, or which has no holder, is useful
– The house & dynasty view now looks nicer for houses and dynasties with no living members
– The lost titles section in the ruler transition window is no longer shown where there's no lost titles and is expanded by default.
– The on-map council task icons are now always shown when you have the council window open
– The raid loot info now shows up in province tooltips when you have a raid selected rather than a raid army
– Tracked decisions now show as alerts instead of in the suggestion dropdown
– Unit movement arrows are more visible when moving through heavily-forested provinces
– When a war goal has multiple options (E.G., claim wars, holy wars), those are now sorted by tier then roughly by distance from your realm, rather than in arbitrary order
– When looking at the list of knights and potential knights, potential knights only have their portrait darkened rather than their entire entry, so it no longer looks as if buttons like "Recruit to Court" are grayed out
– When revoking a title, the new domain size is shown correctly now
– When viewing a battle you're not involved in, it'll no longer say it's "your" commander and "your" realm
– You can now hover over innovations in modifier breakdowns (E.G., "Manoralism" in the building cost breakdown) to see the full info on the innovation
– You can now queue movement waypoints for gathering armies using shift, rather than being limited to just the shortest available path
– You no longer get the Dangerous Faction alert for a faction that's at war with you. The ongoing war is presumably enough of a tell
– You now get a notification in the lower-right corner when a part of your realm gets sieged by someone you're hostile to
– Improved Bookmarks screen scaling on different aspect ratios
– Fixed missing description in Secret Exposed notification
– Don't show the cost of removing a title law if there is no cost.
– New Stress indicator look and placement
– Fixed various text overflow issues with localized text
– Added visible "close" button to Toasts
– More info for pinned characters in Outliner
– Fixed an issue where Sinful and Virtuous traits were not highlighted in the Character Window
– Clearer state of army in Army View
– More feedback on pause/unpause
ART
– Added ethnicities for East African, South Indian and Slavic, and Arctic/Circumpolar
– Added lighting for Corridor Night event background.
– Fixed a CoA that was showing debug pink
– Large map names look better, at a small cost to tiny map names.
– Tweak to Knights Templar coat of arms
– Updated some character portraits in the credits list
– Fixed a large amount of portrait clipping issues between clothing, headgear and hair.
– Lowered some headgears to better rest on a character heads rather than floating.
– Improved teenager animations to not be neutral but also show more personality like adults.
– Adjusted animations to cause less intersections.
– Increased map readability by changing the colour slightly for titles that had similar, or the same, colour.
– Visual Map improvements in the African region.
– Fixed a number of lakes floating around.
– Added FXAA as an anti aliasing option
– Improved visuals of Bookmarks screen (New Game) and Main Menu
– Fixed some errors on the Bookmarks map
– Frontend menus have been tidied up
– New Siege Window layout and art
– Improved HUD visuals
– Color coded Education Trait Icons
– Increased contrast of character portraits
– Cleaned up file structure
– War Overview now looks cooler
– Culture Window looks cooler too
– Great Holy War is actually great
– Culture icons are now unified to always display as a candle
– Added Easter Egg DNA for Henrik Fåhreaus, Debbie Lane, Hanna Löhman, Maximilian Olbers, Bianca Savazzi
Published at Mon, 28 Sep 2020 17:32:05 +0000