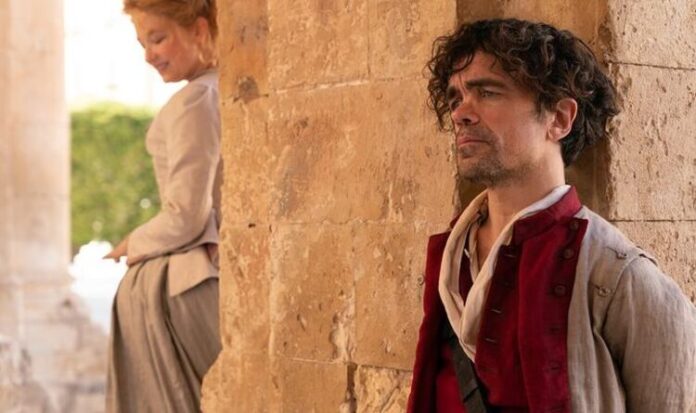 And as downbeat US indie band The National provide the showtunes, there are no opportunities for his cast to exercise their jazz hands. But Wright was probably being deliberately provocative. He weaves some achingly beautiful musical sequences into this mournful adaptation of Erica Schmidt's off-Broadway musical.
His greatest asset is his leading man. Fantasy fans will know Peter Dinklage (Schmidt's husband) as the series stealing Tyrion Lannister from Game Of Thrones.
His Cyrano is cut from the same cloth – a proud, sharp-witted soldier cursed with a tender heart and a wounded soul. Dinklage uses those mournful eyes and pained smiles to powerful effect.
Here, it's his diminutive stature, not a colossal conk, which makes him feel unworthy of the love of Roxanne (Wright's wife Haley Bennett).
"I am a monster! I am a mutant! A freak of nature – I've heard all the ugly, hateful nomenclature," he sort of raps in When I Was Born.
The story is so familiar, it's barely worth repeating. It's 17th-century France and soldier poet Cyrano de Bergerac is secretly pining for aristocratic beauty Roxanne who is being courted by Ben Mendelsohn's evil nobleman.
When he discovers she is in love with his handsome but inarticulate comrade Christian de Neuvillette (Kelvin Harrison Jr), Cyrano offers to pen love letters in besotted Christian's name, finding an outlet for his lovelorn feelings.
As in Tom Hooper's Les Misérables, Wright recorded the songs live using actors unblessed with Broadway quality voices. Dinklage's wavering baritone works beautifully with the song's understated melodies and gives Sidi Larbi Cherkaoui's exuberant choreography and Wright's painterly compositions a naturalistic edge.
The most powerful track is Wherever I Fall, sung by soldiers on the eve of battle. As they voice their regrets and their acceptance of imminent death, Wright's camera surveys their craggy faces. You won't feel like tapping your toes but this haunting sequence could break your heart.
Published at Fri, 25 Feb 2022 14:31:59 +0000
Cyrano review: A striking take on Edmond Rostand's play