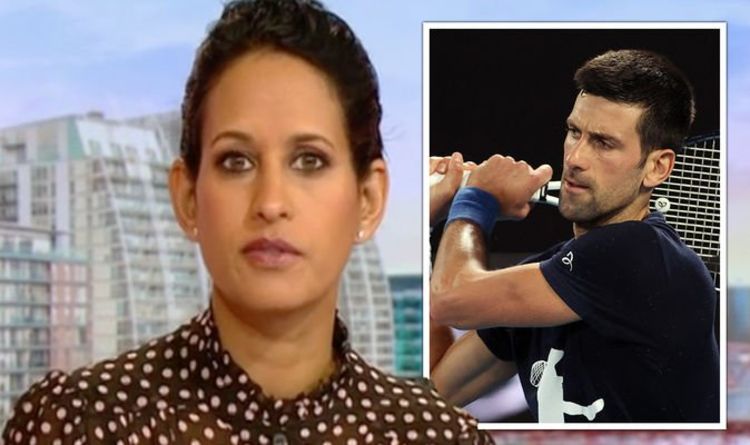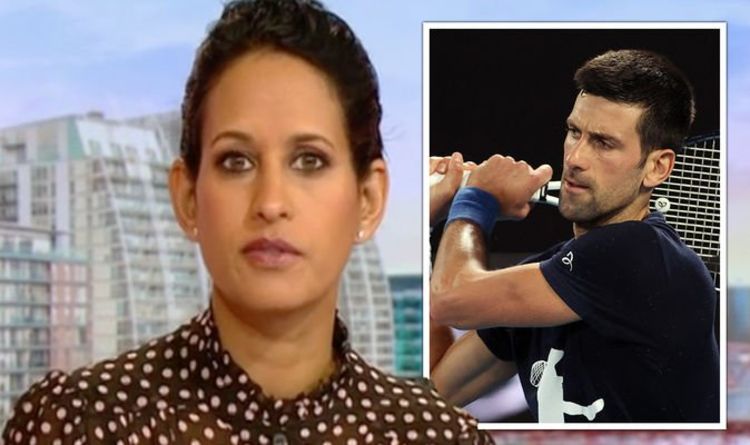 Naga Munchetty and Charlie Stayt came under fire on Saturday morning while hosting BBC Breakfast. The presenting duo welcomed the former Minister for Foreign Affairs of Australia, Alexander Downer, onto the programme. They interviewed the former politician about the controversy surrounding tennis player Novak Djokovic and his attempts to enter Australia. The Serbian faces deportation after his visa was cancelled for a second time.
Djokovic's visa was first revoked shortly after his arrival in Melbourne on January 6, after Australian Border Force officials said he had "failed to provide appropriate evidence" to receive a vaccine exemption.
The tennis star was detained for days at an immigration hotel, before his visa was reinstated by a judge, who ordered his release, ruling that border officials ignored correct procedure when he arrived.
However, on Friday evening, Immigration Minister Alex Hawke once again cancelled Djokovic's visa under separate powers in Australia's Migration Act.
On Saturday's instalment of BBC Breakfast, Munchetty and Stayt welcomed Alexander Downer onto the programme to explain the current situation in Australia.
READ MORE: Emmerdale revenge as Dawn Taylor is left heartbroken after death?
The politician explained that Djokovic had claimed an exemption from quarantining upon arrival in Australia, but didn't qualify for the exemption.
Munchetty questioned: "One of the exemptions was if you had had covid in a recent period of time, which was what was put on his form, that you would be exempt because of antibodies."
However, Downer clarified: "That doesn't grant you an exemption from quarantine.
"The Australian government, in the form of the health minister, wrote to Tennis Australia on the 29th of November last year telling them that would not generate an exemption.
"I get the feeling Charlie and Naga are upset their boy faces being chucked out…" @NeilPlevey9 added.
@city_mummy said: "Well done @AlexanderDowner schooling #BBCBreakfast on democracy."
"Charlie's a Djokovic fan then #BBCBreakfast," @deborahphillips remarked.
"Astonished that BBCBreakfast presenters don't know the facts of the Djokovic case and even argue with Alexander Downer when he explains it again #BBCBreakfast," @herrylaw commented.
Meanwhile, others suggested BBC Breakfast had focused too much on the story throughout the programme.
"Dear BBC, don't you think your coverage of Djokovic is a bit excessive? #bbc #bbcbreakfast," @chopmanski said.
However, some defended the presenting duo insisting they were playing "devil's advocate" and trying to keep the discussion balanced.
BBC Breakfast airs weekdays at 6am on BBC One.
Published at Sat, 15 Jan 2022 11:43:00 +0000
'Don't know the facts!' BBC Breakfast viewers blast Novak Djokovic coverage