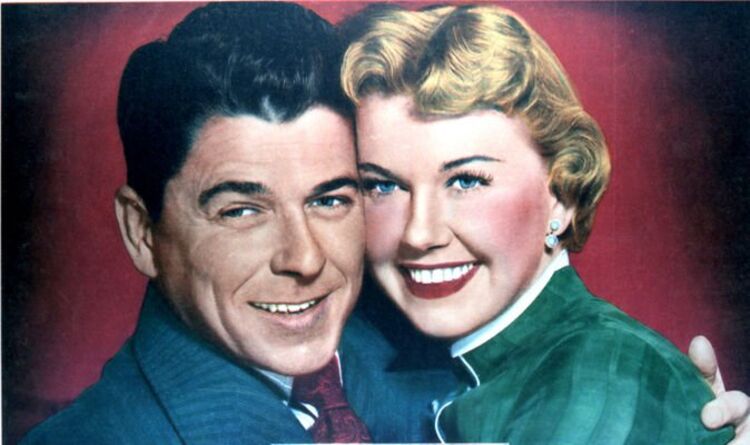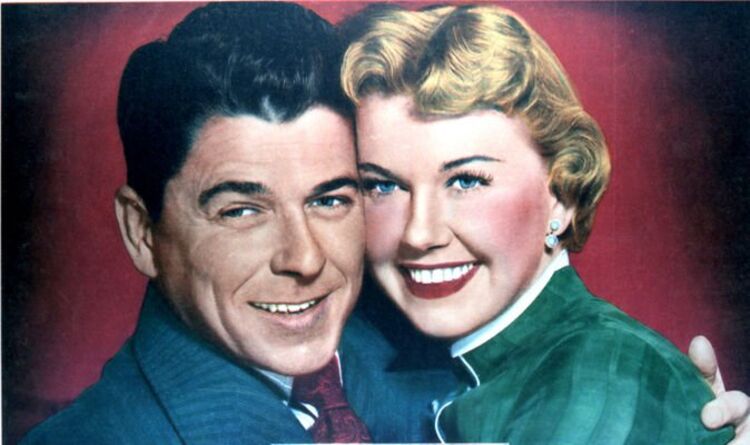 This week marks the 100th birthday of legendary silver screen goddess Doris Day. The BBC is running two of her films tonight, Move Over Darling and Calamity Jane, which perfectly encapsulate her charming and clean-cut Hollywood image. But behind the scenes, the actress was nothing like her famous on-screen persona. Years later, she spoke openly, revealing that her iconic public image was "more make-believe than any film part I ever played." Even at the time, Groucho Marx (the quote is also attributed to pianist Oscar Levant) notoriously said, "I've been around so long, I knew Doris Day before she was a virgin." In her biography, Doris Day: Her Own Story, the actress blew away the goodie-two-shoes myth and revealed a very healthy sexual appetite, as well as numerous affairs with famous men, including Ronald Reagan.
When Reagan first arrived in LA in 1937 and signed a seven-year contract with Warner Bros, he had a three-bedroom bungalow at the infamous Garden of Allah hotel where he earned the nickname 'Horndog Reagan.' He was never an A-list name in a town full of stars, but he was handsome and well-liked, and very popular with the ladies. Perhaps due to talents later described by Lana Turner.
The book Love Triangle: Ronald Reagan, Jane Wyman And Nancy Davis by Darwin Porter and Danforth Prince says the actor, "suffered from what he jokingly referred to as 'leadingladyitis'" and routinely bedded his co-stars, as well as others he squired around town.
Porter was raised in Hollywood inner circles, his mother was a Hollywood costumier, and in the book he describes how Turner revealed Reagan's skills between the sheets. He was, apparently a "forty-minute man" when another lover, John F Kennedy was only a "four-minute man." The stamina was particularly impressive since the actor was also seeing other famous stars at the same time.
Reagan told friend Dick Powell: "Lana is just as oversexed as I am, but I have to slip around because I don't want Susan Hayward to find out."
Nancy Reagan biographer Kitty Kelley claimed Reagan slept with so many women that he told a friend: "I woke up one morning and I couldn't remember the name of the gal that I was in bed with."
Reagan's first marriage to Hollywood icon Jane Wyman ended in 1949, partly due to her opposition to his political ambitions. Incredibly, although he would go on to become a two-term Republican US President, at the time he was a Democrat while Wyman was a life-long Republican.
Reagan swiftly became smitten with Day (even though he was reportedly also sleeping with Marilyn Monroe at the time).
The pair were both under contract to Warner Bros and would go on to star together in two films, Storm Warning (1951) and The Winning Team (1952).
In her biography, Day said: "I was seeing several men — Jack Carson, occasionally my ex-husband. George Weidler, when his band was in town, and Ronald Reagan, with whom I made two movies.
"I had met Ronald Reagan through mutual friends from New York who had come out to Los Angeles to live. Ronnie had recently been divorced from Jane Wyman, and he lived alone in an apartment high above Sunset Strip."
The pair would sneak back to his place and apparently enjoy marathon lovemaking sessions while enjoying the dazzling views across the city.
Day added: "There were two things about Ronnie that impressed me: how much he liked to dance and how much he liked to talk. Ronnie is really the only man I've ever known who loved dancing. He danced well and he had a pleasant personality, so I invariably enjoyed going out with Ronnie."
The actress also encouraged her lover's political ambitions: "He wasn't actually in politics, of course, but he had what I would call a political personality — engaging, strong and very voluble."
Regan apparently told friends he was going to propose and one, George Murphy, replied that Day was the ideal wife for his future career: If people get bored with your long-winded political speeches, she can just turn up and sing."
However, their affair fizzled out when Reagan's attention, as so often, wandered. Fellow B-list star Nancy Davis, who he first met in 1949, pursued him relentlessly and they were married in 1952.
Day, herself, was never short of attention and went on to marry her third husband Marty Melcher in April 1951.
DORIS DAY: MOVE OVER DARLING AND CALAMITY JANE ARE ON BBC 4 TONIGHT FROM 9PM
Published at Thu, 07 Apr 2022 16:20:00 +0000
Doris Day 100: Star had an affair with 'oversexed' Ronald Reagan 'He wanted to propose'