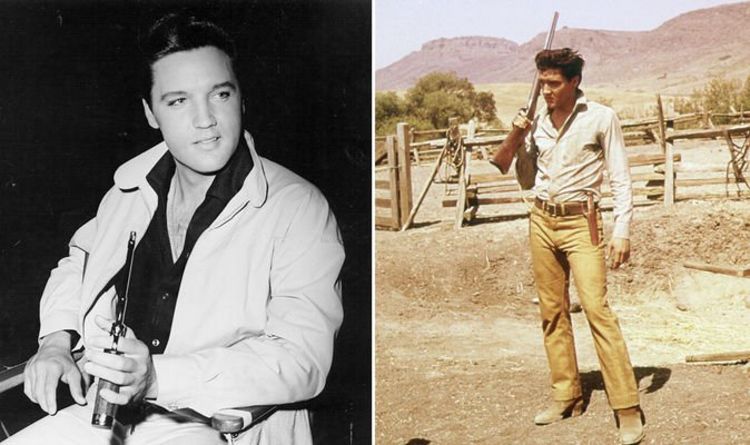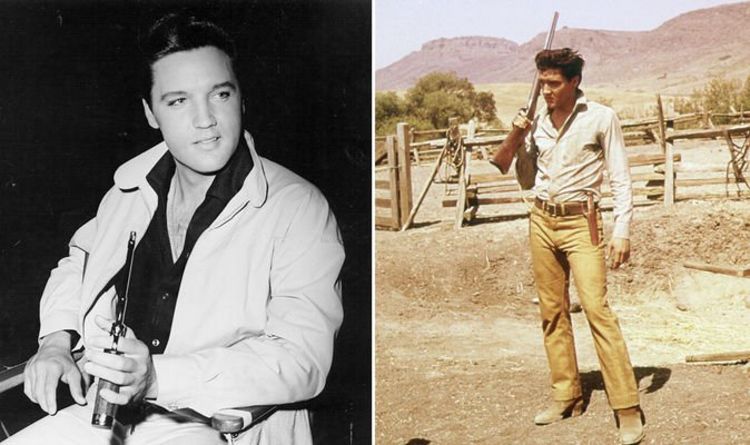 Elvis Presley had some very eccentric behaviour from his flamboyant dress sense to repetitive eating habits, but he also really loved guns. When The King returned to live performing with his Las Vegas residences, he would walk through the audience during Can't Help Falling In Love and give kisses to the girls. However, this was soon stopped in 1970 after a death threat which saw the star dramatically increase his security.
That autumn, Elvis obsessively bought guns and visited police forces around the country, collecting their badges. He even presented President Richard Nixon with a commemorative Colt. 45 pistol when he visited the Oval Office in The White House.
A firing range was set up behind Graceland next to his father Vernon's office, where bullet holes can be seen to this day on the wall, barely covered up on the brickwork with paint. There's even a bullet hole in the bottom of Lisa Marie's childhood slide, but the Memphis Mafia were careful not to leave loaded weapons lying around the mansion.
The son of Elvis' cousin Billy Smith, Danny, said on his YouTube channel said: "As far as us, all the kids [and] Lisa running around… [we] never ever seen one. On some of the guys? Sure did. Did I see pistols and stuff on Elvis, or Thompson Machine gun or a shotgun rifle? Sure, but he was either showing it or using it or had it on. He was safe enough and wouldn't have done anything like [leave a loaded gun around the house]."
Nevertheless, when in a mood swing The King would sometimes take it out on a TV or toilet. His final girlfriend Ginger Alden remembered how the star's love of guns with this "a dangerous combination".
Ginger told ET: "We were reading together and the toilet was making a noise. Elvis got up and left the room, came back with a machine gun, and proceeded to shoot the toilet."
On a number of occasions, Elvis would fire a gun at what he was watching on TV, either for fun or because he didn't like what he was on. The one from the Palm Springs house with a bullet hole through the screen is on display at Graceland to this day.
His cousin Billy said on the Memphis Mafia Kid YouTube channel: "I mean he could have been mad at somebody or something that happened and he would just…take it out on…and he shot several TVs now. A lot of times I found it funny because of [that's] just the way he was. He responded quickly…[if] something was bothering him…it was y'know take the gun, boom! He never thought about it twice."
Elvis had to be careful though as one time he almost shot off his private parts in a terrifying accident.
DON'T MISS
Elvis Presley's spirit 'is living in Graceland' claims Priscilla WATCH [ELVIS]
Elvis and Ann Margret's sizzling affair 'Our love was electrifying' [ANN-MARGRET]
Elvis begged to co-star in classic Sidney Poitier Oscars movie [ELVIS MOVIES]
Billy remembered how one time they took a motorcycle ride rest break at a little service station when nature called for Elvis. The King's cousin heard a loud thump from inside the bathroom and asked if the star was okay. It turns out his gun had fallen out of its holster and hit the floor with a loud bang without going off. Elvis came out and said to him: "Well I'm lucky it didn't blow my [privates] off!"
The singer even took guns on his dates sometimes, with ex-girlfriend Mindi Miller remembering him arriving at her apartment on their first. She said The King was riding in his limo and standing up with the roof open and holding a rifle.
Just like James Bond, Elvis would always take a gun to bed for his protection, keeping it on his nightstand. And when he had guests in his bedroom upstairs at Graceland he'd occasionally jokingly threaten to grab it if someone disagreed with his opinion, which would get a big laugh from the Memphis Mafia.
Published at Tue, 11 Jan 2022 11:57:00 +0000
Elvis' guns obsession: Firearms in bed, machine gun toilet tantrums and crotch near-miss