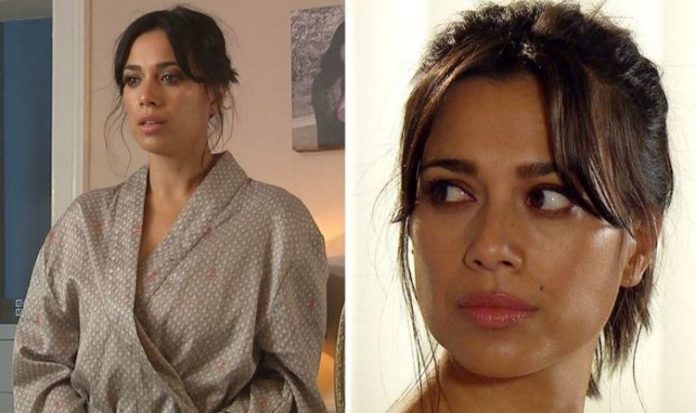 Emmerdale's Priya Sharma (played by Fiona Wade) was left severely burned after she was left trapped in a burning maize maze during survival week. Although Priya survived, she was forced to undergo painful skin grafts to treat her burns. Fiona, who plays the businesswoman in the ITV soap, has revealed Priya will soon take a look at her scars for the first time since the fire, and hinted it could trigger the return of her eating disorder.
In scenes yet to air, the businesswoman starts to feel the pressure when Leyla Cavanagh (Roxy Shahidi) shows up at Rishi Sharma's (Bhasker Patel) pre-Christmas get together looking glamorous.
When she tells Leyla she still hasn't looked at her scarred back, Leyla gently encourages her scared friend to confront her fears.
However, Priya and Leyla are shocked into silence by the sight of the scars on her back.
Priya ends up starring in the mirror before she fixes herself up with Leyla's assistance – but she's still in a huge amount of emotional and physical pain.
READ MORE: I'm A Celebrity stars evacuated from Gwrych Castle
When she arrives at the gathering everyone's all smiles about Priya's ongoing recovery, until her anxieties resurface at the mention of food.
Will this mark the resurgence of her eating disorder which she thought she'd overcome?
In upcoming episodes, Priya becomes desperate to stop visits to the hospital and lies to her doctor that the skin grafts are feeling much better.
However, Priya's secretly aghast to hear that her struggles with eating are slowing down the healing process.
"And something like this where she's out of control and body-conscious, this is just going to spiral her in that direction as she can't move very much and has to eat.
"Yes, [she's hiding the eating disorder] as it's part of the shame and control following the accident.
"And everything she's worked for and built up for herself has come crashing down as she just feels terrible about herself and says she feels disgusting and awful and an eating disorder is the only thing she can control.
"She goes to the hospital to have her scars checked and the doctor tells her they are not healing the way they should.
Published at Sun, 05 Dec 2021 07:00:00 +0000
Emmerdale's Priya Sharma sparks eating disorder fears after devastating scar update