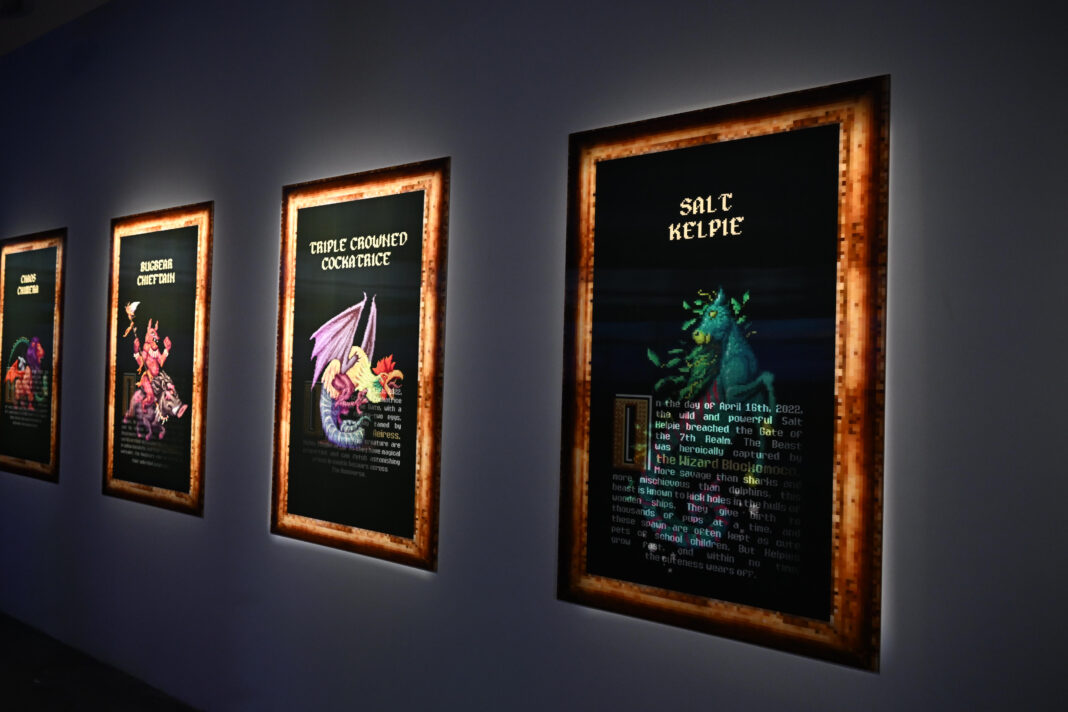 Last week, Forgotten Runes Wizard's Cult hosted its Enter the Runiverse satellite event at NFT.NYC 2022, whereby hundreds of attendees made their way to Iron23 as they rediscovered their childlike wonder of exploring a world of fantasy, wizards, goblins, and magical creatures.
Forgotten Runes, the brainchild of Austin-based Magic Machine, is building the next great fantasy brand born out of Web3. Through its initiatives across gaming, film/tv, merchandising, IRL events, and traditional events, Magic Machine has created the Forgotten Runes fantasy world as both a universe and NFT property composed of 10,000 Wizard NFTs, where character backstories are crafted and curated by each individual NFT owner.
Later that evening, electro pop artist Oliver Tree took the stage as the legendary "Gigas Chad," one of the wizard's from Forgotten Runes' wizarding world, performing many of their fan-favorites, including "Cowboy's Don't Cry" off their latest album, Cowboy Tears. A recent TMZ video leaked showing a crazed fan rushing the stage and Tree beating him up.
True Hollywood Talk attended the event in New York and witnessed a number of industry-leading talent, including, but not leading to Rembrandt Flores (8Commas), Andrew Wang, comedian and Clubhouse icon Leah Lamarr, Jen Stark, Emily (Ghoul) Mei, Piff Marti, Alex Alpert, and Logan Paul.
Earlier this week, game developer and publisher Bisonic Inc., along with Magic Machine, launched the first playable demo for the upcoming Web3 MMORPG (Massive Multiplayer Online Role-Playing Game) Forgotten Runiverse, based on Magic Machine's Forgotten Runes Wizard's Cult.
The fantasy game, which was also teased at the NFT.NYC 2022 Enter the Runiverse event allows players to get an early look at the massive world for the game, and explore the game's different regions while on a hunt for a mysterious set of frogs hidden about the Runiverse.
In what Magic Machine calls its "create-to-earn" economy, the Web3 interactive fantasy game will serve as a hub for a variety of games and experiences including mining resources, crafting items, ownership of land, socializing, epic quests, battles, and more.
"Every item is an NFT and every resource is a token," the company said in describing the game.
Back in May, Magic Machine and animation company Titmouse announced that they would be teaming up with John Wick writer Derek Kolstad to write an animated series based on the Forgotten Runes world, in an exclusive interview with Variety.
According to reports, Kolstad will write and executive produce the eight-episode series, with each episode running one hour. In addition for creating the "John Wick" film franchise, Kolstad has also worked as a writer on Disney Plus's "The Falcon and the Winter Soldier" as well as his current work on Netflix's anime series "Splinter Cell."
Unique to Magic Machine's business model and the world of Forgotten Runes is how NFT owners are able to leverage their ownership rights over their individual NFTs. According to the company, NFT owners are granted commercial rights to their NFTs, which allows the community to participate in a portion of the proceeds that the upcoming television series is expected to generate.
Throughout NFT.NYC and Enter the Runiverse, members from Forgotten Runes were handing out the first issue of a 10-issue comic book series which is due out in July.
As for what's next for Forgotten Runes, it's certain we can expect great things from this entertainment and intellectual property-driven wizarding world.