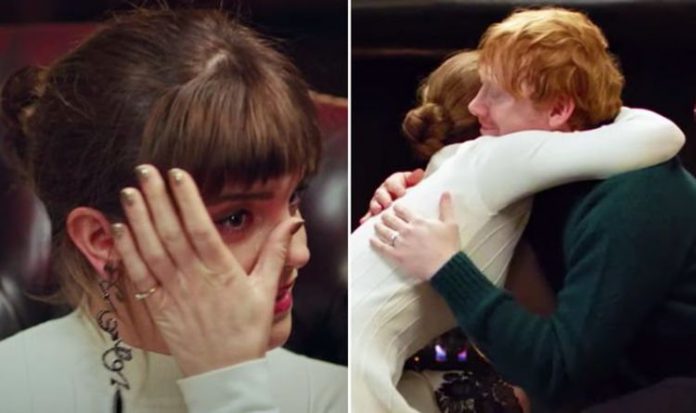 It's been twenty years since a bespectacled little boy started a multi-billion-dollar film franchise with 2001's Harry Potter and the Philosopher's Stone. Incredibly, it's been ten years since the final film, Deathly Hallows Part 2, hit cinemas. To mark the occasion, the cast and directors reunited for a major documentary that will be broadcast on New Year's Day. But one very important person was not shown in the trailer and their name is nowhere to be seen on the listings.
JK Rowling wrote the books and is still working on the spin-off Fantastic Beasts film franchise, but the author's name was already notably stricken from the most recent Secrets of Dumbledore trailer. After being embroiled in an ongoing controversy over her comments about the trans community, Rowling's profile has been greatly reduced on ongoing Potter projects.
In the entire trailer her name can only be glimpsed in tiny letters at the bottom of the main Sky TV logo for the show.
The new trailer, however, is filled with emotional scenes, including showing a whole new side to the three main villains and the tearful connection between the main trio of leads.
READ MORE: Harry Potter: Outrage ignites as JK Rowling dropped from new trailer
Fiennes talked about the time when he was originally offered the part of Harry Potter's greatest enemy, Voldemort: "
My sister has children who were then around ten, eleven, twelve (years old) and I said, 'Martha I don't know about this Vodermort.' (She replied) 'What? You've been asked to play Voldemort? You've got to do it!"
The full feature will include appearances from stars Helena Bonham Carter, Robbie Coltrane, Jason Isaacs, Gary Oldman, James Phelps, Oliver Phelps, Mark Williams, Bonnie Wright, producer David Heyman and filmmakers Chris Columbus, Alfonso Cuarón, Mike Newell and David Yates.
Watch Harry Potter 20th Anniversary: Return to Hogwarts on New Year's Day exclusively on Sky and streaming service NOW
Published at Mon, 20 Dec 2021 18:59:00 +0000
Harry Potter reunion trailer: Tearful cast confess biggest fears but someone is missing