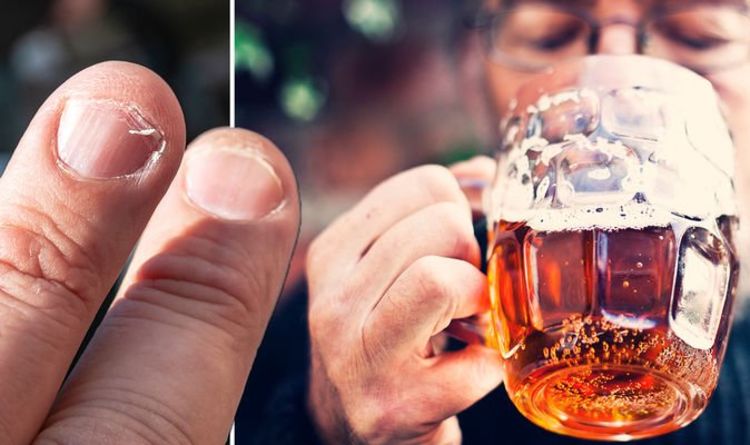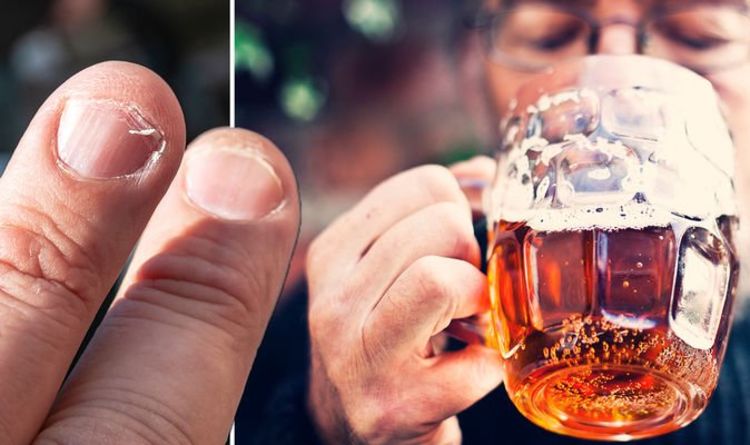 Alcohol binging amongst Brits appears to have surged during lockdown, a new study suggests. What's more, the research puts Brits above its European counterparts in snack and alcohol consumption. The survey of 5,000 consumers in 10 European countries reported a 29 percent rise in consuming both convenience foods and alcohol in the UK.
The effects of alcohol abuse extend beyond your mood – signs can show up on your body too.
Speaking to Express.co.uk, Dr Rekha Tailor, cosmetic doctor at Health & Aesthetics, outlines the ways alcohol consumption can show up on your nails.
"Excessive drinking does not only lead to dehydration of the skin but also the finger and toe nails too, leading them to become brittle, more prone to peeling and very dry and easier to break," warns Dr Tailor.
Hair loss can be another surprising casualty of excessive alcohol consumption, said Dr Tailor.
READ MORE: Coronavirus update: The dangerous effects of drinking more alcohol during lockdown
"It increases the inflammation and changes the hormonal milieu in the skin which in turn can worsen inflammatory conditions such as acne and rosacea," says Dr Tailor.
As she explains, it also causes blood vessels to dilate making skin look red in appearance.
Worryingly, it can also deplete the healthy bacteria in the gut which helps to regulate the immune system, says Dr Tailor.
"This is important for staving off inflammatory conditions such as eczema and one of the reasons why alcohol often results in break outs and increased skin irritations," she said.
How to respond
"If you're concerned about your drinking or someone else's, a good first step is to see a GP," advises the NHS.
They'll be able to discuss the services and treatments available, says the health body.
As well as the NHS, there are a number of charities and support groups across the UK that provide support and advice for people with an alcohol misuse problem.
For example, you may want to contact:
Drinkline national alcohol helpline on 0300 123 1110
Alcohol Change UK
Alcoholics Anonymous helpline on 0800 9177 650
Al-Anon Family Groups helpline on 020 7403 0888.
What are the UK drinking recommendations?
To keep health risks from alcohol to a low level, both men and women are advised not to regularly drink more than 14 units a week.
A unit of alcohol is 8g or 10ml of pure alcohol, which is about:
Half a pint of lower to normal-strength lager/beer/cider (ABV 3.6 percent)
A single small shot measure (25ml) of spirits (25ml, ABV 40 percent).
According to the UK public health guidelines, if you drink as much as 14 units a week, it's best to spread this evenly over three or more days.
"If you're trying to reduce the amount of alcohol you drink, it's a good idea to have several alcohol-free days each week," advises the NHS.
Published at Thu, 03 Dec 2020 04:00:00 +0000
Have you been drinking more than usual over lockdown? Your fingernails may provide a clue