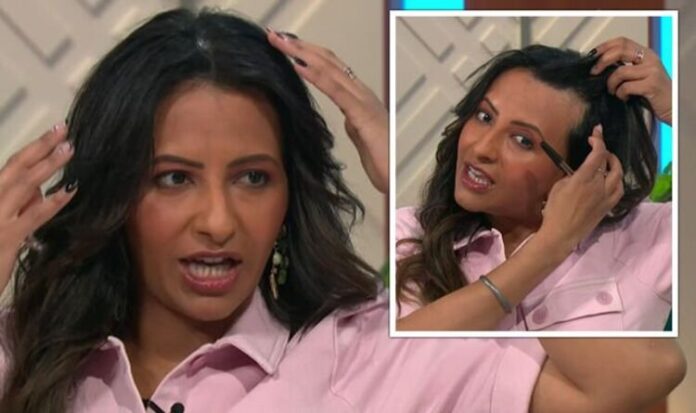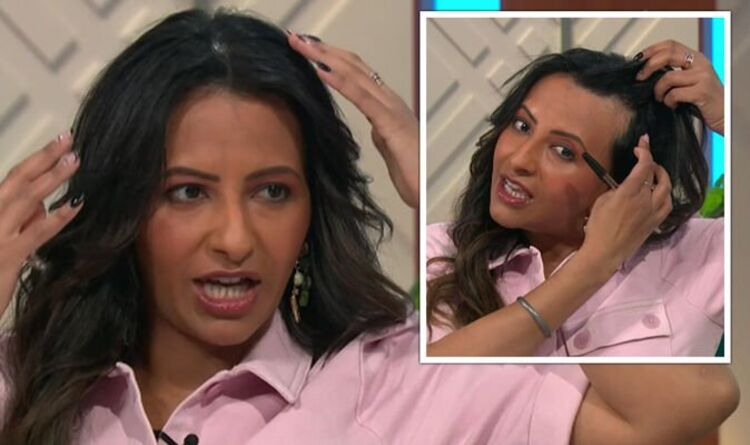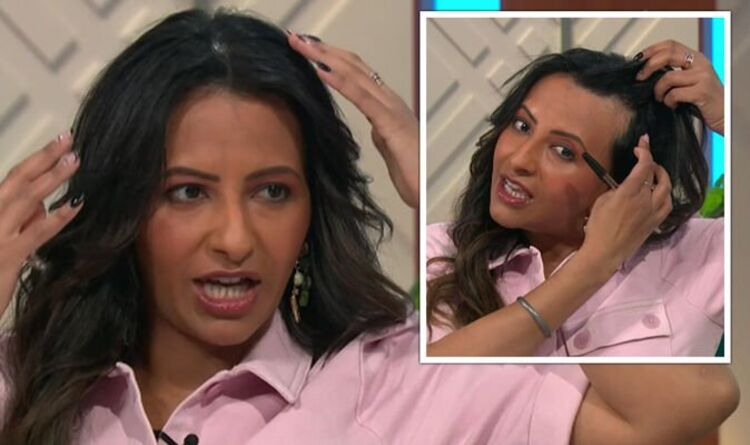 The Good Morning Britain presenter stepped in for Lorraine Kelly on Friday where she was discussing hair loss with Doctor Amir Khan. Their conversation was initially centred around Will Smith's wife Jada Pinkett-Smith living with the condition which was brought to the world's attention when comedian Chris Rock's joke about it at the Oscars caused him to be slapped by her husband. During their chat, Ranvir decided to show ITV viewers how alopecia has affected her revealing a patch of hair loss at the front of her hairline.
After watching a video of Jada opening up about the condition, Ranvir decided to show Lorraine fans how hair loss has affected her scalp.
She lifted her fringe and said: "I can show you.
"We were at Thorpe Park on Mother's Day and I feel dreadful about the photographs because your hair's going backwards.
"I've always had a fringe, I've found ways to cover it, I use coloured sprays and things.
"I've got a patch in the middle, I've got a patch at the back."
The host went on to explain when she noticed her hair loss, adding: "It started when my dad had a heart attack and when he died when I was eight or nine and it's never come back, so I understand a little bit of the real discomfort you live with having it."
The 44-year-old presenter added: "If anything, it's certainly made us talk about what it is, which at the expense of Jada, Will and Chris somehow at least we are talking about this and women know that they're not alone."
Doctor Amir also revealed he's suffered from the condition and has experienced "big patches" of hair loss around his beard in the past.
"It was very distressing," the GP and author candidly added.
He shared the statistic that eight million women in the UK suffer from hair loss.
The mother-of-two has been grappling with the condition since 2018 and the joke deeply affected Will.
"Jada, I love you. GI Jane 2, can't wait to see you," Oscars host Chris quipped, appearing to refer to Pinkett Smith's shaved head.
After Will slapped Chris on the stage he returned to his seat and was heard bellowing: "Keep my wife's name out your f***ing mouth," to which Chris replied: "Wow… dude. It was a GI Jane joke."
Will, who was awarded the Best Actor Oscar for his role as Richard Williams in King Richard, apologised to Chris for his violent outburst the following day on his social media.
Published at Fri, 01 Apr 2022 09:12:29 +0000
'I feel dreadful' Ranvir Singh shows hair loss as she speaks on living with alopecia