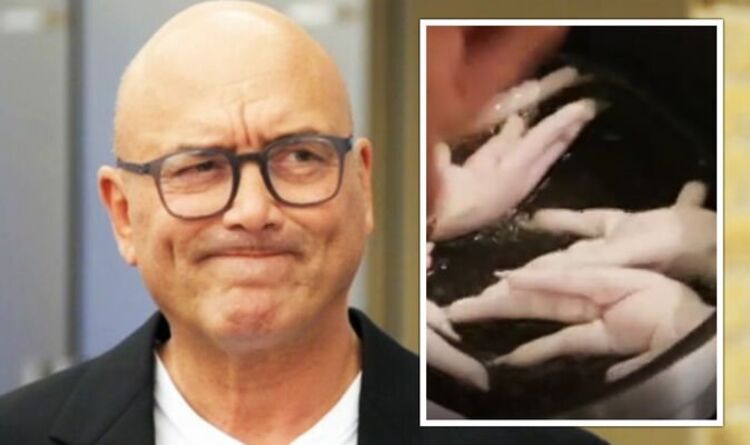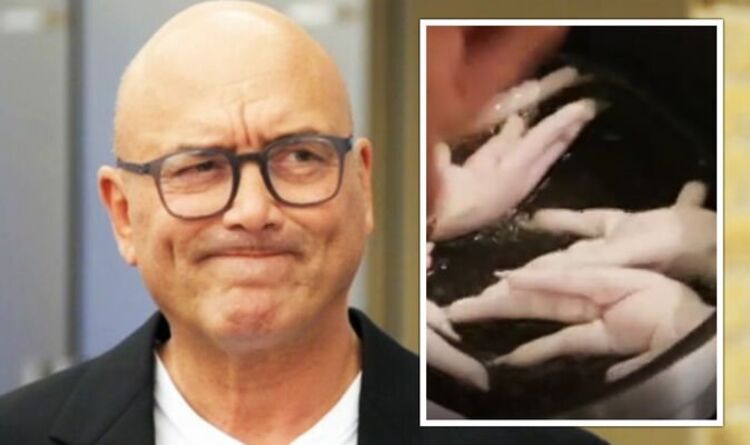 The contestants had to pull out all the stops on Friday if they wanted to secure a place in the coveted semi-final of MasterChef. Quarter-finalist Jan-Paul hoped to impress presenters Gregg Wallace and John Torode with his adventurous dish. However, scores of BBC viewers were left horrified watching him cook a chicken foot and blood stew.
The contestants had to cook up two courses, with four plates of each course, in an hour and 15 minutes.
John said: "You have to deliver, you have to be organised, you have to be on time."
They had to present their food today to three past champions of MasterChef who they were all eager to impress.
There were just two semi-final places up for grabs which meant two of the contestants would be sent home from the competition at the end of the episode.
READ MORE: Emmerdale theory: Meena Jutla to fall pregnant before she exits
The cameras soon turned their focus onto budding chef Jan-Paul who had been cooking fusion food by mixing two classic dishes together.
However, his ingredients on Friday's instalment left Gregg and John slightly baffled.
As Jan-Paul put several chicken feet into a pan of boiling oil Gregg exclaimed: "You've got chicken feet, I've never seen chicken feet on here before. What are you making?"
Jan-Paul was cooking a traditional parfait pate but was going to infuse the flavourings of a blood stew that you would get in the Philippines.
However, a host of viewers were horrified by Jan-Paul's gruesome creation and took to social media to comment on his use of chicken feet and blood.
Mikey J tweeted: "#Masterchef I'm going to vomit at that chicken feet meal. No chance on this earth can I even look at that."
Lee Chronicle added: "I feel sick, all that blood in a jar and chicken feet in the frying pan, is this even legal? What a sicko."
Amy exclaimed: "I don't know about the pork blood stew and chicken feet #masterchef."
Siobhan remarked: "I really like Jan-Paul, but the chicken feet and blood are a bit too far for me personally."
Unfortunately, Jan-Paul missed out on his place in the semi-final and was sent packing following his hard efforts.
Following his exit, Melanie commented: "Poor Jan-Paul…A risk too far I think #Masterchef."
MasterChef continues on Tuesday at 2.20pm on BBC One.
Published at Fri, 08 Apr 2022 20:41:57 +0000
'I feel sick' MasterChef contestant sparks concern with chicken feet and blood stew