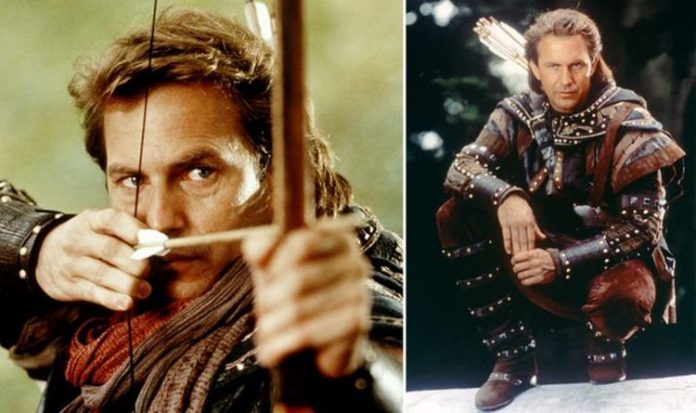 A blockbuster classic, Robin Hood: Prince of Thieves was released over 30 years ago. Kevin Costner's outlaw starred opposite Morgan Freeman's Azeem and Alan Rickman's iconic turn as the villainous Sheriff of Nottingham. Back in the summer of 1991, the movie received mixed reviews but went on to make over $390 million worldwide as the second highest-grossing movie of the year after Terminator 2: Judgment Day. Now in an unearthed interview, Costner has shared how during the shoot he went on a quest for some magic mushrooms and a psychedelic trip.
It turns out Costner went searching for the fungi with a stuntman before filming a sword fight.
The Robin Hood star told The Rich Eisen Show: "We were doing a sword fight early in the movie and [then] we had lunch, [when] one of my stunt guys comes up to me – I was just getting to know him a little bit.
"We're out in the country and he goes, 'You wanna go hunt for some mushrooms?'
"I said, 'What kind of mushrooms?' And he said, 'You know, the good kind.' I said, [Kevin looks around] 'Okay let's go.'"
READ MORE: Downton Abbey 2 A New Era release date, setting, cast, trailer WATCH
The next thing he knew, Costner was out in the field with the stuntman who was describing what the magic mushrooms looked like.
The Hollywood star said: "[All the while] I'm kind of looking for them and I'm dressed up like Robin and he's dressed up like a guy I'm beating up.
"We're looking out there and he finds one, then he finds another and I can't find one.
"After a few of these things I say, 'Hey man, how come you're seeing them?'"
Robin Hood: Prince of Thieves won a number of awards alongside its box office success.
Bryan Adams' (Everything I Do) I Do It For You was nominated for Best Song at the Oscars and won the Grammy Award for Best Song Written for Visual Media.
Rickman's legendary performance as the Sheriff of Nottingham was so lauded he won the BAFTA for Best Actor in a Supporting Role.
Although in 2015, just a year before his death, the star admitted he secretly asked his screenwriter friends Ruby Wax and Peter Barnes to beef up his dialogue, saying: "Will you have a look at this script because it's terrible, and I need some good lines."
Published at Sun, 02 Jan 2022 16:00:00 +0000
Kevin Costner's magic mushroom quest right before Robin Hood Prince of Thieves sword fight