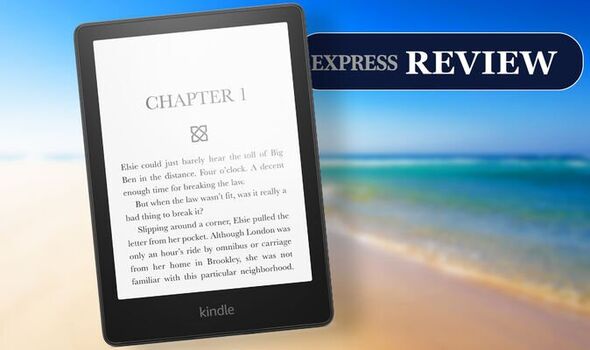 The all-new Kindle Paperwhite has a larger screen, USB-C charging, and a warm backlight (Image: AMAZON • GETTY • EXPRESS NEWSPAPERS)
This article contains affiliate links, we may receive a commission on any sales we generate from it.
Learn more
Kindle Paperwhite is the best-selling e-reader that Amazon sells, but with the latest upgrade, it might just be the best Kindle too. The all-new Kindle Paperwhite brings a number of features that have previously been reserved for the pricier Oasis and Voyage variants, including a larger touchscreen and an adjustable warm light to change the colour temperature of the page. Coupled with the switch to USB-C – an almost comically overdue first for the Kindle range – for charging, boosted 10-week battery and water-resistant case, this is the ultimate gadget for bookworms looking to carry a library's worth of books in their pocket.
Express.co.uk has been turning (virtual) pages on the brilliant new Kindle Paperwhite for a few weeks. Scroll down for our full review of the Kindle Paperwhite…
Kindle Paperwhite review: Design and Features
Out of the box, the first thing you'll notice about the new Kindle Paperwhite is the size. It boasts a larger 6.8-inch e-ink display, compared with the 6-inch screen we've seen on all previous Paperwhite models. That might not sound like a huge increase, but it does make a substantial difference. Whether you prefer a smaller font to reduce the number of page turns, or want maximum legibility – you'll be able to squeeze more prose onto every page. If you're tearing through a page-turner …that's a real bonus. Of course, the bigger screen means a larger overall footprint for the Kindle.
While the new Kindle Paperwhite is undoubtedly taller, it's the added width that makes the real difference. While the previous Kindle Paperwhite fitted (albeit snugly) in the inside pocket of our coat, there's no chance of that with the new model. It'll just about fit into the back pocket of your jeans, but the added height means that it'll be very visible. In other words, this is a Kindle designed for a backpack or a handbag.
Holding the new larger frame still feels remarkably comfortable. The borders around the sides of the touchscreen are about as thin as it's possible to go without your thumb constantly resting on the screen and flicking through pages at a rate of knots. If we were to nitpick the new chunkier design, the chin at the bottom of the touchscreen is pretty hefty… it would be great to see that trimmed down (reducing the overall footprint of the e-reader) in a future revision of the hardware. But it's far from a dealbreaker with this current design.
So, is the pocket-straining new footprint of the Kindle Paperwhite worth it for that 6.8-inch screen? In a word: yes.
Kindle Paperwhite boasts a more generous 6.8-inch e-ink touchscreen (Image: AMAZON)
Is the pocket-straining new footprint of the Kindle Paperwhite worth it for that 6.8-inch screen? In a word: yes
The only reason to pack a Kindle is the superior reading experience compared with the Kindle app on your smartphone and, in some instances, a paperback or hardback book. And the more expansive 6.8-inch e-ink makes reading on the e-reader better than before. As mentioned above, the bigger screen allows you to fit more onto every page. But it's not just words, if there are illustrations in the book, they're much clearer on the new display.
The warm light adjusts the colour temperature on-screen, which reduces strain on your eyes late at night. There are 24-levels of warmth, with anything under five barely visible and the top-end of the slider transforming your book into a yellowing centuries-old scrap of parchment. This can be manually tweaked from the quick settings menu, or can be scheduled on a timer, based on your own preferences. Amazon has also released a pricier Kindle Paperwhite Signature Edition, which adds a sensor to automatically tweak the brightness of the display to the lighting around you. While that's useful, the latest version of the Kindle software makes it ridiculously easy to quickly access the slider for brightness and warmth, so it's far from an essential feature.
Not only is the e-ink screen on the new Kindle Paperwhite bigger, but it's also faster than previous generations. Amazon says this results in 20 percent faster page turns. In our time with the Kindle Paperwhite, the e-ink display always felt incredible responsive and fast …by the standards of e-ink displays, of course. If you're expecting the sort of performance you'd see from an OLED panel on a modern smartphone, you're going to be sorely disappointed. But flicking between pages is fast enough that you'll never be taken out of what you're reading.
If you're unsure why you'd buy an e-reader over the Kindle app on your phone, it's all about glare (Image: AMAZON)
For those who haven't used an e-reader before, the e-ink display is almost indistinguishable from a printed page. At 300 pixel-per-inch, you'll struggle to see any individual pixels at a normal reading distance …or even if you hold the Kindle close to your face. But unlike the screens on your laptop, tablet, handheld console or smartphone, the e-ink display on the Kindle is practically immune from any glare. Using the Kindle Paperwhite in direct sunlight on a bright day is no problem at all. And the built-in backlight means you'll be able to read late at night without any trouble.
The Kindle Paperwhite is built from plastic, which doesn't feel anywhere near as premium as the flagship Kindle Oasis. However, the rear case does have a pleasant tactile feel that's grippy enough to make holding this larger Kindle one-handed pretty stress-free. And at almost £100 cheaper than the Kindle Oasis and its metal chassis, we're willing to bet that its a trade-off most readers are willing to make.
Like its predecessor, the Kindle Paperwhite is rated IPX8, which it can survive total submersion in two metres of freshwater for up to 60 minutes, and up to 0.25 metres of seawater for up to 3 minutes. In other words, you can leave this e-reader at the bottom of a pool for an hour and it'll be fine. If that doesn't reassure you that this e-reader is perfectly equipped to survive reading in the bath, then nothing will. While it's not quite as resistant against seawater, those prone to butter-fingers should still be reassured that it'll survive an accidental dip.
Don't worry about dunking your Kindle in the bath, spilling a fizzy drink, or taking it to the beach (Image: AMAZON)
The final change with the new Kindle Paperwhite is the arrival of a USB-C port. Amazon has stubbornly clung onto the micro USB port for its Kindle series (it's still the port used to charge the entry-level Kindle and top-of-the-line Kindle Oasis) but it's great to see the end of that chapter. If you have a modern Android smartphone, a Nintendo Switch, a recent MacBook, iPad, or wireless earbuds from OnePlus, Samsung or Google… you'll be able to pack a single charging cable the next time you head out on holiday.
The new port also allows for some speedier charging, with the Kindle Paperwhite able to replenish its battery from flat to full in 2.5 hours. After a full charge, the Kindle Paperwhite lasts 10-weeks between charges. Even voracious readers will likely forget the last time they had to reach for the charger.
Kindle Paperwhite review: Software
While the hardware of the new Kindle Paperwhite is superb, it's the software that really sets it apart from other e-readers.
With the latest models, Amazon has dramatically improved the set-up process. This leverages the Kindle app on your smartphone to wirelessly beam your account details to the e-reader and saves you the hassle of typing in a long email address and password using the e-ink display.
Out of the box, the Kindle Paperwhite has the latest version of Amazon's software, which boasts a completely redesigned user interface. This isn't unique to the Kindle Paperwhite, if you have an older Kindle, Paperwhite, or Oasis – you'll be able to enjoy the same software with an update. The best aspect of the new menu design is a banner that runs along the bottom of the screen, with shortcuts to the home screen, your full library, and the book you're currently reading.
This is incredibly useful as it makes jumping back into your current book fast – even if you wanted to check another title in your library. The whole interface has been streamlined, with the Kindle Store now dismissed with a simple X in the top right-hand corner and the quick settings menu (accessible within a book by tapping the top of the screen) has redesigned toggles for aeroplane mode, Bluetooth, dark mode, and sliders for screen brightness and warmth.
The new quick settings menu is a big improvement over older software versions (Image: AMAZON)
However, it's not all positive. With the latest upgrade, Amazon now presents everything in lists – like you'll find in the Kindle app on your smartphone or tablet – rather than separate pages that turn like an ebook. On paper, this seems like a small change, but due to the weakness of e-ink displays, scrolling looks like a mess. Even with the faster refresh rate of the new Kindle Paperwhite, it makes paging through the list of downloaded books feel sluggish and clunky.
The main menu has also been updated and looks much, much busier than before. In the previous update, Amazon included a preview of the three most recently-opened books in your library, a list of titles from your Wish List, and some recommendations of new books based on your tastes from its store. Those same elements remain, but each comes with a front cover in a horizontally scrolling carousel. There are dozens of new toggles to adjust the genre of books that appear in the Discover Books carousel, which turns a potentially useful way to stumble across new books without a trip to the Kindle Store into an eyesore. Amazon also uses the redesigned homescreen to shill for its Prime Reading feature, which offers a library of free books for Prime members.
Some of these new additions are quite useful and could help readers discover new books from their favourite authors or genres. But it all feels very busy compared to the previous design. And a crowded screen with endless toggles, recommendations, and prompts about Prime Reading doesn't exactly put you in the relaxed frame of mind to sink into a book.
Pictured here on an entry-level Kindle, the new vertical lists on the redesiged menu are awkward (Image: AMAZON)
The clever Kindle software has a number of tricks that improve on the experience of reading a paperback or hardback novel. First up, there's a load of choice when it comes to adjusting spacing and justification of the text on the page and the font, including a custom typeface designed from the ground up by the Kindle team to be legible on an e-ink display. Amazon also includes OpenDyslexic with all Kindles, which is designed to make reading more accessible by mitigating some of the common reading errors caused by dyslexia – something that will hopefully open-up a world of must-read books to those who might otherwise be put off.
Word Wise, which isn't new, but is nonetheless a great feature that's designed to help challenging words from breaking the momentum of your book. When enabled, the Kindle will automatically load concise definitions in a smaller typeface beneath tough words on the page, so you can continue reading without a break to check the dictionary.
And unlike a traditional paperback, you'll also get an intelligent prediction of how much time you've got left in the chapter, or until the end of the book in the lower left-hand corner of the page at all times.
There's a lot to love about the latest revision to the most popular Kindle model (Image: AMAZON)
Kindle Paperwhite review: Price and Availability
The new Kindle Paperwhite launched late last year. It's available from a range of high street stores and, of course, from Amazon itself, with Prime members able to get the new e-reader delivered next-day at no extra cost. The entry-level Kindle Paperwhite with 8GB of storage (that's enough for thousands of books) costs £129.99, rising to £139.99 if you want to ditch all advertising from the standby screen.
To protect the touchscreen, Amazon has designed a number of new cover cases (Image: AMAZON)
Kindle Paperwhite review: Final Verdict
Pros: amazing bigger 6.8-inch screen, water-resistant design for beach reading, slick new set-up process, huge marketplace of ebooks, usb-c charging
Cons: redesigned homescreen is too busy, no wireless charging, adverts included on most affordable model
If you're looking for a well-designed e-reader with brilliant software, a wealth of digital books available, water-resistance for bath and beach reading, and a phenomenal screen – look no further, this is it. Sure, Amazon's pricier Kindle Oasis has a sleeker design and physical buttons to turn the pages, and the entry-level Kindle has a ludicrously low price tag. Both of these models have their place, but from now on, the Kindle Paperwhite is our go-to recommendation for any reader.
While the new 6.8-inch screen means this Kindle Paperwhite will struggle to squeeze into many pockets – it makes reading an absolute joy, with more words on every page and illustrations allowed more room to breathe. Amazon's redesigned Kindle software now includes a much simpler set-up process that means you'll be reading within minutes of opening your new device. The new-look menu is a huge improvement and the accessibility features should mean more people are able to enjoy the latest page-turners that everyone is talking about. And the long-overdue arrival of USB-C means you won't need to pack a dedicated charging cable for your Kindle on your next holiday!
To make a long story short, Kindle Paperwhite is the best e-reader you can buy today.
Published at Sat, 19 Mar 2022 09:01:00 +0000
Kindle Paperwhite review: Amazon has built the last e-reader you'll ever buy