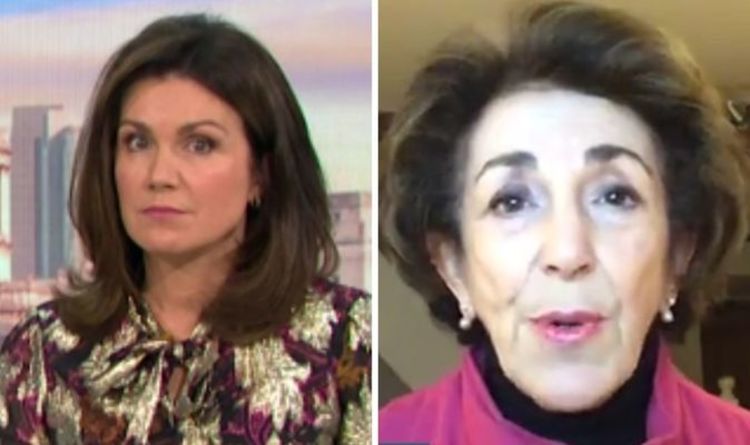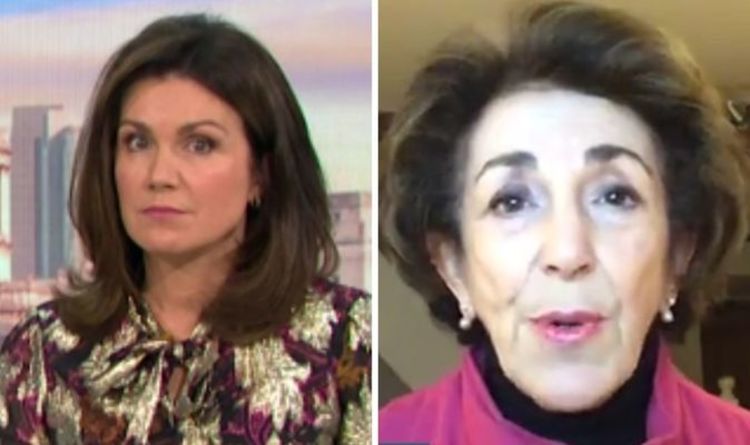 Former Conservative MP Edwina Currie appeared on Thursday's instalment of Good Morning Britain to discuss the crisis engulfing the Government over the alleged No 10 Christmas party. During the heated debate Currie snapped at Susanna Reid, telling the presenter to let her respond to her lengthy question about the controversy.
Currie appeared on Good Morning Britain via video link to discuss the widespread outrage at the video of Downing Street staff joking about whether or not a party was held during last year's tight lockdown.
However, the former South Derbyshire MP said: "The more important stuff that went on yesterday was trying to make sure that Omicron doesn't devastate the country again and that we are all very sensible and get your jabs."
But Reid told her: "Edwina, we are all grown-ups and can deal with lots of different issues at one time can't we?"
Reid asked Currie about the potential rule-breaking a year ago in Downing Street and former press secretary Allegra Stratton's resignation over the video.
However, Currie snapped at the Good Morning Britain presenter saying: "No no no, let me answer Susanna and give me the opportunity if I may."
READ MORE: Emmerdale heartache as Priya Sharma discovers Manpreet is her mother?
The question Reid asked the former politician was: "So we can deal with plans and health policies we need right now to minimise Omicron and can also look at potential rule-breaking a year ago at Downing Street?
"Now Allegra Stratton has resigned over a video in which she was laughing about how she would answer questions about that. There is still the issue of whether there was a party at Downing Street.
"And Douglas Ross, the Scottish Conservative Party Leader, said [Boris] Johnson can not continue if he knew about it.
She continued: "Basically a senior Tory is saying the Prime Minister should resign if he's misled Parliament."
"And that really is much more significant."
She continued: "[Johnson] dominates the airwaves and he's a remarkable man and he has all his faults and he's a real human being.
"We had a saint as our previous Prime Minister and bless her she got absolutely nothing done, so I think people understand that."
Currie said the nation should not be thinking about changing the country's leadership at this "extremely difficult time".
The Prime Minister has come under scrutiny over allegations a large gathering took place last December despite strict coronavirus rules being in place at the time.
The Times reported the "raucous" party took place in the basement, with Number 10 aides in attendance, and featured dancing and wine-drinking into the early hours despite indoor social mixing being banned at the time.
The Metropolitan Police has confirmed it will not be investigating allegations No 10 staff broke Covid rules due to "an absence of evidence".
Good Morning Britain continues weekdays on ITV between 6am and 9am.
Published at Thu, 09 Dec 2021 09:07:00 +0000
'Let me answer Susanna!' Edwina Currie hits out on GMB after Reid jibes 'we're grown-ups'