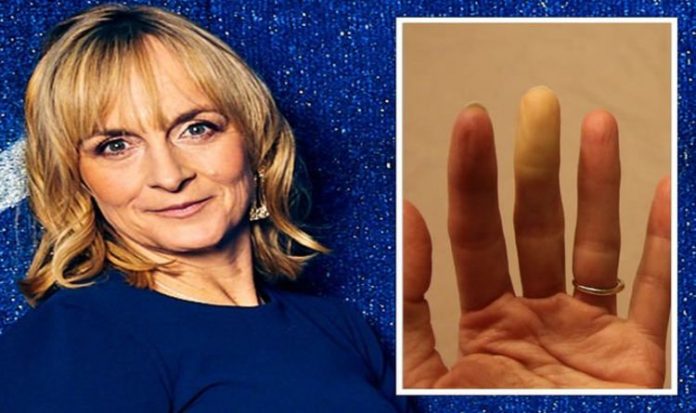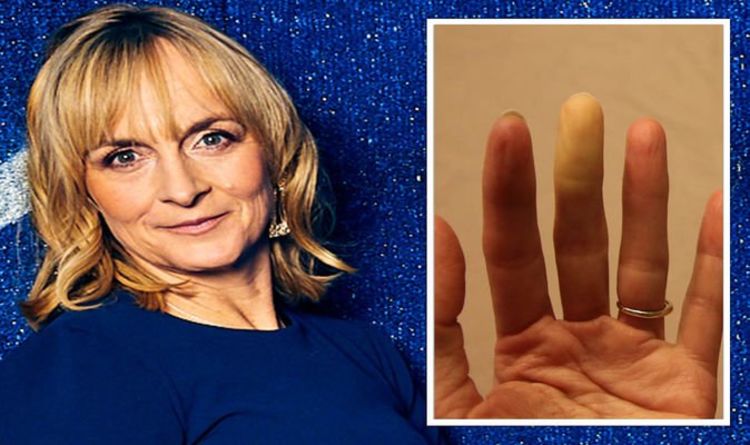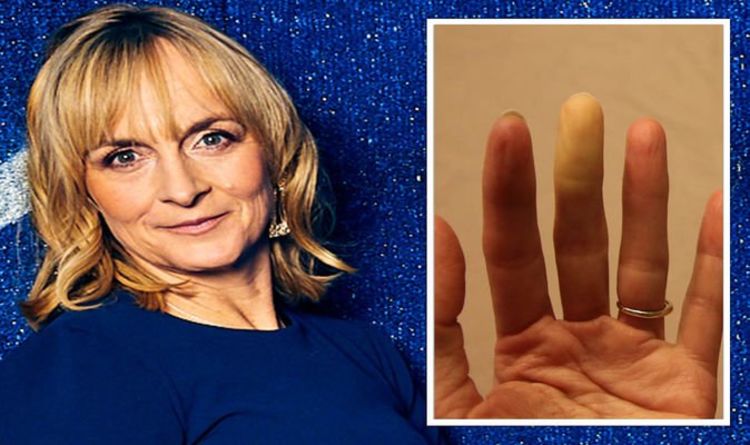 The 53-year-old said that she was "very nervous and also very excited" for what awaited her on the popular ITV reality show. Talking on Twitter in a pre-recorded video ahead of the first episode yesterday, she said: "I'm absolutely terrified. I have no idea what they are going to make me do. All I am going to do is try and be brave." However, the star suffers from Raynaud's – a condition that causes decreased blood flow to the fingers and toes, which is more than likely to flare up during her stint in the breezy Welsh castle.
The condition is fairly common according to the NHS, but sometimes symptoms can be an indicator of a slightly more serious condition.
Symptoms often flare up when the individual becomes cold, anxious or stressed as blood circulation is disrupted. In addition to the characteristic blue or pale white tint to your limbs, other symptoms include the following:
Pain
Numbness
Pins and needles
Difficulty moving the affected area.
Some people also find that their ears, nose, lips and nipples are affected. Symptoms can last anywhere from a few minutes to hours.
"I feel the cold really badly, I have this thing called Raynaud's Syndrome, which means my hands and feet go numb very quickly, even in supermarkets. So cold is a big thing for me," Louise said.
READ MORE: The longest you should go without showering during winter
However, pre-empting that she would struggle with the colder weather, Louise hopes that her luxury item will help keep her Raynaud's at bay.
"I have brought with me a fluffy hot water bottle that actually belongs to my daughter," she added.
"So not only is it going to be very helpful to keep me warm, but it'll also remind me of home."
In a bid to prepare for the other challenges that the show puts in front of her, Louise revealed to The Sun that she watched "hours" of the infamous eating trials.
DON'T MISS:
She said: "In preparation, I very foolishly watched hours of the eating challenges and even the one where Ant and Dec did it and they couldn't even do it.
"And I just shouldn't have done that because when I sat on the sofa, they've seemed funny, but now I've actually looked at them and thinking, 'Right, I've got do them. They're not funny at all. They're absolutely disgusting.'"
The BBC host has also tried to calm her nerves when around creepy crawlies, such as spiders, instead of screaming and "jumping a mile" like she usually would have done.
How to treat Raynaurd's syndrome
As your body warms naturally, circulation will also improve. During this process, affected areas may turn red, throb, tingle or swell.
If symptoms are extremely painful, or are seen to be getting worse, it is advised to seek medical advice. A GP may be able to prescribe medication to help improve circulation.
Medications such as nifedipine, which is used to treat high blood pressure, is taken by those with Raynaud's every day, especially during colder winter months.
In some cases medical professionals may suspect that the condition is a sign of rheumatoid arthritis or lupus.
Arthritis is a long-term condition that causes pain, swelling and stiffness in the joints, whereas lupus is a similar joint condition, but instead causes skin rashes and tiredness.
Raynaud's that is caused by an underlying condition is known as secondary Raynaud's, and although less common, tends to be more serious.
The Mayo Clinic explains that symptoms of secondary Raynaud's usually appear later compared to those of primary Raynaud's – which isn't associated with another medical condition.
Despite medical professionals not fully understanding the cause of Raynaud's, likely possibilities, especially for secondary Raynaud's include:
Connective tissue disease
Diseases of the arteries
Carpal tunnel syndrome
Repetitive action or vibration
Smoking
Injuries to the hands or feet
Certain medications.
The best way to prevent a flare up of Raynaud's is to protect yourself with suitable clothing when going outside, warming your car before you get into it and taking precautions inside your home such as wearing socks or slippers, and using flasks when drinking.
Published at Mon, 22 Nov 2021 20:48:53 +0000
Louise Minchin health: I'm A Celeb star's 'big' health condition could cause problems