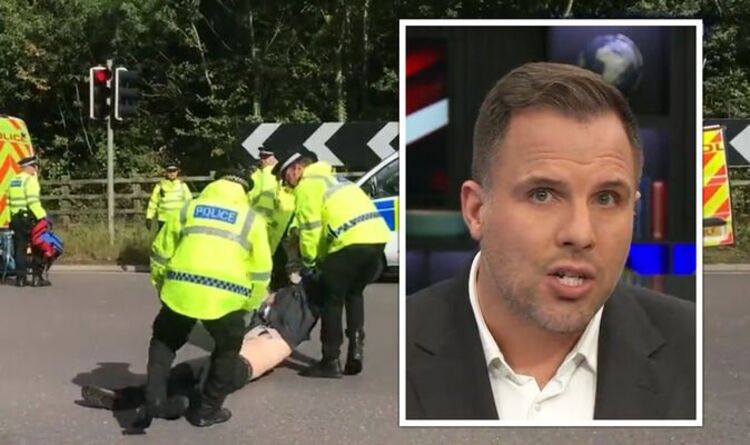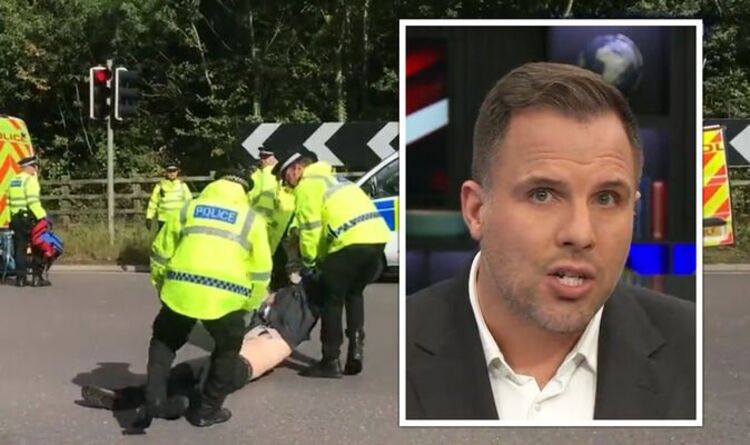 GB News presenter Dan Wootton unleashed his fury over District Judge Stephen Leake's comments on the Insulate Britain protestors who glued themselves to the M25 in September. The judge issued fines to 12 of the protestors and they avoided prison sentences. Dan branded the protestors "criminal eco zealots" and told viewers the justice system was "not tough enough" on them after the judge described them as "inspiring".
Dan began: "Do you feel the country is losing a battle against the eco-warriors who are hellbent on throwing our lives into chaos?
"It might be because those in charge of holding them to account are effectively given them a stamp of approval. I could not believe this.
"So trialling a group of Insulate Britain protestors who blocked the M25 junction in Kent in September and held up about 18,000 drivers, as well as an ambulance carrying an urgent patient, District Judge Stephen Leake commented that the group's criminal actions had inspired him.
"He told the anarchists, some of them who glued themselves to the tarmac, 'I have heard your voices and they have inspired me, personally I want to do what I can to reduce my own impact on the planet so to that extent your voices are certainly heard.'"


READ MORE: Antiques Roadshow expert fails to identify mystery soldier in portrait
Continuing his monologue, Dan said the judge described the case as difficult but he did issues fines to protestors to apply the law.
"He didn't send them down though," Dan fumed.
"So you heard that right, a judge lamenting that we need to stick to the law, that is how terrifyingly effective this green brainwashing is folks."
In total, 12 Insulate Britain protestors were fined over the demonstrations, nine of whom admitted guilt either by mail or in person at Crawley Magistrates' Court.
The Insulate Britain protestors blocked traffic by sitting at junction 3 near Swanley, Kent, on September 29 last year.
Some glued themselves to the tarmac while another stuck himself to a police car.
A handful of demonstrators appeared in court on Tuesday, while others pleaded guilty by post.
The judge said their actions had caused "significant disruption" to the motorway.
Published at Thu, 14 Apr 2022 06:51:00 +0000
'Makes me sick' Dan Wootton fumes at judge calling Insulate Britain 'inspiring'