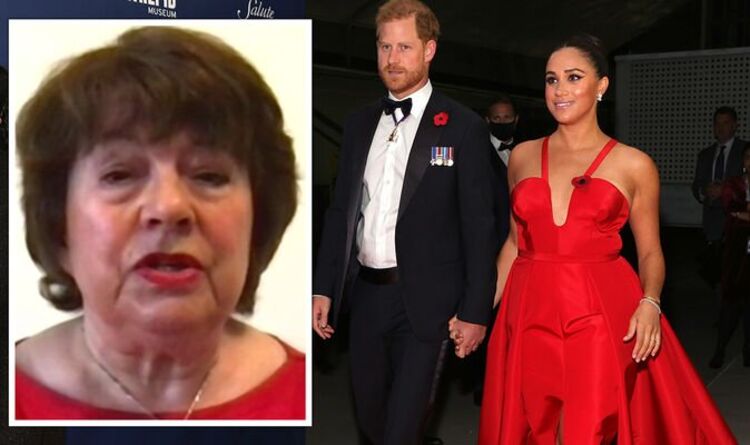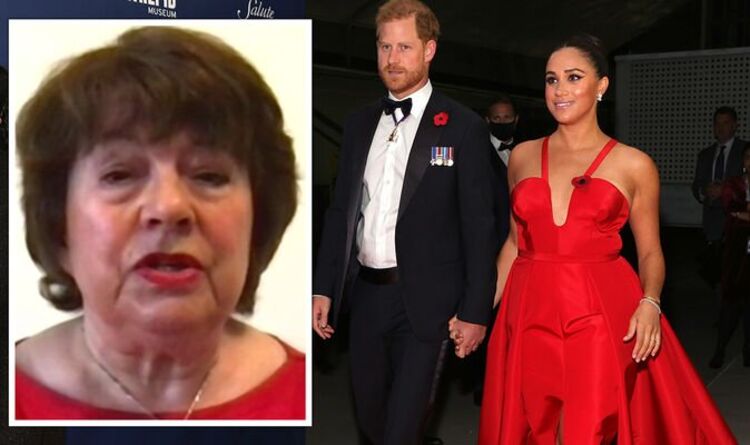 The Sussexes paid a visit to the Queen and Prince on Thursday in Windsor Castle on their way to the Invictus Games in the Netherlands. Meghan has not been in the UK since 2020 after the couple stepped down from royal duties while Harry last visited in July last year. Royal expert Angela Levin has warned the couple might be using the Queen "for commercial gain as they have done before" during a debate on Friday's Good Morning Britain.
Good Morning Britain presenter Adil Ray, who was hosting the instalment with Kate Garraway, asked Angela if it was a "good thing" the Sussexes visited the monarch.
However, Angela replied: "I'm not sure that it is, I think you have to be very careful not to jump to conclusions.
"I think the Queen and Prince Charles have missed them hugely and therefore they could wrap them around their little fingers and use them for commercial use as they have done before.
"I think it's something to do with not turning up at Prince Philip's memorial service and finding out what the reaction to that was, it was very bad, and they can't afford to lose that publicity."


READ MORE: Loose Women panel warned 'not to pile on Linda' as Boris row erupts
Angela continued: "They are off to Holland today [Friday] but most unusually the king and queen have not invited [Harry and Meghan] for dinner.
"They were there at [Prince Philip's] memorial service and I think they are saying something very loud, very quietly.
"I think it is all a plot, we don't know if they have cameras in their pocket and also it will maybe give a boost to their documentary about the Invictus Games."
She fumed: "I can't believe when you are so unkind and untruthful when you talk to Oprah Winfrey it takes you well over a year to decide you want to make friends again."
Royal expert Ingrid Seward, who was also part of the debate, told ITV viewers the Queen is "all about forgiveness" and saw Meghan and Harry's visit as a positive decision.
The editor-in-chief of Majesty Magazine explained: "It's not in her makeup to hold that kind of grudge, [Harry] is her grandson and she is very fond of him.
"The same goes for Prince Charles, what would be the point in carrying on [like this] when [Harry] is offering an olive branch?"
She said they need the Queen's "fairy dust for their brand" and reiterated how the monarch is very forgiving due to her Christian faith.
Published at Fri, 15 Apr 2022 06:56:00 +0000
Meghan and Harry accused of 'using Queen for commercial gain' royal expert rages