Influential punk band NOFX, often known as one of the world's most controversial and significant punk bands of their time is bringing one of its very last shows to the city of Austin, Texas for its Final Tour, which begins on April 22 and runs through October 2024 in Los Angeles, California.
No strangers to pushing boundaries at their live shows, NOFX's final tour will certainly be no different and everything punk fans can ever imagine from the group, bringing the punk collective full circle after a near 40-year run.
The dream team of NOFX and Cameron Collins from Brew Ha Ha Productions and the Punk In Drublic Craft Beer & Music Festival has reunited to curate the first wave of announced tour dates in the United States, beginning with its April performance in Austin.
"This is not a final tour like Mötley Crüe or Black Sabbath…These are the very last shows NOFX will ever be playing. We are gonna play with all our hearts…With all our joy…And then we are done. We are done done," says Fat Mike.
The NOFX Final Tour is also a perfect 21+ punk rock and beer weekend camping festival that will feature Pennywise, Circle Jerks, Face to Face, Riverboat Gamblers, Codefendants, Get Dead, Bad Cop Bad Cop, The Bombpops, PEARS, Pinata Protest, and more.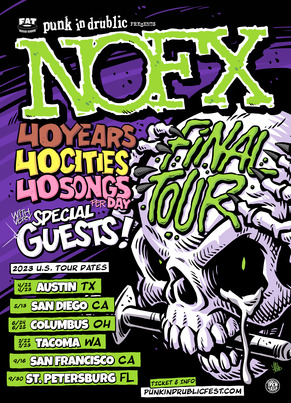 Here's the tour schedule:
April 22 & 23: Austin, TX – Carson Creek Ranch (campout)
May 13: San Diego, CA
May 19-20: Barcelona, Spain
June 2: Linz, Austria
June 24 & 25: Columbus, OH (campout)
July 22 & 23: Tacoma, WA
September 16: San Francisco, CA
September 30: St. Petersburg, FL
You can visit http://www.punkindrublicfest.com/ for more information, which include single-day tickets, the Bro Bundle, VIP, and more including a digital download of each show with a ticket purchase.
Feature image by @susanmossphotography