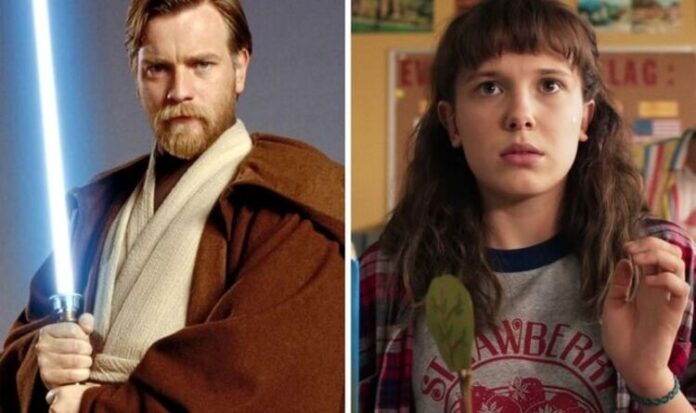 Star Wars' highly anticipated spin-off Obi-Wan Kenobi, was expected to land on Disney plus on May 25. However, the streaming service Disney Plus have pushed back its release date, which means the return of the Jedi Master will be up against the season four premiere of Netflix's Stranger Things.
Earlier this year it was announced Star Wars fans would see the return of Obi-Wan Kenobi (played by Ewan McGregor) in an all-new spin-off series.
The actor will be reprising his role from the prequel trilogy and while the news sent fans into a frenzy, a new announcement revealed the fans will have to wait a while longer.
This comes after Disney Plus disclosed Obi-Wan Kenobi's premiere date had changed and it would instead be pushed back by two days.
With a new release date of May 27, the Star Wars spin-off will go up against Stranger Things, as their fourth season will also premiere on the same date
READ MORE: Where is Bargain Hunt's Anita Manning from?
Network bosses have long decided to release shows on the same date as others drop on rival platforms.
While this could be a battle for viewership, Disney Plus decided to become even more competitive as they plan to release the first two episodes on the premiere.
The Jedi Master star Ewan McGregor broke the news to fans on Twitter with a video which also thanked them for ongoing support.
He stated: "Thank you for all your incredible support and response to Obi Wan-Kenobi," before sharing some "important news".
Obi Wan-Kenobi is set ten years after the events of Star Wars: Episode III – Revenge of the Sith, the final instalment in the prequel trilogy.
According to the official statement, the story will focus on Obi-Wan, who: "faced his greatest defeat — the downfall and corruption of his best friend and Jedi apprentice Anakin Skywalker, who turned to the dark side as evil Sith Lord Darth Vader."
Alongside McGregor, a majority of the original cast will also be stepping back into their Star Wars roles.
This includes Hayden Christensen, Joel Edgerton and Bonnie Piesse, while Kumail Nanjiani, Indira Varma, Benny Safdie and Maya Erskine will make their first appearance in the franchise.
Ahead of Christensen's return as Anakin Skywalker, McGregor revealed what it was like to be working with the actor again.
He disclosed: "I think it's no secret that Hayden Christensen comes back and we got to play scenes together again as Obi-Wan Kenobi and Anakin Skywalker, and it was just fantastic to work with him again."
He added the series is: "really going to satisfy Star Wars fans".
The fourth season of Stranger Things was also highly anticipated and the instalment had faced multiple delays.
The Obi-Wan Kenobi premieres on Disney Plus on Friday, May 27.
Stranger Things season 4 premiers on Netflix Friday, May 27.
Published at Fri, 01 Apr 2022 01:32:18 +0000
Obi-Wan Kenobi release date: Disney delays premiere to rival Netflix's Stranger Things