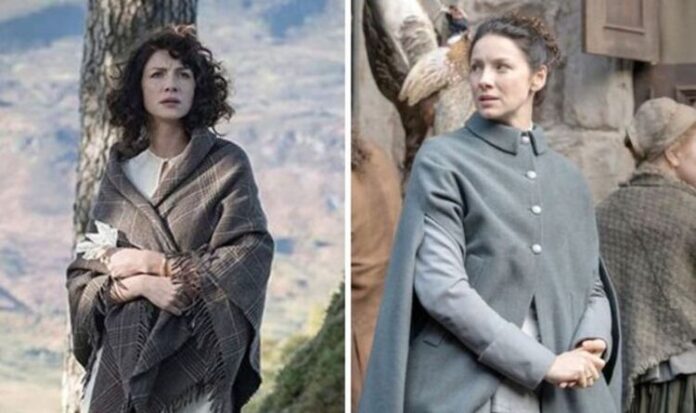 Starz's hit time-travelling series Outlander saw World War II nurse Claire Fraser (played by Caitriona Balfe) travel back in time and decide to stay there after falling in love. With viewers six seasons in, they can look forward to thrilling scenes of a medical emergency, which could also see Claire become infected.
Earlier this month, the sixth season of Outlander landed on screens after fans were put through almost two years of delays.
Its return also marked almost two years since Claire was brutally assaulted by Lionel Brown (Ned Dennehy) and his men.
Although the perpetrators were dead, Claire was still dealing with the trauma which had undoubtedly changed her.
While she continues to heal with the support of her husband Jamie Fraser (Sam Heughan), Claire could be forced to put her feelings aside, when a medical emergency sweeps the Ridge.
READ MORE: Coronation Street matriarch Aggie Bailey dead as Abi takes revenge?
While she will be able to use her advanced medical skills to help as many people, it seems as though Claire could also find herself on death's door after becoming infected.
During an interview with Digital Spy, actress Caitriona Balfe opened up about her character and confirmed the upcoming storyline.
Speaking of the upcoming episodes Balfe shared: "We have one that is very much like a Western.
"We have one which is a bit more like a horror again, and there is another one that is kind of like not the pandemic but another kind of medical emergency that comes to the Ridge.
The novels' synopsis for the upcoming storyline reads: "Claire, Brianna, Marsali, and Lizzie find the MacNeill family in dire straits, struck by a devastating illness.
"As the same illness strikes other families across the Ridge, Claire tends to them as she can, while Roger sees to burying the ones that succumb.
"Claire falls suddenly ill and nearly dies. Once she recovers, she considers the evidence to hand and concludes that her illness was not the same as the one that had ravaged the MacNeill's and other families on the Ridge."
When this is eventually shown on screens it will likely be a tense episode as Claire will try and use the limited resources on hand to help them.
The nurse has recently taken the Ridge's newcomer Malva Christie (Jessica Reynolds) under her wing as an apprentice.
Fans will have to see if Malva will have enough confidence in her skills to help Claire pull through when she becomes sick.
Viewers have also watched the time-travelling nurse struggle to help a patient as the medication she knew she needed had yet to be invented.
This was seen in season five when Claire, who usually used natural remedies, tried to make penicillin and killed a patient.
Outlander is available on Starz in the USA and on Starzplay in the UK.
Published at Thu, 24 Mar 2022 04:01:51 +0000
Outlander season 6: Caitriona Balfe confirms major storyline with 'medical emergency' clue