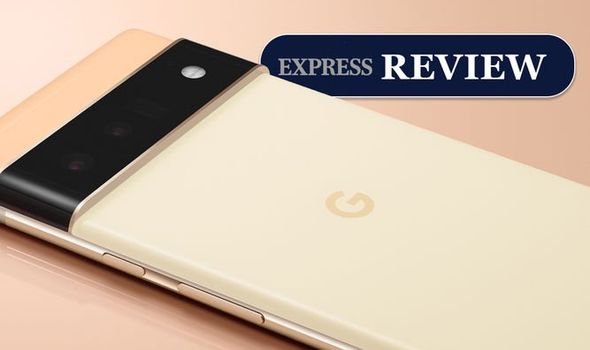 Google Pixel 6 Pro review (Image: GOOGLE)
This article contains affiliate links, we may receive a commission on any sales we generate from it.
Learn more
When Google's new Pixel 6 Pro arrived in the post I wasn't exactly love-struck. The new design, which is dramatically different from both of the Pixel 5 and Pixel 4 before it, is pretty ugly. It's humungous in your hand and the shiny case and curved screen make it a bar of soap to grip.
However, despite my initial alarm, things have gotten better over time – the more I've used it, the more I like it. In fact, the Pixel 6 Pro is a bit like a posh bottle of plonk: the longer you have it, the tastier it seems to get.
There's no question this phone has some faults, but most of these are cancelled out by the brilliant features Google has included in its first-ever 'flagship' phone. At £849 it's also a bit of a bargain, especially when compared to the £1,049 iPhone 13 Pro Max and £1,169 Galaxy S21 Ultra.
So, if you've been thinking of investing in the new Pixel 6 Pro then here's all that's brilliant and bad about this new Android device.
The Pixel 6 Pro's design is unique but pretty ugly (Image: GOOGLE)
Google Pixel 6 Pro review: Design and Display
Google has tried something completely different with the Pixel 6 Pro's design and it certainly stands out from the crowd. Instead of the usual triple or quad camera systems stacked in a small square-design on the back of smartphones we've become accustomed to, Google has placed the lenses in a bar that stretches across the rear case of this device.
Some might like the unusual design, but I'm yet to be totally swayed by it and it's definitely not the prettiest phone on the market. Because Google hasn't blended the camera bar into the metal sides of the phone – they should have copied the smooth finish on the Samsung Galaxy S21 – it almost appears to have been stuck on as a bit of an afterthought.
Other than that camera system, the rest of the Pixel 6 Pro design is pretty standard – a glass back for wireless charging, all-screen design, no headphone port. It's covered in Gorilla Glass Victus for some added durability.
And that's no bad thing as the curved edges that surround this hardware make it ludicrously slippy. Every time you pull it from your pocket you're never sure if it's going fly from your fingers and end up crashing to the floor.
One final thing to note about the overall design is just how big this beast is. If you thought the iPhone 13 Pro Max was huge wait until you try and squeeze the 6 Pro in your pocket. As a comparison, the Pro Max is 160mm tall whereas the Pixel 6 Pro takes things up to almost 164mm – that may not sound like a huge difference but it's really noticeable and that humungous size isn't going to suit small hands or skinny jeans.
The Pro gets a 120Hz refresh rate (Image: GOOGLE)
Although the design will definitely divide opinion there are a couple of good things about this styling. That camera bar makes it far more stable when on your desk so you can bash out an email or WhatsApp chat without the phone wobbling all over the place.
All the buttons are perfectly positioned and we like the three colour schemes Google has picked for the Pixel 6 Pro, with users able to pick subtle greys or a more vibrant yellow.
Although those curves we talked about earlier don't help it stick in the hand, they do make it incredibly comfy to hold and it's definitely more pleasant than the sharp and industrial edges that are found on rivals such as the iPhone 13. So, the design is a bit of a mixed bag but what will please every owner is the new screen.
Hit the power button and you'll be impressed by the bright 6.7-inch QHD+ display which is pin-sharp and packed full of colour.
Pump up the brightness and you'll have no issues checking emails and surfing the web even in the midday sun. This panel also features a 120Hz refresh rate which makes everything you do feel silky smooth and stutter-free. It's also fully adaptive which means it drops to as little as 60Hz when things are idle to preserve precious battery life.
It's almost impossible to fault the Pixel 6 Pro's display although we do wish Google hadn't made it curve around the edges of the case.
Although it looks stunning, it can make websites hard to read as content gets far too close to the edge. Other than that this small niggle, the screen is up there with all of its premium rivals.
Google Pixel 6 Pro review (Image: GOOGLE)
Google Pixel 6 Pro review: Camera
Google is making big claims about its camera system and the US firm has every right to be proud. I've been left hugely impressed by the quad snapper on the back of the 6 Pro with it taking all of the hard work out of shooting picture-perfect photos.
It doesn't seem to matter what or where you are with the Pixel working things out and making sure the photo you shoot looks like it's been taken by a pro. Even at night things really impress with this phone appearing to relish tricky conditions.
Google has also now packed the camera with new features including the brilliant Magic Eraser which seamlessly removes unwanted objects or people photobombing your family pictures – it's an update that has to be seen to be believed!
There's also an excellent Motion Mode which adds some drama to your images plus the DSLR-style Portrait option is now so good you'll think the photos have been shot on a top-end professional camera.
Pixel 6 Pro camera samples (Image: EXPRESS NEWSPAPERS)
Google Pixel 6 Pro camera samples (Image: EXPRESS NEWSPAPERS)
Another bonus that you're bound to use is Face Unblur, which does exactly what it says on the tin and should really help those who always end up with shaky shots of the relatives.
One of the biggest reasons to choose the Pro over the cheaper Pixel 6 is that this device also gets a 4x optical zoom which helps get closer to your subject.
It's not quite are good as some of its rivals – Samsung offers a 10X zoom on its S21 Ultra – but it's better than not having this functionality at all. For those that want to shoot video, there's the option to film in stunning 4K and there's some impressive video stabilisation plus support for those fun slow-motion shots.
Anyone who loves a selfie will also enjoy the ability to switch to a wide-angle lens for when you've got a bunch of friends trying to crash the party.
All in all, the Pixel 6 Pro's camera is brilliant. I'm not sure the images are any better than most of its rivals but it's the simplicity that shines with even the most amateur photographers guaranteed stunning results.
Google Pixel 6 Pro camera samples (Image: EXPRESS NEWSPAPERS)
Google Pixel 6 Pro camera samples (Image: EXPRESS NEWSPAPERS)
Google Pixel 6 Pro camera samples (Image: EXPRESS NEWSPAPERS)
Google Pixel 6 Pro review: Processor and Battery
Google has made a massive change in 2021 and ditched the usual Qualcomm brains. Instead of a Snapdragon 888 tucked inside, the Pixel 6 Pro gets its power from a new Tensor chip which has been designed and made by Google.
Official speed tests show that this Tensor processor can't match the speed and efficiency of the Snapdragon but we've had no problems using the Pixel 6 Pro with everything we've thrown at it feeling relatively smooth and stutter-free.
Google is hoping that it can improve the overall user's experience via its Tensor chip with improved machine learning and better AI.
With Google now controlling both software and hardware we can expect some big gains in the future and we've been left pretty impressed by the firm's first stab at making its own chip.
The only thing that has really surprised us about the Pixel 6 Pro is the battery life. Apple has shown that making its own processors can boost battery life but that's not really the case on the Pro. Usage times are not dire, you'll get about a day out of charge, but it's also not going to win any prizes and that feels like a real missed opportunity from the US technology giant.
It's also worth noting that although the Pixel 6 Pro can be fast refilled via a 30W charger there's no power brick in the box so you'll need to add one of these £25 accessories to take full advantage.
The new Pixel 6 Pro is powered by a Tensor processor (Image: GOOGLE)
Google Pixel 6 Pro review: Android 12
The Pixel 6 Pro is one of the first flagship phones in the world to get Google's new Android 12 operating system and it certainly freshens things up.
Thanks to the addition of Material You there's a feast of options to customise the way things look to suit your style. Using what Google calls colour extraction, you can choose a wallpaper and the system will then automatically work out which colours are dominant, which ones are complementary and which ones will look the best on the homescreen.
Things will then be transformed without you touching a single setting. Not only that, but widgets have also been updated to be more user friendly and an upgrade to the performance definitely makes things feel more snappy.
Android 12 also includes new features that give you more transparency around which apps are accessing your data, and more controls so you can make informed choices about how much private information your apps can access.
The new Privacy Dashboard offers a single view into your permissions settings as well as what data is being accessed, how often and by which apps. It also lets you easily revoke app permissions right from the dashboard.
Google is also giving Android 12 users more control over how much information they share with apps. With new approximate location permissions, apps can be limited to seeing just approximate locations instead of a precise one.
All in all, it's a great operating system and you'll be one of the first to use it if you buy a Pixel.
This is a big phone that won't suit all pockets (Image: GOOGLE)
Google Pixel 6 Pro review: Extras
Along with its fabulous camera, Android 12 and that unique design there are some other useful features on the Pixel 6 Pro including an even better dictation tool than found on previous models. You can basically chat away without drawing breathe and the Pixel will know what you're saying and type it out. It even adds full punctuation which is mightily impressive.
If you're heading away on holiday you'll find improved translation which now takes place on the device so you don't need to be connected to Wi-Fi to order a beer and tapas in a Spanish bar.
Google also now includes five years of security updates which is great news if you're thinking of holding onto this device for longer than the usual two-year contract.
Other useful additions worth a mention include an IP68 dust and water resistance rating, stereo speakers and a reasonably fast under-display fingerprint scanner.
Google Pixel 6 Pro review (Image: GOOGLE)
Google Pixel 6 Pro review: UK Price
As we mentioned earlier, the Pixel 6 Pro offers some pretty good value for money especially when you compare it to its rivals.
Apple's flagship iPhone 13 Pro Max and Samsung Galaxy S21 Ultra both start from over £1,000. You can pop the Pixel in your pocket for just £849. If you want the ultimate value for money then the standard Pixel 6 is even better with that device costing just £599.
Google has opted for some aggressive pricing on its Pixel range and that's great news for consumers.
Google Pixel 6 Pro review: Final Verdict
There's no question the Pixel 6 Pro is a solid flagship smartphone that offers a stunning screen, fast processor, and a camera that will shoot epic snaps no matter how bad you are at photography.
The clever AI also brings some spellbinding features including that brilliant Magic Eraser, instant on-device translation and mind-blowing dictation.
Android 12 looks really smart, the five years of updates will keep things fresh long after your contract runs out and it's really hard to fault the £849 price tag.
There's plenty to love but Google still isn't making faultless smartphones – the massive and very slippy design won't be for everyone, it's pretty ugly, the curved screen is a big mistake, the fingerprint scanner could definitely be faster.
Although battery life is good, we were expecting bigger gains thanks to that new Tensor chip and don't forget that faster charging is only available if you splash out on a £25 plug.
Although it's not perfect, this is a very good phone that has loads going for it especially as it's so much cheaper than its premium rivals. If you love all things Pixel, can cope with the whacky design and you don't mind having a massive phone in your pocket then 6 Pro won't disappoint.
Published at Tue, 30 Nov 2021 07:20:00 +0000
Pixel 6 Pro review: Almost the flagship Google fans have been waiting for