Ebony Mederos-Chevannes is a complete badass. She has a myriad of titles from Staff Sergeant in the U.S. Army Reserve to mom of three and manager. To say Mederos-Chevannes can juggle, is an understatement.
I had the pleasure of learning more about her through yet another one of her titles, owner of the skincare line, mason's jar. Her products are completely natural, made-to-order, and smell delightful. (More on that later!)
Mederos-Chevannes started her company back in 2016 when she found red, scaly patches on her infant Mason's torso and joints. A dermatologist diagnosed Mason with baby eczema. She opted out of using a prescribed topical steroid on her five-month old. While I have no kids, I don't blame her. A five-month-old baby is a little nugget! Note: nugget is not a scientific term.
Mederos-Chevannes began looking to homeopathic remedies and discovered some key ingredients – essential oils, coconut oil, and honey. She added beeswax to the mix for its anti-allergenic and anti-inflammatory qualities. She blended the ingredients and came up with a lotion that calmed her son's skin.
"You know what they say: necessity is always the mother of all inventions!" Mederos-Chevannes said.
Her customer-base grew beyond Mason, thanks to the high quality ingredients.
"The holy trifecta of organic beeswax, coconut oil and olive oil are the perfect blend to provide a barrier and lock in much needed moisture to the skin without being greasy," Mederos-Chevannes explained. "Added to the trifecta is my essential oil blend that works overtime to reduce inflammation, is antibacterial, and promotes healing and regeneration, and together they make a rich body butter that luxuriously nourishes the body's biggest organ!"
I tried the body lotion. Verdict: it rocked, and smelled good. I used the "Adrian" version that is infused with cotton blossom essential oil. It gives off a super clean scent. This was important for me. Why? I had previously used a shea butter from a popular grocery store which, once on my body, was described to me by someone who smelled it on me as, "a smoked-pack of Malboros on your skin." 
Smell aside, I was used to using a thick product, unrefined shea butter, but I didn't feel like I was missing out on moisture when I used mason's jar body lotion.
As I noted earlier, Mederos-Chevannes wears many hats and takes her influences from a variety of experiences. For example, she's been in the military for nearly a decade.
"I'm proud of the work I do, the people I serve with, and the community we support," said Mederos-Chevannes.
While she's supporting others, I had to ask what products she uses to support herself while she's in uniform.
"Hands down must have go-to's in uniform are hand sanitizer and body butter, and when we're in the field, I have to have my Parasol aloe cream for my hands," explained Mederos-Chevannes. "Our uniforms and gear keep most of our bodies covered, but our hands take a beating from the elements."
She continued, "One day I looked down, I swear, my hands looked eight shades darker and like they had aged 20 years! I said, 'Nope, no thank you.'"
Necessity led her, again, to a new product. She started playing around with natural SPF ingredients and collagen-boosting qualities. That led to mason jar's Parasol product.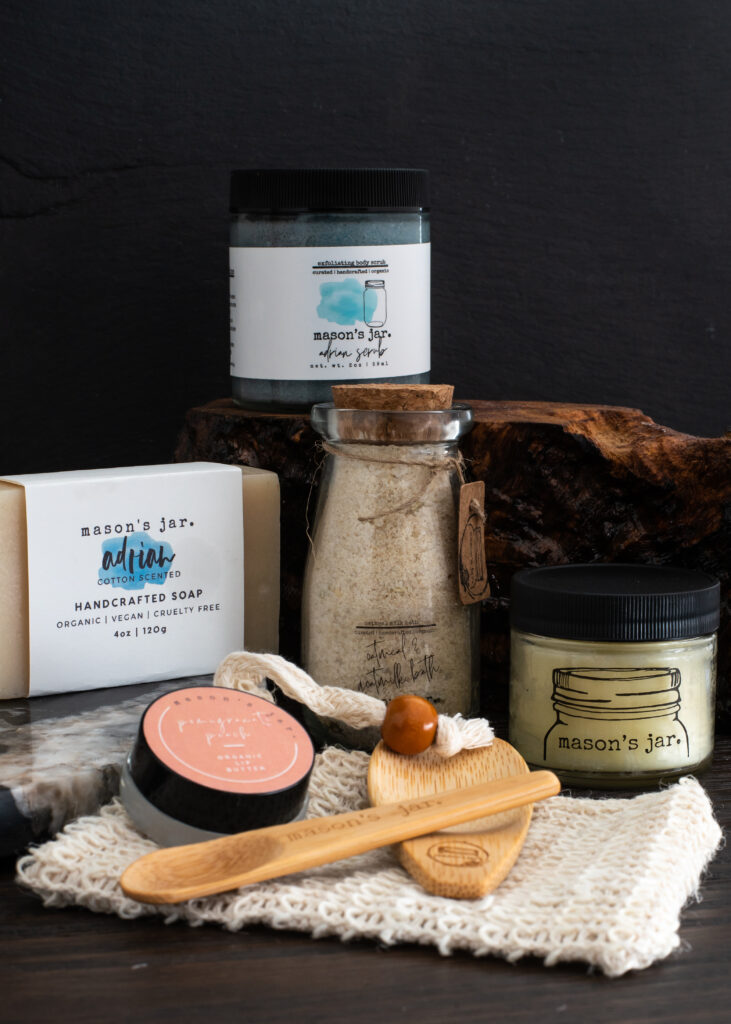 Mederos-Chevannes's company is also informed by what she doesn't like about skincare products on the market today: fragrances and dyes.
"There's very little regulation, if at all, regarding how skincare products look and smell so no one really knows what they're putting on their skin, so when you look at ingredient labels you won't get much more information other than the word 'fragrance' which can be one chemical or a combination of who knows what," explained Mederos-Chevannes.
I will totally second Mederos-Chevannes. My entire body broke out when I used a lotion in a Nutcracker-shaped container that was supposed to make me smell and feel like Christmas. I did NOT, but my body did look like I had tattoos of only Rudolph's nose on my body.
I am also a perpetual user of Vaseline (aka refined white petroleum jelly) products on my lips. The brand's products include natural ingredients like jojoba, vitamin e, and almond oils as opposed to, petroleum, a fossil fuel-derived product. Swapping something terrible for the environment out with mason jar's pomegranate peach lip butter has not been a difficult transition. I would also argue the smell is about 100x better than a slick of Vaseline on my lips.
To wrap it up, I'm giving a huge pomegranate-infused chef's kiss to mason's jar. Mederos-Chevannes's relatability and passion for natural solutions have made her brand into more than a skincare line. I'm looking forward to seeing what she creates next. Check out her on Instagram to learn about her latest products and see when she'll be stopping by your local crafter's market!
Emily DeCiccio is a producer, writer, and reporter. Follow her on Twitter @EmilyDeCiccio