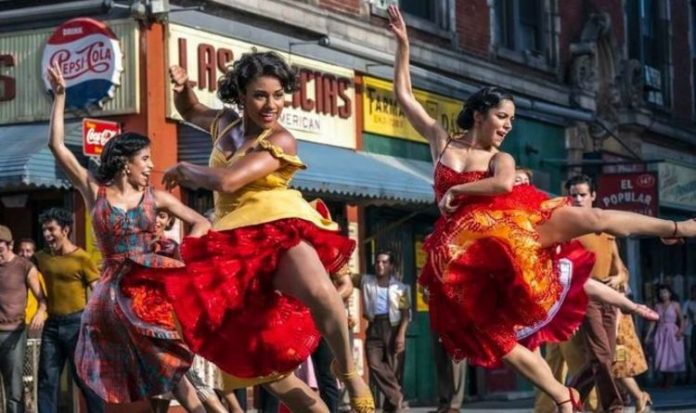 If you're one of the latter, here's a recap: with music from Leonard Bernstein, lyrics from the late, great Stephen Sondheim and a plot from the very late and very great William Shakespeare, West Side Story tells the story of star-crossed lovers meeting in the slums of 1950s New York. Here, Tony (Ansel Elgort), an ex-member of the all-white Jets, falls for Maria (Rachel Zegler), little sister of the leader of Puerto Rican gang the Sharks.
The look of the film is classic musical Technicolor. But the most noticeable difference is the energy of the camera. As the talented young cast click their fingers and swirl their skirts, Spielberg joins in the dance.
The highlight is America, here moved to the second half of the film, and the original night-time rooftop setting becomes daytime New York, giving Maria's flatmate Anita (a brilliant Ariana DeBose) and the female dancers a chance to reclaim the streets from the warring male gangs.
Rita Moreno, who played Anita in the original, has a new role as shopkeeper Valentina and a chance to turn Somewhere, conceived as a touching love song for Maria and Tony, into a sad lament from a disillusioned old-timer.
It's an intriguing tweak but the love story needed all the help it could get.
Zegler is a vast improvement on a dubbed, browned-up Natalie Wood but Elgort is an underwhelming Tony.
He can hold a tune but never convinces as a charismatic gang leader with a violent past.
Published at Fri, 10 Dec 2021 14:50:09 +0000
Spielberg's West Side Story is an undeniable success