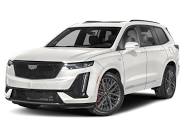 Few things are as innately American as a long, sun-swept drive across the arid west, with dust devils in the rearview mirror and sin city shimmering like a mirage on the horizon. It is in this setting we chose to put the new Cadillac XT6 to the test.
To state it plainly, the XT6 is a swaggering monument to American luxury—on wheels. Yes, we could get clinical about the advanced tech and the spec sheets, but the XT6 is more than that. It is the automotive embodiment of Rat Pack cool, Sinatra belting out a tune, and Sinatra knew a thing or two about both Cadillacs and Las Vegas.
Under the hood, the XT6's 3.6L V6 engine packs enough horses to give Secretariat a run for its money—310hp to be exact. It's refined, powerful, and seemingly always ready to stretch its legs. Paired with a smooth-shifting nine-speed automatic transmission, it turned our 270-mile LA to Vegas drive into an afternoon of sheer driving pleasure. The XT6, much like the great Mr. Sinatra, doesn't do things half-heartedly.
Once inside, you're greeted by a plush interior that Cadillac does oh-so-well. Everything about this cabin screams luxury. Premium materials, comfortable seating, an impressive infotainment system, and thoughtful details that simply make the ride better. The back seats were spacious enough that our six-foot-tall intern didn't once complain about legroom, and that's a first. The third row is best for kids, but that's to be expected in this class.
The CUE infotainment system with its 8-inch touchscreen is crisp, quick, and straightforward to navigate. Android Auto and Apple CarPlay come standard, ensuring you'll never miss a beat of 'My Way' or any other Sinatra classics. The optional 14-speaker Bose Performance Series sound system, tested on our journey, is sublime and fills the cabin with crisp, rich tones.
On the long, lonely stretches of desert highway, Cadillac's Super Cruise semi-autonomous driving system truly comes into its own. It isn't just a gimmick; it's a real, hands-free experience on the highway, and it worked seamlessly on our trip. Still, we implore you to remember: Always keep your attention on the road, even with this convenience feature engaged.
Fuel efficiency was a pleasant surprise. The EPA rates it at 18 mpg in the city and 25 mpg on the highway, but we managed to hit around 26.5 mpg on our route, making for a relatively guilt-free journey to the blackjack tables.
Handling is not its strongest suit, being a big cruiser after all, but it's competent. The XT6 won't carve canyons like a sports car, but it's composed and comfortable on long cruises, soaking up highway miles like a consummate pro.
Despite the soft ride, road noise is notably kept at bay, and even at highway speeds, conversation is easy without having to compete with the sounds of the road or the engine.
Yes, the XT6 comes with a premium price tag, and you'll need to dig deep to fully kit it out, but for that money, you are getting an SUV that epitomizes American luxury and style. A 270-mile jaunt in this Cadillac, from the glittering coast to the sparkling desert, really allows you to understand the XT6's understated charm.
As we glided into Vegas, the city lights reflected in the XT6's immaculate glossy paintwork, and it was clear: the Cadillac XT6 is a fitting
chariot for a journey to the city of lights. You may not always feel like Sinatra on your commute, but in the XT6 on the open road, you can't help but sing, "I did it my way."
Finally, Let's talk more about the Cadillac's Super Cruise system, which makes the long drive from L.A. to Vegas not just bearable but also downright relaxing.
Super Cruise is Cadillac's foray into the world of autonomous driving. This high-tech feature truly shines on a lengthy highway journey. Super Cruise uses a blend of cameras, LiDAR map data, and state-of-the-art sensors to offer what is probably the closest thing to hands-free driving available on the market as of now.
Engaging Super Cruise on the long, straight stretches of desert highway was as easy as pushing a button. Once activated, the system took over, maintaining speed and lane position with eerie accuracy. A light bar on the steering wheel glows green to indicate when Super Cruise is in control, which allows the driver to relax and enjoy the ride a bit more, while still keeping an eye on the road.
The real benefit of this system during our long drive was the reduction of fatigue. Usually, hours of continuous driving can drain energy levels significantly. However, with Super Cruise in command, it took much of the strain off, making the journey significantly more enjoyable and less tiring.
The standout feature of the Super Cruise system is its driver attention system. Unlike some other autonomous systems, Super Cruise requires the driver's attention on the road at all times. If your gaze wanders for too long, the vehicle alerts you and eventually disengages the cruise control.
In summary, the Cadillac XT6's Super Cruise system significantly elevates the long-distance driving experience, taking it from a potential chore to a luxurious, near-effortless journey, thereby enhancing the SUV's appeal for road trip aficionados. The drive from L.A. to Vegas provided a perfect platform for the system to shine, making the XT6 feel like a true road trip king.