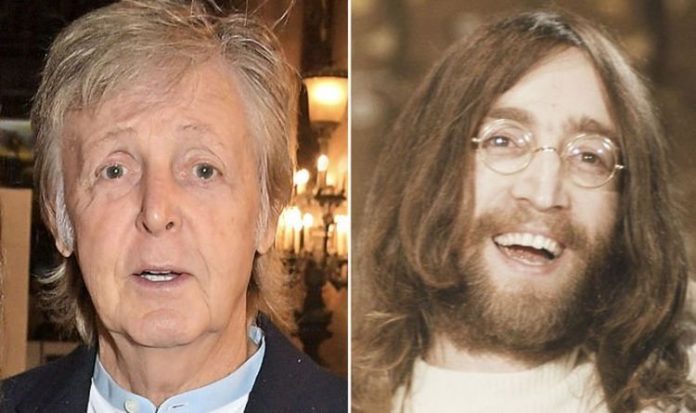 John Lennon was assassinated on December 8, 1980 at the age of just 40-years-old. It had been a decade since The Beatles broke up, but had he truly made up with Paul McCartney before his untimely death? During his last hours, the star gave his final interview and actually had some lovely things to say about his songwriting partner.
Last year, Express.co.uk spoke with Kenneth Womack, author of John Lennon 1980: The Last Days In The Life.
Instead of focusing on his murder, the book celebrates all the creative activities the Beatle was up to during his final year.
When asked if Lennon and McCartney were truly made up by the time of his death, the author said there was clear evidence that this was the case.
Womack said: "I do think so. I don't think there's any doubt about that. I think they were good in the ways they needed to be."
READ MORE: The Beatles: Paul McCartney on finally making up with John Lennon
Womack shared how Lennon had very positive things to say about McCartney during his final interview with San Francisco DJ Dave Sholin, just hours before the shooting.
The author said how Sholin had told him: "God, I wish I'd recorded [John talking about Paul]."
Nevertheless, the journalist recounted exactly what he heard the star say about his former bandmate.
What he said in his last interview was particularly touching about McCartney.
At the end of the summer in 1980, Lennon began recording his first album in five years at New York's Hit Factory.
Double Fantasy, which he made with his wife Yoko Ono, was released just weeks before his death on November 17.
At first, it didn't chart well and received poor reviews but after Lennon's death, the record went on to be a huge success and won 1981 Grammy Album of the Year.
John Lennon 1980: The Last Days In The Life by Kenneth Womack is out now.
Published at Wed, 08 Dec 2021 07:05:00 +0000
The Beatles: John Lennon's touching words for 'brother' Paul McCartney hours before death