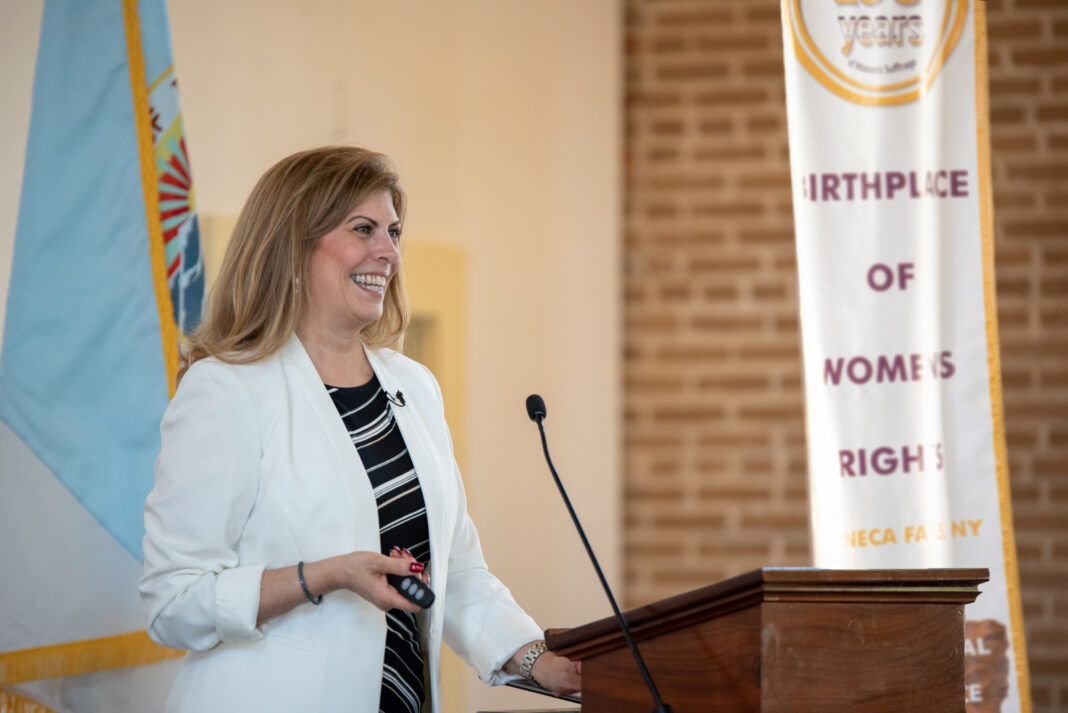 What happens when you unleash the contribution of women and harness their innermost desire to affect positive change in an area that deeply matters to them? You elevate the fabric of society and create a tsunami of social impact for a better world.
When women unleash their voices, their talents, and their convictions to make the world a better place, they create a cascade of social change that can revolutionize their families, their communities, an industry, and the world.
Women hold the key to societal transformation. As a world, we're faced with what can feel like insurmountable issues – racial injustice, gender inequality, domestic violence, transforming the education system, criminal justice reform, food insecurity, the environment, and on and on. We can't solve these challenges without women disrupting the status quo and trusting in the power of their own voices. Believing in that "small" idea that has been begging them for years to breathe it into life. An idea that they know will make a meaningful contribution to society.
"Everything shifts the moment a woman realizes she has within her the ability to spark tremendous change in the world. She can no longer stay silent…and she becomes a catalyst for action." – Robbin Jorgensen  
This belief led Robbin Jorgensen, Founder and CEO of Women Igniting Change® to create the Global Changemakers CommunityTM – a global community of women creating social impact for a better world.  This community brings together professional women who are ready to create a greater impact. Members are given the structure, connections, guidance, and training to ignite lasting social change by combining their collective expertise to solve real-world problems.
Opening a Pathway to Social Impact
The Global Changemakers CommunityTM is for professional women from across the globe who want to BE MORE and DO MORE in their lives; experience a greater sense of fulfillment personally and professionally; and make a bigger impact in the world by contributing to society. 
Leveraging her signature six-part framework, it is the only community of changemakers bringing together diverse women from across the globe to make a social impact through collaboration, ideation, strategic partnerships, learning, and growth opportunities.
Members learn how to expand on an idea and bring it to life while breaking down cultural barriers and working with others around the globe toward a common goal. They learn how to identify allies and resources that can assist them in advancing an initiative forward and how to use the power of storytelling to enroll others into their vision. They learn how to ask strategic questions that will help advance a project/initiative forward and envision an end goal and reverse engineer that into an action plan.
Whatever stage women find themselves in the journey – whether they need help coming up with an idea, already have one, are ready to begin, or are taking their initiative to the next level – the Global Changemakers CommunityTM provides exactly what they need.
They're given the structure, the community, the training, and the guidance to help turn ideas into social action – from idea to practical application and implementation.
The Global Changemakers CommunityTM is an inclusive and diverse community and welcomes ALL self-identified women regardless of their lived intersections.
Moving Humanity Forward
Ensuring that the voice of half the world's population contributes to addressing local and global challenges is essential to creating a more equitable and just society. When a group of diverse women comes together from across the globe, they can solve real-world problems by combining their collective expertise.
This global tapestry of diverse women with varied backgrounds allows for a richness of culture, experiences, and cross-collaboration that opens up limitless opportunities for all of humanity.
The Global Changemakers CommunityTM aims to become the largest community of change agents in the world creating a global impact that improves upon a world that our children and future generations inherit.