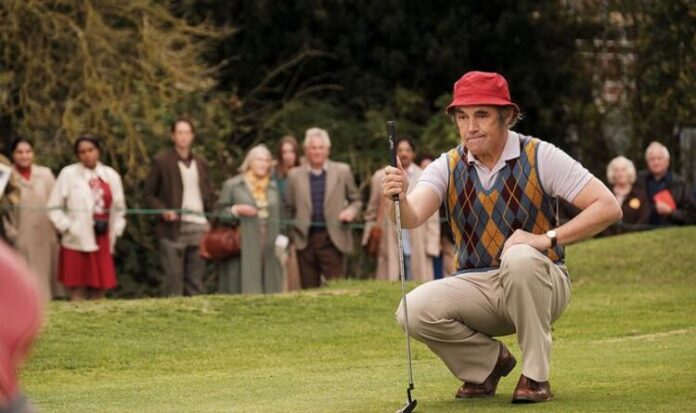 For those unfamiliar with golf, high scores are bad. But considering this was Maurice's first round on any course, 121 (49 over par) was a decent result. Sadly, British golf bigwigs (who are more spiteful than ski-jumping moguls) were far from impressed, hitting him with a lifetime ban from every course in the country.
Undeterred, Maurice went on to infiltrate four more Opens using aliases and disguises.
Screenwriter Simon Farnaby (Paddington 2) must have felt like this underdog story was writing itself.
This affectionate Brit flick, directed by Craig Roberts, tees up Maurice (Mark Rylance) as a thoroughly decent man who sacrificed his dreams of escaping the shipyard for the sake of his wife Jean (Sally Hawkins) and three sons.
Maurice's sudden idea of becoming a professional golfer comes to him with the force of a religious epiphany.
As the US Open appears on his new colour TV, a fantasy sequence propels a slack-jawed Maurice into orbit around a giant golf ball moon.
He wins his place at The Open after misreading the application form. Thinking "handicap" impertinently refers to his lumbago, he ticks the box marked "professional".
While his inept sporting exploits are expertly played for broad comedy, there's a touching sincerity in the scenes with his family.
While Maurice's exploits inspire his twin sons to win a national disco-dancing contest (this actually happened), his social-climbing stepson ( Jake Davies) is humiliated.
The loyal Jean never doubts her husband's right to pursue his impossible dream. The film's quietest scene, where Jean tries to gee up an unusually pensive Maurice, is its most powerful.
Published at Fri, 18 Mar 2022 00:01:00 +0000
The Phantom of the Open review: Crazy golf dreams