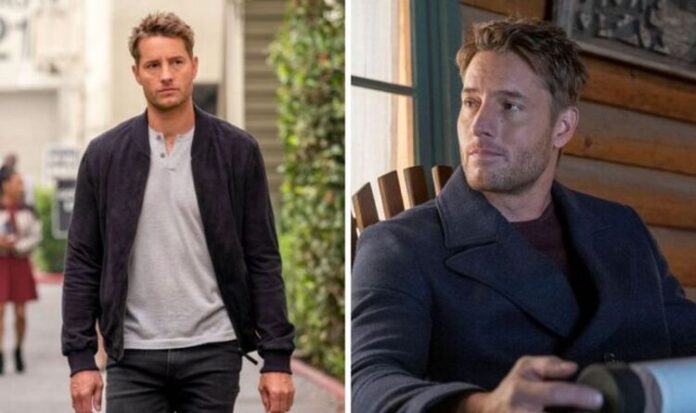 The beloved NBC drama This Is Us became notable for its heartwrenching storylines when it first landed on screens in 2016. Despite its success, the emotional series will officially conclude after season six and Justin Hartley warned fans about the fate of his character, Kevin.
Fans have officially reached the halfway point of the show's final season and have gained a huge glimpse into the trajectory of Kevin's life.
Throughout the season Kevin's focus had completely changed for the better as his priority became the creation of his nonprofit construction company.
The business meant a huge deal to him as it honoured his father's legacy by solely employing veterans.
Although his career was set up, Kevin's romantic life continued to remain a mystery.
READ MORE: Coronation Street legend Ken Barlow horrified over Jacob Hay's secret?
In the previous episode titled 'Guitar man' viewers saw Kevin in awe of his latest venture but there was a hole when it came to his love interests.
Fans will know, throughout the series, Kevin had tried and failed a number of times to have a successful relationship.
He'd had flings with Olivia (Janet Montgomery), Sloane (Milana Vayntrub), Zoe (Melanie Liburd), Cassidy (Jennifer Morrison), Madison (Caitlin Thompson), and Sophie (Alexandra Breckenridge).
With only nine episodes left before the looming season six finale, it's yet to be seen if Kevin will reignite things with an old flame or if he will find the love of his life in an unexpected twist.
As a result, he assumed the role of a supportive friend while she began to seek treatment and professional help.
In an interview with Entertainment Weekly, actor Justin Hartley shared he was also interested to see who his character would eventually end up with.
Hartley disclosed: "Look, I've been so lucky, man, I've been gifted with all these really great scene partners.
"So whichever way it turned out, I was like, 'Okay, great' I just cared about the story, that it made sense, you know?"
The actor also made a surprising revelation about his character's romantic fate: "I don't think everyone's going to be happy necessarily.
He warned: "Every single person is not going to be like, 'That's what I wanted' some people will want something different because it could be that he just ends up with no one.
"People are going to have their own reasons for why they believe what they believe but whether you get what you want or you don't get what you want.
Hartley concluded: "I think it's going to be very satisfying, and you're going to understand what happened, and you're going to say, 'Well, that makes a lot of sense.'"
This is Us season 6 is available on NBC in the USA and in the UK its available on Disney Plus and Amazon Prime Video.
Published at Wed, 23 Mar 2022 00:41:25 +0000
This Is Us' Justin Hartley issues stark warning about Kevin's ending: 'Makes sense'