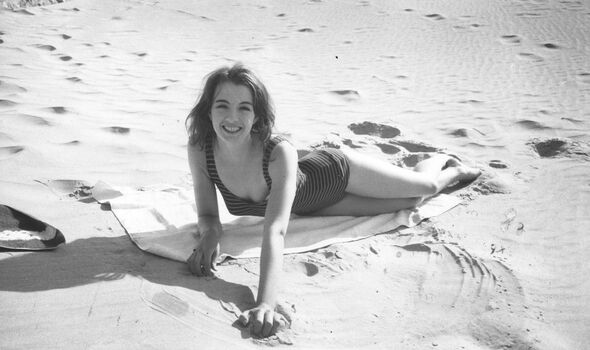 Oscars: Hollywood stars react to Will Smith hitting Chris Rock
Valerie stars today as Estella in the timeless Charles Dickens classic Great Expectations, which airs on BBC Two at 2pm. The British drama is widely regarded as one of the greatest films ever made, and in 1999 was named as the British Film Institute's fifth best film ever made in the UK. It follows the infancy and later years of a blacksmith's apprentice called Pip, who is suddenly given a vast fortune by a mysterious figure, before deciding to move to London, soon entering high society.
Valerie Hobson: Star's husband John Profumo's affair 'changed' son — 'Came between us' (Image: GETTY)
The couple remained together despite the affair (Image: GETTY)
As well as Valeria, other greats such as John Mills, Alex Guinness and Bernard Miles star in the Oscar-winning film, which was directed by David Lean.
It is among her greatest roles and made her a household name — long before she made the headlines for a series of completely different reasons.
One of these was the affair her second husband John Profumo, a politician, had with Christine Keeler, which made the adulteress among the country's most talked about women of the Sixties.
The scandal was reportedly so big that it became a contributing factor to why the Conservative Government of the time fell, and more recently was the centre of a BBC drama focusing on Christine.
John Profumo was made a CBE (Image: GETTY)
Valerie married John in 1954, around two years after she and her first husband, the acclaimed film producer Anthony Havelock-Allan, divorced.
With their vows concluded, she made the choice to retire totally from acting, going on to have a son with John, called David.
David later heartbreakingly recalled how he became aware of his father's affair, not from his family but the school bully.
He noted that he was told about the scandal while he was in his school's library.
JUST IN: Bruce Willis pictured for first time since traumatic aphasia diagnosi
Filming locations in the UK (Image: EXPRESS)
John Profumo alongside Margaret Thatcher (Image: GETTY)
Valerie stayed loyal to him until her death aged 81 in 1998.
Throughout his later years, John remained silent in the public regarding the affair, and even when the 1989 film Scandal was released — which saw Sir Ian McKellen portray him — he refused to discuss the incident.
The affair reportedly began in 1961, when John met Christine, who was at the time a 19-year-old model.
While it remains unclear how long the affair lasted, it came to light after Christine was investigated by the press after a shooting incident in 1962.
Christine Keeler (Image: GETTY)
At the time, the press kept Mr Profumo's secret infidelity out of the headlines, until Labour MP George Wigg used his Parliamentary privilege to tell of the politician's affair.
John's charitable activities after his resignation restored his bruised reputation, and by 1975 he was appointed a CBE.
In 1995, former Conservative Prime Minister Margaret Thatcher invited him to her 70th birthday dinner, where he sat next to the Queen.
His last public appearance was at the memorial service for former Prime Minister Sir Edward Heath in 2005.
He died aged 91 in 2006.
Great Expectations airs at 2pm on BBC Two today.
Published at Sat, 09 Apr 2022 11:00:00 +0000
Valerie Hobson: Star's husband John Profumo's affair 'changed' son — 'Came between us'