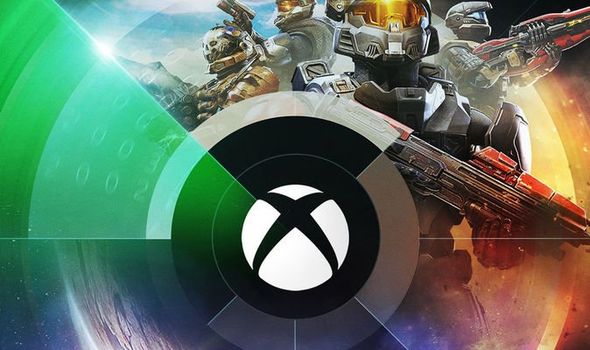 Xbox at E3 2021 (Image: MICROSOFT)
UPDATE 4: There's lots of exciting news for Halo fans, as Halo Infinite takes centre stage during the event.
As you can see from the tweet below, Halo Infinite's free-to-play multiplayer mode is launching alongside the campaign this holiday season.
Needless to say, Halo Infinite will be available as a free download on Xbox Game Pass at launch.
You can watch brand new Halo Infinite multiplayer action by clicking play on the video below.
This was followed by one of the most exciting reveals of the evening, as Diablo 2 Resurrected was confirmed for September 23.
Fans who pre-order the game will get early access to the Diablo 2 beta.
Elsewhere, Microsoft announced a sequel for A Plague Tale coming in 2022, as well as a new Slim Rancher game.
UPDATE 3: Battlefield 2042 gameplay has been revealed during the Microsoft and Bethesda E3 event.
The new Battlefield 2042 footage gives fans a closer look at the extreme weather environments featured in the upcoming title.
As a reminder, Battlefield 2042 launches this October on Xbox, PlayStation and PC. You can watch the gameplay footage below.
The event continued with confirmation that Psychonauts 2 is coming to Xbox Game Pass on Aug 25.
Doom Eternal is getting a free Xbox Series X upgrade on June 29, complete with ray-tracing and 60 frames-per-second gameplay.
It was also revealed that Hades would be coming to Xbox in August, alongside indie game 12 Minutes starring James McAvoy, Daisy Ridley and Willem Dafoe.
UPDATE 2: The hits keep coming, as Microsoft makes huge announcement after huge announcement during E3 2021.
Microsoft has announced plans to bring co-op shooter Back 4 Blood to Xbox Game Pass at launch. The game will be available from October 12.
Elsewhere, it was announced that Sea of Thieves will get a free Pirates of the Caribbean update later this month.
"Did everyone see that? Sea of Thieves: A Pirate's Life launches June 22!" reads a Microsoft tweet.
"Disney's Pirates of the Caribbean sails into Sea Of Thieves in the ultimate pirate crossover. New environments, new enemies and new adventures await. Savvy?"
UPDATE: Starfield kicked off Microsoft's E3 2021 event, as game director Todd Howard announced the release date.
As you can see from the video below, Starfield was given a brand new in-game teaser.
The first new Bethesda IP in 25 years, Starfield will launch exclusively for Xbox on November 11, 2022.
Not only that, but Starfield will be available as a free download for Xbox Game Pass subscribers.
ORIGINAL: Microsoft is about to take to the stage for its E3 2021 conference with Bethesda.
The Xbox and Bethesda Showcase takes place on June 13 at 6pm BST UK time.
The 90-minute event will focus on upcoming Xbox Game Studios and Bethesda Softworks game releases.
Fans can also expect new game announcements and updates from third-party studios, including Ubisoft, Warner Bros and more.
According to the official description, fans will also get a look at "incredible games coming to Xbox this holiday, upcoming releases on Xbox Game Pass, and much, much more".
You can watch the action unfold live by clicking play on the YouTube video embed below.
Express Online will keep this article updated with all the latest announcements and game reveals.
One game that's almost certain to appear is Halo Infinite, which is pencilled in for a late 2021 launch.
"When all hope is lost and humanity's fate hangs in the balance, the Master Chief is ready to confront the most ruthless foe he's ever faced.
"Begin anew and step inside the armour of humanity's greatest hero to experience an epic adventure and finally explore the scale of the Halo ring itself."
It's also likely we'll get an update on Bethesda role-playing game Starfield, which is expected to be an Xbox exclusive.
"Discover Starfield, the new space epic currently in development by Bethesda Game Studios," reads the official Starfield description.
"Starfield is the first new franchise in twenty-five years from the acclaimed developers of The Elder Scrolls and Fallout series."
Fans are expecting to find out the Starfield release date, or at least a rough idea about when it will launch.
Other likely game reveals include the new Xbox Series X Forza Horizon game, as well as the next Fable release.
There are rumours Forza Horizon 5 will be set in sunny Mexico, which has pretty much everything you could want for an open-world driving game.
Mexico has big, bustling city locations, beautiful countryside, plenty of famous landmarks and a generous supply of stunning beaches.
There's also potential for some awesome off-road gravel racing in the mountain areas off the beaten track.
Less likely is a GTA 6 reveal, which is tipped to return to Vice City.
Published at Sun, 13 Jun 2021 17:50:00 +0000
Xbox and Bethesda E3 LIVE: Starfield release date, Battlefield 2042, Halo Infinite, GTA 6