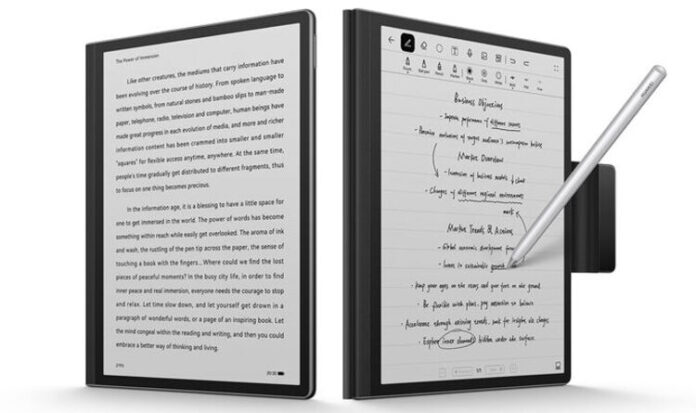 Huawei has unveiled a competitor to the Amazon Kindle during the Mobile World Congress tradeshow in Barcelona. Dubbed the MatePad Paper, this e-reader boasts an expansive 10.3-inch display – much bigger than you'll find in Amazon's lineup, which maxes out at 6.8-inch with the latest generation Kindle Paperwhite. Thankfully, the impressive 86.3 percent screen-to-body ratio means the overall footprint of the MatePad Paper shouldn't be too unwieldy when reading one-handed on the train to work.
That mammoth display, which relies on the same e-ink technology as the Kindle series, isn't just designed to squeeze more words on the page …it also comes in handy when making notes with the MatePad Paper.
Just like the Samsung Galaxy S22 Ultra and iPad Pro, the MatePad Paper arrives with support for a stylus, which lets you scrawl handwritten notes on the e-ink screen. The second-generation M Pencil supports 4,096 levels of pressure sensitivity and a mere 26-millisecond latency, which Huawei says will ensure that writing notes will feel like pen on paper.
As such, the MatePad Paper is perfect for document signing, allowing you to read through pages of a PDF before placing your John Hancock at the bottom with the M Pencil. For those who want to use the MatePad Pro to take notes during meetings or lectures, the built-in handwriting-to-text conversion will transform your scrawled notes into typed text that can be copied into an email.
From there, you'll be able to use your handwritten prose in Word Documents, Slack messages, Trello Cards, and more. Since all of the notes you make with the MatePad Paper are digital, they'll be backed up to the cloud. That means you should always be able to retrieve minutes from meetings – even if the worst happens and you misplace your device.
If you can't be bothered to take notes yourself, the MatePad Paper supports voice recording. That's something that's sure to prove useful with University students nursing a hangover who can't face scrawling pages of notes in an early morning lecture.
Unlike the Kindle, which allows users to send PDFs to read on the e-ink screen as well as novels and non-fiction books from the mammoth Amazon Kindle digital book store, the MatePad Pro includes biometric security. A fingerprint scanner built into the power button means nobody else will be able to scroll through your notes, PDFs, or the latest chapter of 50 Shade Of Grey.
Huawei hasn't revealed what chipset is powering the MatePad Paper, however, the Chinese firm has confirmed that MatePad Paper will arrive with 4GB of RAM and 64GB of built-in storage. For comparison, the Kindle Paperwhite Signature Edition boasts 32GB of storage, which Amazon says is enough to store "thousands of books, audiobooks, comics, newspapers, and magazines."
There's no word on which countries will see the MatePad Paper at launch. Huawei has confirmed that it'll cost €499, which is roughly £420. That's a lot more expensive than Kindle, but then again, the MatePad Paper does much more than ebooks. For that price, you'll get the second-generation M Pencil and a Folio Cover case to protect your new gadget.
Huawei has confirmed that its own digital bookshop has two million titles to choose from. For comparison, Amazon has 3.4 million ebooks in the Kindle Store for its readers to enjoy.
Alongside the MatePad Paper, Huawei also took the wraps off its new MateBook E with a Microsoft Surface-like design.
Published at Tue, 01 Mar 2022 07:01:00 +0000
Your Amazon Kindle can't do this! Huawei's new ereader has a clever trick