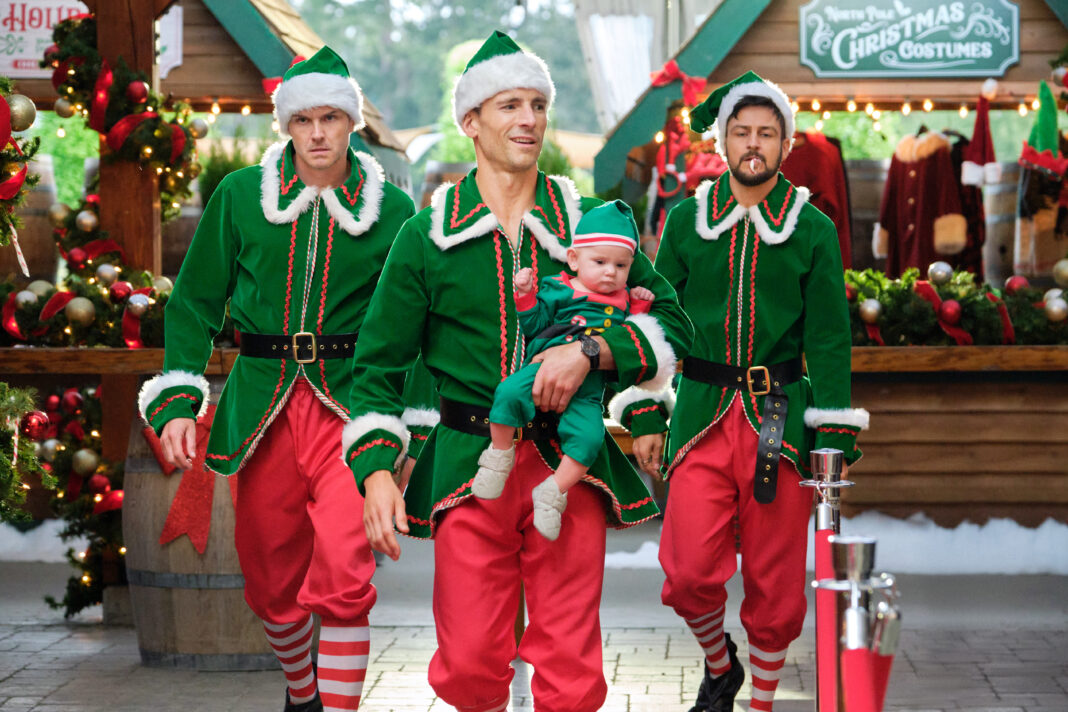 Actors Andrew Walker, Tyler Hynes, and Paul Campbell chatted about their Hallmark holiday film "Three Wise Men and a Baby."
This new original movie premieres on Saturday, November 19 on the Hallmark Channel as part of the network's annual "Countdown to Christmas" programming event.
In "Three Wise Men and a Baby," Luke Brenner (Andrew Walker) is Mr. Perfect – an all-star firefighter and poster boy for physical
health and clean living. When he finds a baby on the doorstep of the firehall with a note asking him to care for it until Christmas, he's uncharacteristically at a loss. "This movie was a dream," Tyler Hynes said. "Andrew is like a brother and the fact that we are doing this together is one of the most beautiful things I've ever encountered. Andrew is one of the most lovely human beings on the planet, Paul is great. They are two of the most talented human beings out there. It doesn't get any better than this. We all loved working together. I am big on good people and good things, and this was the absolute climax of that," Hynes added.
Unfortunately, his mom Barbara (Margaret Colin) has to go out of town to attend to her sister's medical emergency leaving
Luke with no other choice but to rely on his brothers for help until she returns – Taylor (Tyler Hynes), an opinionated video game designer who recently lost his job, and Stephan (Paul Campbell), a pet therapist with severe social anxiety.
It's one mishap after another as the brothers take turns trying to care for the baby individually, and they soon discover the only way to survive the week is to work together as a team – something they haven't done since they were children. As they slowly get the hang of things, they find themselves on unexpected journeys of self-discovery and begin to rebuild their relationships as brothers, as well as repair damaged romantic and professional relationships in their respective lives…all while rediscovering their love of Christmas.
"That's all you want in life: to work with good people and to know that the bones of it were epic. This was the perfect environment for an actor to work in. The movie was just so well-written. Also, to have the co-writer, Paul, as one of your co-leads was really great," Walker said.
Paul Campbell acknowledged that he had a great deal of creative freedom in regard to his writing process for the film. "We wrote as heartfelt of a movie as we could," Campbell said. "We had 100 percent support along that creative path. We had a great cast and a great supporting cast as well with Matt Hamilton and Ali Liebert. It was an all-star cast where we all went to the playground and played for three weeks. There were no egos, we were all there to tell a fun story. In terms of work, I don't think it gets better than this experience."
"If you left all three of us on set a little bit longer, we could have shot three different feature films," Walker added.
"Three Wise Men and a Baby" is from Lighthouse Pictures Inc. Shawn Williamson, Jamie Goehring, Trevor McWhinney and Jonathan Shore are executive producers. The movie is produced by Jameson Parker. Terry Ingram directed the movie from a script by Paul Campbell and Kimberley Sustad. "Kimberley is unreal, and to have her presence on set was awesome," Walker said.