"If you do not ask the right questions, you do not get the right answers." – Edward Hodnett
Stephen Covey teaches that we must "seek first to understand, then to be understood." 2020 has revealed many things with COVID-19 ongoing, particularly the importance of mental health in adults and our youth. 
Back in August, I reached out to Jason Gann, best known for his leading role as 'Wilfred' in the FX dark comedy series, Wilfred. We sat down via Zoom and discussed how creating a dark comedy centered around mental health, depression, and PTSD is actually a healthy mechanism for viewers to resonate directly with these types of story arcs. 
Gann, who is also the executive producer on the Australian-turned-American show, portrays 'Wilfred,' his neighbor's canine pet, who forms a strange relationship with the neighbor, portrayed by Elijah Wood. But while everyone else, including his owner, Jenna (Fiona Gubelmann), sees just an ordinary dog, Wood's character only ever sees a man in a full-on dog suit. Over the course of the series, Wilfred "guides" Wood's character through his own turmoil, opening him up to a much bigger world out there.
The series ran on FX from June 2011 to August 2014. For Gann, who was the executive producer and writer behind the television series, portraying 'Wilfred' was just one piece to the puzzle. In reality, Wilfred is an entire brand and persona outside of the series for Gann.
As an entrepreneur and cannabis enthusiast, he has taken his fluffy alter-ego to the next level.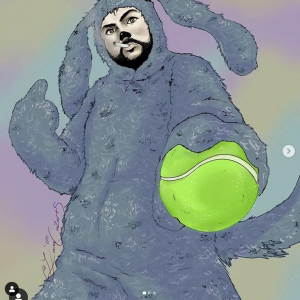 "Conscience is the dog that can't bite, but never stops barking." – Proverb
Gann, who has adopted his 'Wilfred' brand, has nearly 18,000 followers on Instagram, described most of his fanbase to me as "very loving." But even the 'maddest dog in the game,' has had his run-ins with online trolling, one traumatic experience in particular, which happened around the same time Wilfred first premiered.
"I actually had some death threats, and in one instance, with someone who tried to extort me for money," he told me. "They actually threatened to kill my family, for money, if I didn't pay a certain amount of money into a certain account. That happened when Wilfred was just first premiering, and the FBI were brought in, and it was very intense."
"If you have behaved badly, repent, make what amends you can and address yourself to the task of behaving better next time." – Aldous Huxley
Gann added that he ended going offline following that event and making a private account on Facebook. "At the time, I was so rattled and shaken by this triggering experience I had, that I now have a lot of respect for the wild beast that is the Internet and social media. I have a very healthy respect for it, but unfortunately, it's a necessary evil these days if you want to engage in e-commerce or have anything of a profile. I've dealt with it in a way that was fear-based and complete rejection, but then I slowly found my way back."
This experience, according to Gann, is why he has chosen Facebook as his social media platform of choice. "…I can manage it to some degree." He said occasionally, he will get some individuals who will jump out and say something horrible, which he describes as the feeling when you can feel the "hair on the back of your neck stand up." At times, "it's all you can think about unless you're mentally equipped to brush it off."
"The value of identity is that so often with it comes purpose." – Richard R. Grant
Wilfred undoubtedly as a series, is a complex, intuitive brand in and of itself, depending on how you look at it. 
For the entertainment industry, the FX series served as a dark escape, metaphorically speaking, about a dog who understands you and hugs it out with you, as you journey down your own path. But a dog or companion who also isn't afraid to rip the bong with you. 
"It's not for everyone," Gann explains. "There are things that I didn't like about the directions we took and made as a group, but at the time, there were things I didn't agree with that I do agree with now."
While the show didn't get the accolades it certainly deserved, it does offer a dark, realistic take on the culture we currently face now, even amidst the COVID-19 pandemic. 
But if you approach the show from strictly the perspective of 'Wilfred' as a character, the takeaway is entirely different. Wilfred is a brand in and of himself, begging questions we blatantly refuse to answer or address.
Andrew Rossow: What's interesting about your career as an actor, is that you also have taken your 'Wilfred' character, and adopted it as another identity and brand, commonly associated with the cannabis industry. How would you describe the importance of personal branding today? 
Jason Gann: I was just talking about that with my wife, about why it's important to identify what your brand is, what the product is, and who your audience is, and then how to reach them. And that is the greatest challenge.
When I was an actor, for me, the way I use Wilfred and the cannabis brand is a no-brainer, as I worked very hard to create them. But when I was an actor, I remember in the early days, someone told me 'I need to know what my brand is.' Now at that point, I was not long out of school; I could be anything. But no, what was my brand? And so, after a couple years in the business, I started to learn what my brand was, and that was a 'bad boy with a heart of gold.'
"Seek respect mainly from thyself, for it comes first from within." – Steven H. Coogler
As for the evolution of the 'Wilfred' brand and transition into the cannabis space, Gann told me that once he realized that the majority of his characters, which were very popular and widely received in Australia, they all had that one character trait in common: 'bad boy with a heart of gold.'
"Intuition is more important to discovery than logic." 

–Henri Poincare
"Once I worked that out, I focused on that," Gann says. He shared that he is now spending most of his time growing the Wilfred/cannabis product line. 
"It feels very intuitive to me," he says, continuing, "it's important to me that I maintain certain levels to keep my personal brand established and what I can do with my Wilfred line–but I also want to tackle something new."
And that "something new" is the Wilfred CBD Smokes product line which launched November 2, 2020. 
Wilfred CBD Smokes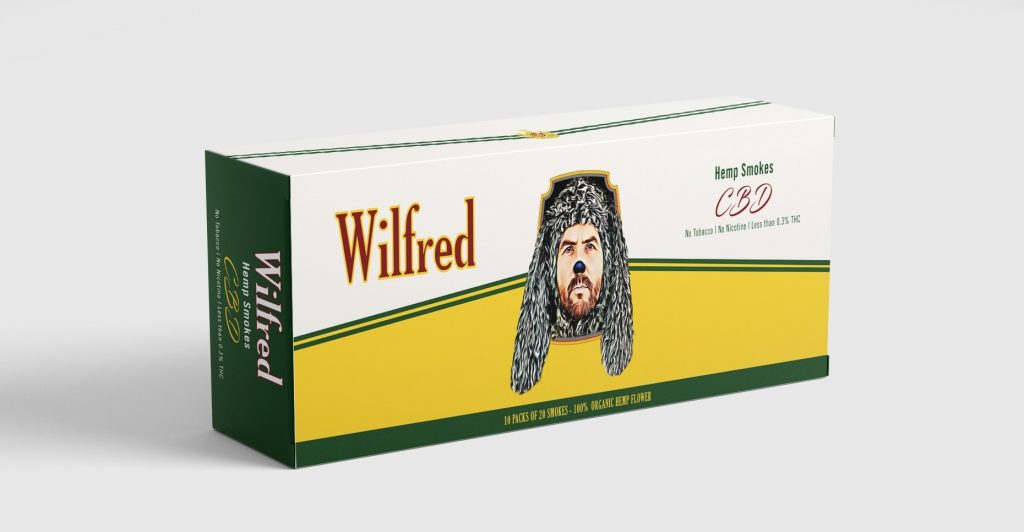 Last year, Gann successfully launched the Wilfred Cannabis Pre-rolls line in California. The cannabis, which comes in three strains–Indica, Sativa, and hybrid, is a sun-grown, outdoor flower, grown in the richest soil in Yolo County.
Now, Gann brings Wilfred CBD Smokes to the US legal hemp market, which is made from 100% outdoor-grown hemp in Tennessee. "The potential for CBD products to alleviate many common conditions such as stress, anxiety, sleep disorders, nicotine addiction, and many others is well known," the company's press release states. The CBD Smokes are made with hemp paper and biodegradable filters, completely free of nicotine and tobacco.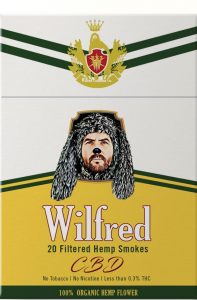 Gann, a cannabis advocate for 25 years, discovered the true medicinal potential of CBD after one of his sons suffered life-threatening seizures at the age of 3. He then made the decision to give up his Hollywood career and devoted his energies full-time to building out the Wilfred Cannabis and Wilfred CBD and Hemp brands.
Each CBD Smoke contains less than 0.3% THC (the psychoactive component found in cannabis), offering a relaxed feeling of wellbeing, but not getting you "high."
Fans of the Australian-turned-US stoner comedy series frequently associate the 'Wilfred' name with cannabis, as Gann's character frequently rips the bong with co-star Elijah Wood.
When Gann first started the comedy, he considered himself a stoner, not realizing that it was a genre itself. In a previous interview with GreenEntrepreneur, he revealed how the idea of a man in a dog-suit came about:
"It was just that I was high when (co-creator) Adam Zwar told me about getting cock-blocled by his date's dog. It's a true story. He was on a date, they went back to her house, and there was a dog on the couch looking at him like, 'what do you think you're doing?' I thought it was really funny, and we figured it had to be a short film or something." 
Gann has made it clear that he wasn't trying to wave a banner for cannabis, but with California, legalizing marijuana, he felt it was something he had to do, beginning with the pre-rolls and now continuing with injecting his CBD Smokes into the now legalized U.S. hemp market. 
AR: Why does cannabis seem to "just make sense" for the Wilfred brand?
JG: It's become kind of a cliche at the end. It's comical, keeping with the brands I've established that are funny, but it's also kind of edgy–I mean, Wilfred smokes weed in the first 20-seconds of the short film back in 2002. There's always been love for Wilfred in cannabis.
For those interested in learning more about the new addition to the Wilfred brand, Gann encourages individuals to watch the Wilfred CBD Smokes "Planet of the Dogs" video, which is the first installment of a non-conventional marketing series based loosely on the ancient mythology of the Dogon tribe in Africa, and follows the intergalactic adventures of Wilfred the dog, space traveler, as he plants hemp & cannabis seeds in hospitable planets from distant galaxies as a gift to the planet's inhabitants.
You can watch the video on YouTube by subscribing to @wilfredcannabistv. Wilfred CBD Smokes are available online now at www.wilfredCBD.com, and shipping to all US states (restricted in California, Hawaii, Indiana, Iowa, Kentucky, Louisiana, North Carolina, South Carolina, Texas) in cartons and individual packs.
"Honesty and transparency make you vulnerable. Be honest and transparent anyway." – Mother Teresa
It's not every day you get to look one of your favorite actors/actresses directly in the face and thank them for the performance they gave for over 4 years. And for me, having the ability to thank Gann for four years of incredibly gifted entertainment, was rewarding. 
"Thank you, I appreciate that. You know, it's one of the things I'm most proud of. Many times, someone will reach out to me and talk to me about how the show's character has affected them in a  profound way. Often in dealing with emotional issues that I've normally dove into in such a moving way, people see Wilfred as a 'traumedy.' Wilfred seems to be this emotional, deeply strange, battle with depression, trauma, and PTSD. Shit gets so painful sometimes that you just have to laugh. That's the type of comedy I would gravitate towards."
"Cure sometimes, treat often, comfort always." 

– Hippocrates
What I didn't know is that Gann, like many of us who fell in love with 'Wilfred,' also suffered from depression growing up.
"Back in my early 20s, I suffered depression," he revealed to me.
"I really battled with depression for quite long extensions. It's quite amazing how I've managed to carry it like a backpack in my life. But also be aware of it. Back in the 90s, when it was still very new, raw, painful, and confusing for me, I used to live for Seinfeld which was on Monday through Friday, every night at 7'oclock. Every night, I would laugh my ass off, and I would be upset once it ended 30-minutes later. I loved those characters and absorbed their world. I always knew I wanted to do television–and if I could one day make people forget their pain and suffering, for just half-an-hour a week, then that's probably the best thing I could achieve as a humanitarian. 
For me, that's exactly what I did and now I give thanks to people who say things like 'I've got them through their depression and I've watched your show so many times when I'm down.'
"In my opinion, actual heroism, like actual love, is a messy, painful, vulnerable business." – John Green
The one thing I've noticed is that I could tell by the way fans loved the show, that I had done my job. That I could make them laugh, and when you can make someone laugh, you take away their problems for a time. The more you can make them laugh, the more healing you give them. I tend to have an audience that does need healing."
Gann also mentioned that in his mind, he's done everything he's wanted to. "I've done it all, and for that reason, I don't have any ambitions to be an actor."
The most enjoyable part for Gann in playing 'Wilfred' was that it was a character within a character. "I found this so rewarding."