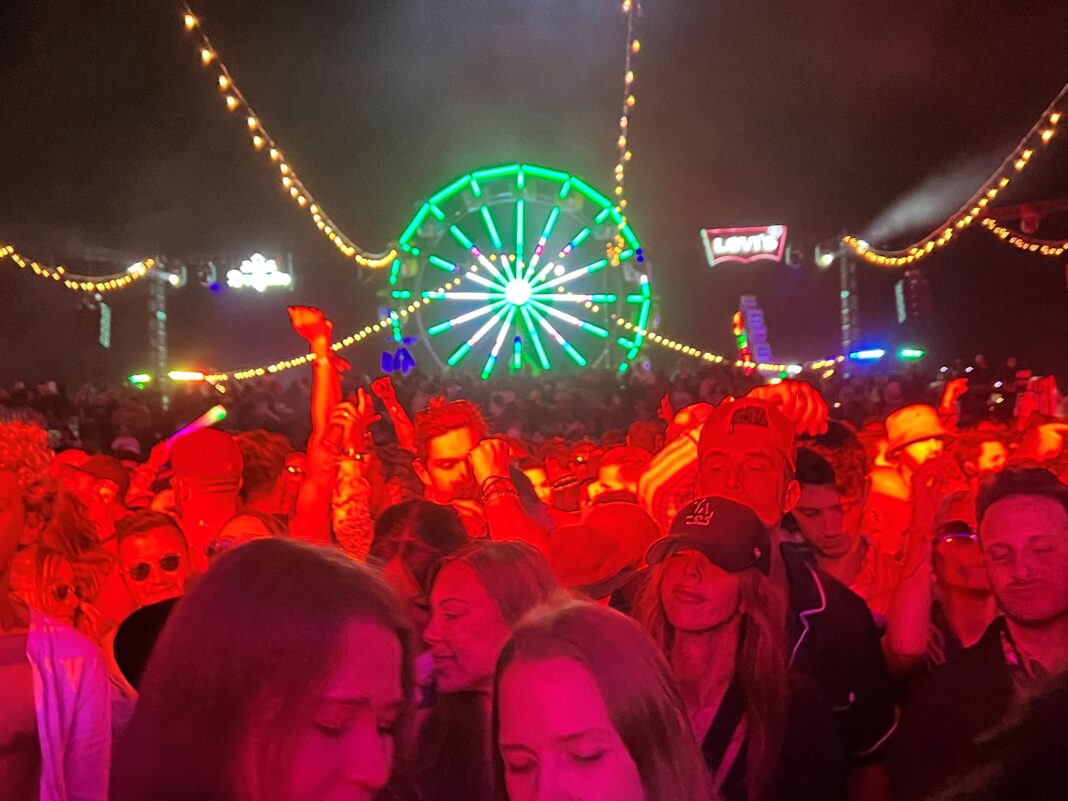 THE LEVI'S® BRAND PRESENTS NEON CARNIVAL WITH SPECIALTY DRINKS BY TEQUILA DON JULIO
_The Iconic Afterparty, Created by Brent Bolthouse Returns on April 15th _
_for its Twelfth Year During Music's Most Celebrated Desert Festival  _
Neon Carnival, the highly anticipated late-night party of the year will make its triumphant return to light up the desert night sky during the famed music festival weekend on Saturday, April 15.  Celebrating its 12th year, the coveted outdoor dance party created by LA's original nightlife mastermind Brent Bolthouse and producing partner Jeffrey Best will once again come to life exclusively for one night only.  
The iconic denim and lifestyle brand Levi's [1] ® is back to headline this year's event alongside Mexico's original luxury premium tequila, Tequila Don Julio [2]. Smirnoff ICE Neon Lemonades [3]and Path Water [4] have joined the party for their second consecutive year, and we welcome newcomer Ghost® Energy [5] to the festivities.
The stage is set, and the unrivaled party will be held at the famed Desert International Horse Park. The sprawling space welcomes back the biggest names in entertainment and consumer lifestyle to its all-grassy knoll spanning the length of three football fields, equipped with carnival-style games and exhilarating amusement park thrills for festivalgoers. No strangers to the bright lights and late-night party scene, Neon Carnival resident DJs Ruckus, Kayper, and Mel Debarge return to the iconic event to keep the party moving into the early hours the next morning.
"I can't wait to return to the desert and celebrate 12 years of Neon Carnival. When I first created this event 15 years ago, I never dreamed it would still be going and have grown into the iconic cultural moment it has become," said Brent Bolthouse.  
Presenting sponsor Levi's® celebrates 150 years of their iconic 501® jeans that revolutionized fashion and style around the world.
This year they return to the desert illuminating the sky with their Levi's® branded Ferris Wheel for their fifth consecutive year.  Tequila Don Julio is back for their seventh consecutive year, serving up handcrafted libations from the Airstream Speakeasy and Tequila Don Julio 1942 bottle service to VIPs. 
GUESTS MUST BE 21+ TO ATTEND, AND WE REMIND ALL ATTENDEES TO PLEASE DRINK RESPONSIBLY. PLEASE NOTE THAT NEON CARNIVAL IS NOT ASSOCIATED WITH THE COACHELLA MUSIC FESTIVAL. PLEASE DO NOT INCLUDE ANY MENTION OF COACHELLA WHEN COVERING NEON CARNIVAL. 
_Suggested Social Post:__ @Neon_Carnival_ [6]_ returns with__ @levis_ [7]_ __ @donjuliotequila_ [8]_ on Saturday, April 15, 2023__ _ 
About the Levi's® Brand 
The Levi's® brand epitomizes classic American style and effortless cool. Since their invention by Levi Strauss & Co. in 1873, Levi's® jeans have become one of the world's most recognizable garments of clothing – capturing the imagination and loyalty of people for generations. Today, the Levi's® brand portfolio continues to evolve through a relentless pioneering and innovative spirit that is unparalleled in the apparel industry. Our range of leading jeanswear and accessories is available in more than 110 countries, allowing individuals worldwide to express their personal style. For more information about the Levi's® brand, its products, and stores, please visit levi.com [9]. 
ABOUT TEQUILA DON JULIO 
Founded on the pioneering agricultural principles of Don Julio González and his personal pursuit of perfection, Tequila Don Julio revolutionized the tequila industry and set the standard for ultra-premium tequila. The original luxury tequila of choice in Mexico, Tequila Don Julio uses only the highest caliber, fully matured and ripened Blue Agave that has been hand-selected from the rich, clay soils of the Los Altos region of the state of Jalisco. The Tequila Don Julio portfolio includes Tequila Don Julio Blanco, Tequila Don Julio Reposado, Tequila Don Julio Añejo, Tequila Don Julio 70, Tequila Don Julio Rosado, Tequila Don Julio 1942, and Tequila Don Julio Ultima Reserva. For more information on Tequila Don Julio, please visit www.DonJulio.com. [10] 
Johnny Gines | JONESWORKS
www.jonesworks.com [11]