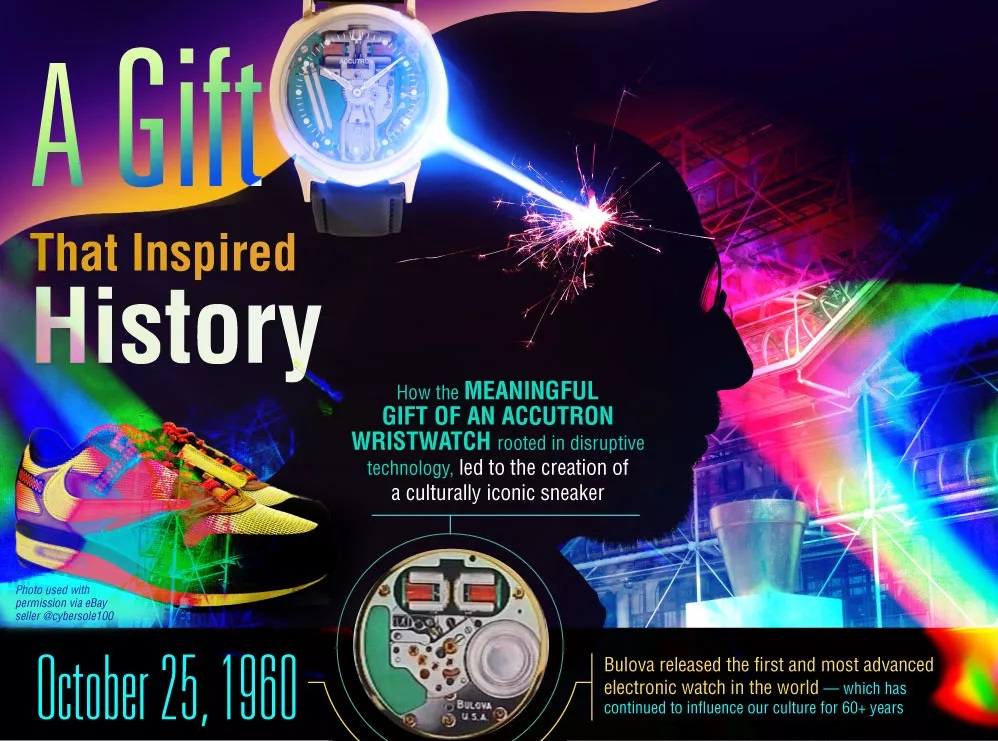 The Air Max sneakers, the moon landings, and modern architecture all have one unlikely inspiration – a watch called the Accutron. In the early 1950s, many companies were dipping their hands into creating electronic watches. Elgin, Lip Electronic, and Hamilton all created their own designs and products. It boiled down to mechanical watches powered by an added motor and battery. This changed on October 25, 1960 with Bulova releasing the Accutron – the first fully electronic watch. 
The Style That Changed the Game
Bulova also created watches with an open dial. This better showcased the inner workings of this new technology for salespeople and jewelers. This watch was such a success that a new watch, the Accutron Spaceview, was born. Featuring a completely open mechanism, this watch was designed to show off as much of the inside as possible. 
This open design inspired the Centre Pompidou. This is a building in France that moved all ductwork, plumbing, and conduits to the exposed exterior of the building. The architect, Richard Rogers, was gifted an Accutron Spaceview. He said "I have a very beautiful watch from my mother… it wears its machine on the outside… in a way it encapsulates what I do."
In Conclusion
The Spaceview inspired many designers to take a chance on different and new designs, including Tinker Hatfield. In 1981, Tinker Hatfield was a corporate architect, designing buildings for Nike. By 1987, he switched to shoes and went on to create some of the most iconic of Nike's designs. He created the Nike Air Max 1's, considered by many to be one of the greatest sneakers in history, featuring a transparent design into the shock absorbing air bubble in the sole. Tinker Hatfield said "The Centre Pompidou was one of my must-sees when I was in Paris… I'm fully convinced that had I not seen the building I might not have suggested that we expose this air bag… and let people see inside the shoe."

Learn more about how a 60 year old watch is influencing designs of the past and aesthetics of the future here: